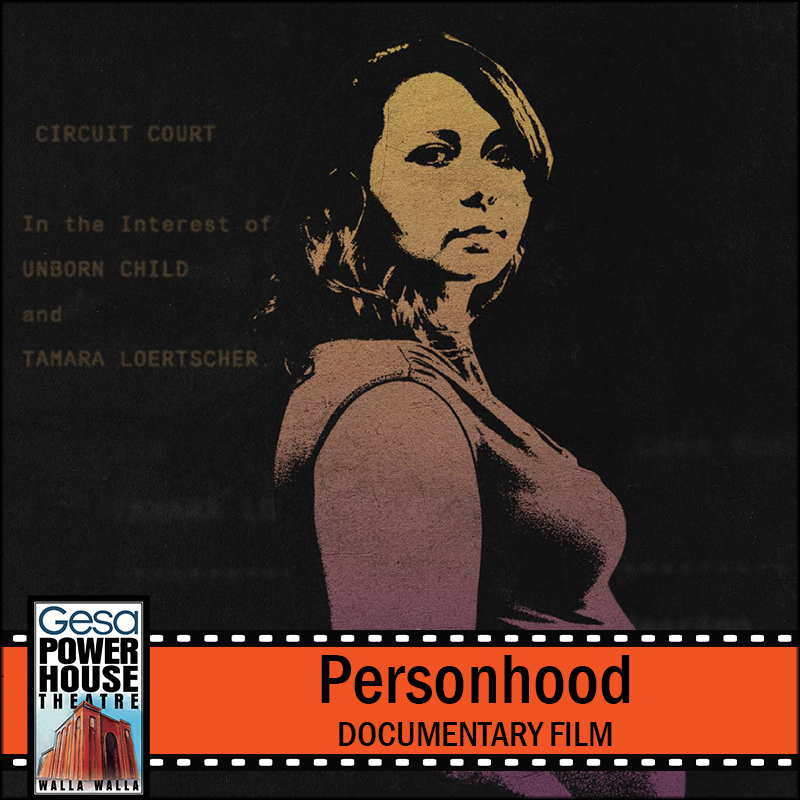 Press Release: "Personhood" documentary – March 26 & 31
Gesa Power House Theatre presents a screening of the award-winning documentary film Personhood: Policing Pregnant Women in America on Friday, March 26 at 7:00PM with an encore screening on Wednesday, March 31 at 7:00PM. Each screening will be followed by a prerecorded conversation between Director of Film Programming Warren Etheredge, and filmmaker Jo Ardiner (Director/Writer/Editor/Producer), and Sara Ainsworth (Senior Legal & Policy Director for If/When/How, who appears in the film).
With the rise of the "fetal personhood" movement, comes a widening web of laws that encourages the surveillance, policing, and criminalization of women during pregnancy, including prosecutions for miscarriages, stillbirths, and using drugs while pregnant.
The feature documentary Personhood tells a different kind of reproductive rights story, bringing the human impact of these policies into focus through the story of a rural Wisconsin mother who was jailed after telling her doctor about her occasional pre-conception drug use. Tammy Loertscher's first-person narrative and recently unsealed court recordings provide a rare glimpse into these closed door proceedings that have impacted thousands of American women. The film follows Tammy's story after her incarceration as she rebuilds her life and fights to overturn Wisconsin's "Unborn Child Protection Act."
Personhood explores this urgent issue from all sides including the fetal personhood movement, social justice advocates, medical professionals and legal experts. Through this collection of voices, the film calls for a necessary shift in dialog that looks beyond abortion and focuses on the far-reaching impacts of anti-choice efforts on women who have no intention of ending their pregnancies.
Personhood has been recognized at many film festivals including winning the American Bar Association Silver Gavel Award for Documentaries (2020) and winning the Golden Badger Award at the Wisconsin Film Festival (2020).
General admission tickets ($15 Adults, $10 Students) are available online at www.phtww.org or by calling the box office at 509-529-6500.
Seating for each screening is capped at 100 patrons, as allowed under Phase 2 of Washington's Safe Start Plan. Additional precautions including required mask use and physical distancing between households will be observed.
---
Season Sponsors:
KAPP-KVEW TV, Pacific Power, Northwest Public Broadcasting, Hayden Homes
Additional support provided by:
Walla Walla County, Port of Walla Walla, City of Walla Walla
Each Coldwell Banker Office is Independently Owned and Operated
---
About Gesa Power House Theatre
The historic Gesa Power House Theatre is a 300-seat performing arts venue, located in downtown Walla Walla. The 120-year-old building was once the Walla Walla Gas Plant, built to produce coal gas used to light the streets, businesses, and homes of Walla Walla. In 2011 the Gesa Power House Theatre building was transformed into a state-of-the-art playhouse for live performance. The interior design of the theatre was inspired by Shakespeare's own intimate Blackfriars Theatre in London, England.
The Gesa Power House Theatre is on the Washington State Building Preservation Commission list of State historic buildings and on the National Register of Historic Places. The venue also hosts a variety of other cultural events, musical concerts, and private events (including weddings).
For additional marketing and media information, including interviews and hi-res images, contact:
Bradley Nelson
Media Contact
Phone: 509.529-6500
webmaster@phtww.org
Gesa Power House Theatre
111 North Sixth Ave.
Walla Walla, Washington 99362