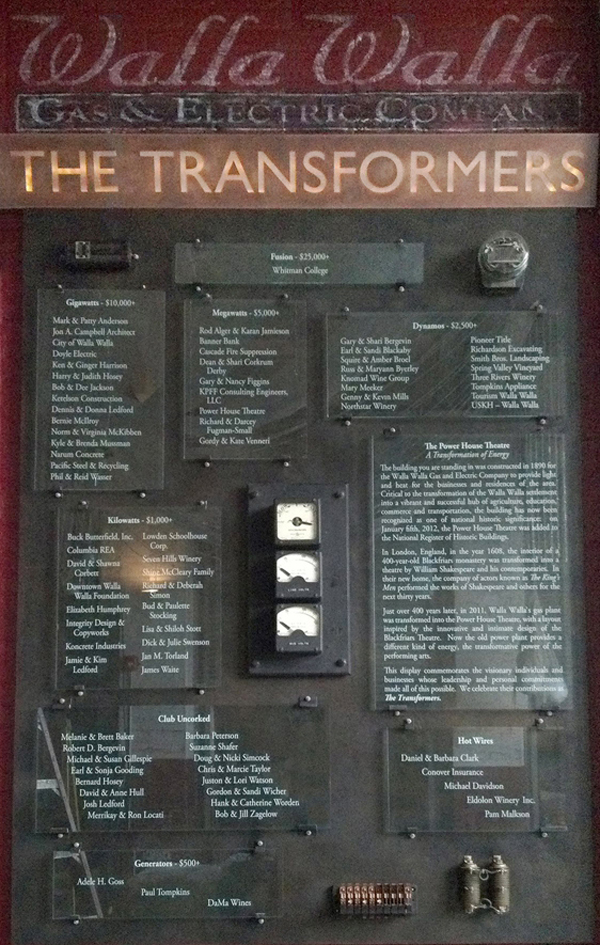 The Transformers
The Gesa Power House Theatre was constructed in 1890 for the Walla Walla Gas and Electric Company to provide light and heat for the businesses and residences of the area.  Critical to the transformation of the Walla Walla settlement into a vibrant and successful hub of agriculture, education, commerce and transportation, the building has now been recognized as one of national historic significance.  On January 5, 2012, the Power House Theatre was added to the National Register of Historic Buildings.
A Transformation of Energy:
In London, England, in the year 1608, the interior of a 400-year-old Blackfriars monastery was transformed into a theater by William Shakespeare and his contemporaries. In their new home, the company of actors known as The King's Men performed the works of Shakespeare and others for the next thirty years.  Just over 400 years later, in 2011, Walla Walla's gas plant was transformed into the Power House Theatre with a layout inspired by the innovative and intimate design of the Blackfriars Theatre.  Now the old power plant provides a different kind of energy, the transformative power of the performing arts.
Recognizing Generosity:
The Transformers Wall is visible in the lobby of the Gesa Power House Theatre and commemorates the visionary individuals and businesses whose leadership and personal commitments made all of this possible. We celebrate their contributions as The Transformers.
SUPER NOVA
Gesa Credit Union
Michael Murr
FUSION
Whitman College
Pacific Power
GIGAWATTS
Mark & Patty Anderson
Jon A. Campbell Architect, LLC
City of Walla Walla
Doyle Electric
Harry & Judith Hosey
Ken & Ginger Harrison
Bob & Dee Jackson
Ketelsen Construction
Dennis & Donna Ledford
Bernie McIlroy
Norm & Virginia McKibben
Kyle & Brenda Mussman
Narum Concrete
Pacific Steel & Recycling
Phil & Reid Wasser
MEGAWATTS
Rod Alger & Karan Jamieson
Banner Bank
Cascade Fire Protection
Cayuse Vineyards
Dean & Shari Corkrum Derby
Gary & Nancy Figgins
KPFF Consulting Engineers, LLC
Pat Hermann's Welding
Power House Theatre
Richard & Darcy Fugman-Small
Dick & Julie Swenson
Gordy & Kate Venneri
David March
DYNAMOS
Tim & Rhonda Applebee
Gary & Shari Bergevin
Earl & Sandi Blackaby
Squire & Amber Broel
Russ & Maryann Byerley
Columbia Bank
Knomad Wine Group
Mary Meeker
Genny & Kevin Mills
Northstar Winery
Pioneer Title
Richardson Excavating
Richard & Deberah Simon
Spring Valley Vineyard
Three Rivers Winery
Tompkins Appliance
Tourism Walla Walla
USKH – Walla Walla
KILOWATTS
Baker Boyer Bank
Buck Butterfield, Inc.
Dale Champan & Cricket Cordova
Columbia REA
Sam & Deborah Castillo
David & Shawna Corbett
Downtown Walla Walla Foundation
Jim Gillard
Elizabeth Humphrey
Integrity Design & Copyworks
Key Technology
Koncrete Industries
Jamie & Kim Ledford
Lowden Schoolhouse Corp.
McDonald Zaring Insurance
Ron & Debbie Milks
Chuck & Tracy Reininger
Jim & Jan Robles
Seven Hills Winery
Suzanne Shafer
Shine McCleary Family
Smith Bros. Lawn Care & Landscaping
Bud & Paulette Stocking
Lisa & Shiloh Stott
Chris & Marcie Taylor
Jan M. Torland
James White
Hank & Catherine Worden
GENERATORS
Dan & Valerie Baffney
DaMa Wines
Perry & Darleen Dozier
Adele H. Goss
HOT WIRE
Daniel & Barbara Clark
Conover Insurance
Michael Davidson
Eidolon Winery, Inc.
Pam Malkson
CLUB UNCORK'D
Jay & Kelsee Anderson
Lisa M. Anderson
Melanie & Brett Baker
Robert & Shannon Bergevin
Earl & Sandi Blackaby
Michael & Susan Gillespie
Earl & Sonja Gooding
Lance & Cynthia Hatch
Bernard Hosey
David & Anne Hull
Josh Ledford
Merrikay & Ron Locati
Barbara Peterson
Suzanne Shafer
Doug & Nicki Simcock
Dick & Julie Swenson
Chris & Marcie Taylor
Paul Tomkins
Juston & Lori Watson
Gordon & Sandi Wicher
Hank & Chatherine Worden
Bob & Jill Zagelow