Tech
Theatre Information:
The Gesa Power House is a 285 seat theatre with 175 seats in the auditorium, 110 in the balcony, with a thrust stage. It is a live room (brick walls and tall metal ceiling) with sharp acoustics.
Projector System:
Projector: Epson Pro L1300U Laser WUXGA 3LCD Projector w/4K enhancement & standard lens. Produces 8,000 lumens color or white brightness. Front projection style.
Roland V-1HD Video Switcher with 4 inputs.
Samsung Blu-Ray 3D DVD Player
Sony DVD player (not Blu-Ray compatible)
Light System:
ETC Element Lighting Console. 196 sensor dimmers 2500 Watt with 120 hard wired circuits.
Lighting instrument inventory:
59 Source Four Ellipsoidal (575 watt)
12 Source Four Parnel (575 watt)
15 Source Four Par lights (575 watt)
12 Par 64 (575 watt)
8 8-inch Fernal (575 watt)
2 Source Four I-Cue (575 watt)
1 Beam projector (575 watt)
Additional lighting lenses:
9 50-degree
16 36-degree
30 26-degree
2 10-degree
8 19-degree
Base Light Plot: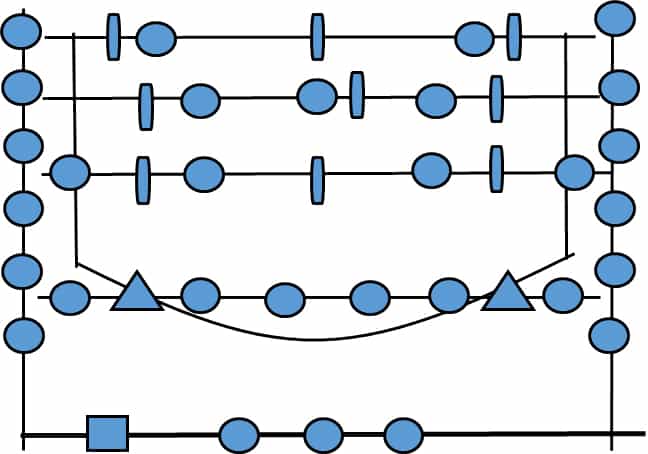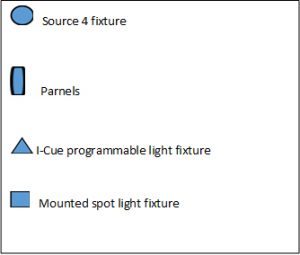 Intercom System:
Hard-wired clear-com system with 2 connections backstage, 2 connections in light booth & 1 connection at sound board.
Sound System:
The sound system offers good coverage and is quite clear and loud (when required). It is not a line-array. Lower stage volumes are very helpful for an enjoyable and well-balanced show. The mix position is in the balcony (audience right) and is not movable. It is attached to stage box via a digital snake (Soundcraft MADI over Cat5e). An iPad is available for mixing throughout the room. Monitors are mixed from the FOH console (no stage split).
Sound Equipment:
Main floor: 2 QSC K10 powered speakers plus 2 QSC KW181 powered 1×18″ subwoofers (subs wired with mains not on an Aux)
Balcony: 2 JBL PRX-712 powered speakers
Monitors: 4 QSC K10 powered speakers
FOH console: Soundcraft Performer Si 3 with digital stage box (32 inputs and 12 available sends)
Monitors mixed from FOH console (no stage split).
Standard mix position is in balcony, though available to mix from main floor via iPad.
Digital snake from stage box to FOH Balcony mix position (Soundcraft MADI over Cat 5 protocol)
2 analog sub snakes –
Downstage 8×4 (all XLR). Snake inputs 1-8 represent inputs 17-24 on FOH console. Sends 1-4 represent Mixes 1-4 on console.
Upstage 16×4 (inputs are XLR, sends are ¼" TRS). Snake inputs 1-16 represent inputs 1-16 on FOH console. Sends 1-4 represent Mixes 5-8 on FOH console.
Microphones / Dis
4 Shure Beta 58 ULXD wireless mics (default inputs 25-28 on FOH console)
5 Shure SM 57 microphones
1 Shure SM 58 microphone
1 AKG D112 kick drum microphone
1 Audix D4 drum microphone
4 Sennheiser e614 small diaphragm condenser microphones
1 Radial Pro48 active DI
1 Radial Pro Stereo DI
Loading Dock:
Technical Director:
contact Becky Hatley at backstage@phtww.org