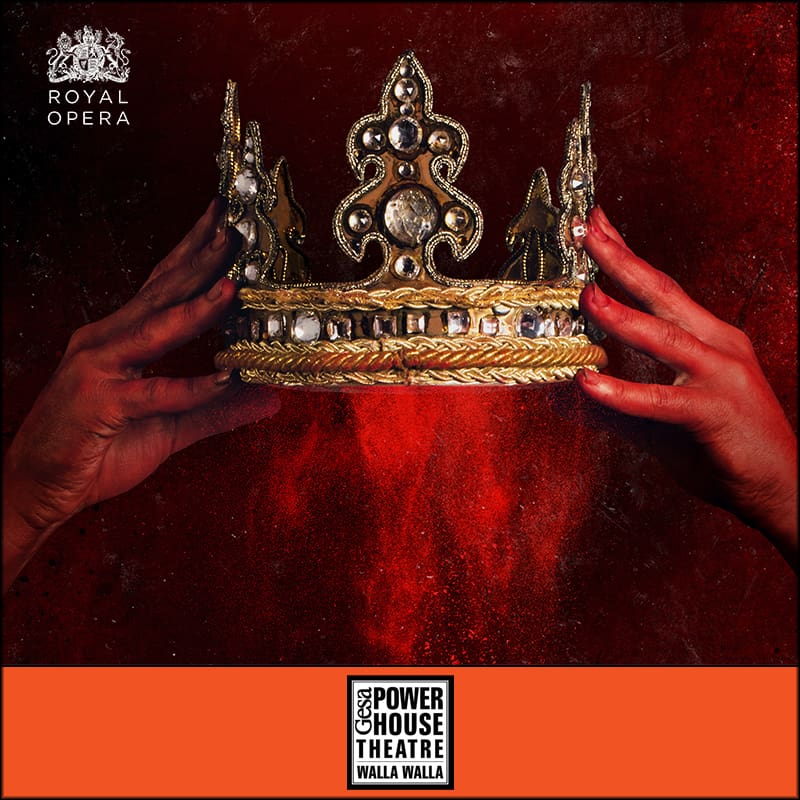 Press Release: Live Cinema Series "Macbeth" (Royal Opera) – April 25 and May 13
Gesa Power House Theatre presents two Live Cinema Series screenings of Macbeth on Wednesday, April 25 at 6:00 p.m. and on Sunday, May 13 at 1:30 p.m.
Verdi's life-long love affair with Shakespeare's works began with Macbeth, a play he considered to be "one of the greatest creations of man." With his librettist, Francesco Maria Piave, Verdi set out to create "something out of the ordinary." Their success is borne out in every bar of a score that sees Verdi at his most theatrical: it bristles with demonic energy.
The warrior Macbeth fights on the side of the King of Scotland – but when a coven of witches prophesy that he shall become king himself, a ruthless ambition drives Macbeth and his wife to horrific acts. Murder makes Macbeth king, and intrigue and butchery are the hallmarks of his brief, doomed reign. The witches make another prediction, which also comes true: Macbeth and his lady lose their lives, and justice is restored.
Phyllida Lloyd's 2002 production for The Royal Opera is richly hued, shot through with black, red and gold. The witches – imagined by designer Anthony Ward as strange, scarlet-turbaned creatures – are ever-present agents of fate. Lloyd depicts the Macbeths' childlessness as the dark sadness lurking behind their terrible deeds.
The Royal Opera's production uses Verdi's 1865 Paris revision of the opera, which includes Lady Macbeth's riveting aria "La luce langue."
Antonio Pappano conducts a cast led by Serbian baritone Zeljko Lučić as Macbeth, Russian soprano Anna Netrebko as Lady Macbeth (one of her signature roles) and Italian bass-baritone Ildebrando D'Arcangelo as Banquo.
The Live Cinema series features current productions by the Royal Shakespeare Company, Royal Ballet, and Royal Opera. Direct from England, these professional productions are filmed live and rebroadcast later to select international screens.
NOTE: This production of Macbeth is sung in Italian, with English surtitles. It has a runtime of approximately 3 hours, 20 minutes, including one intermission and an on-screen introduction. Beer, wine, popcorn, and snacks will be available for purchase.
Reserved seating tickets ($15 Adults, $10 Youth/Students) are available online or by calling the box office at 509-529-6500. A portion of the proceeds ($1/ticket) will be donated to the Walla Walla Symphony.
The 2018 Live Cinema Series is sponsored by Shakespeare Walla Walla, a local 501(c)3 nonprofit organization that aims to make Shakespeare and theater approachable and entertaining to students in eastern Washington and Oregon. 
# # #
Live Cinema Schedule
Wednesday, February 7
Rigoletto
The Royal Opera
Wednesday, February 28
Tosca
The Royal Opera
Wednesday, March 14
Twelfth Night
The Royal Shakespeare Company
Wednesday, March 28
The Winter's Tale
The Royal Ballet
Wednesday, April 11 & Sunday, April 15
Carmen
The Royal Opera
Wednesday, April 25 & Sunday, May 13
Macbeth
The Royal Opera
Wednesday, May 9 & Sunday, May 20
Bernstein Centenary
The Royal Ballet
Wednesday, May 16 & Sunday, May 27
Macbeth
The Royal Shakespeare Company
---
About the Gesa Power House Theatre
The historic Gesa Power House Theatre is a 300-seat performing arts venue, located in downtown Walla Walla. The 120-year-old building was once the Walla Walla Gas Plant, built to produce coal gas used to light the streets, businesses, and homes of Walla Walla. In 2011 the Gesa Power House Theatre building was transformed into a state-of-the-art playhouse for live performance. The interior design of the theatre was inspired by Shakespeare's own intimate Blackfriars Theatre in London, England.
The Gesa Power House Theatre is on the Washington State Building Preservation Commission list of State historic buildings and on the National Register of Historic Places. The venue also hosts a variety of other cultural events, musical concerts, and private events (including weddings).
For additional marketing and media information, including interviews and hi-res images, contact:
Bradley Nelson
Media Contact
Phone: 509.529-6500
webmaster@phtww.org
Gesa Power House Theatre
111 North Sixth Ave.
Walla Walla, Washington 99362