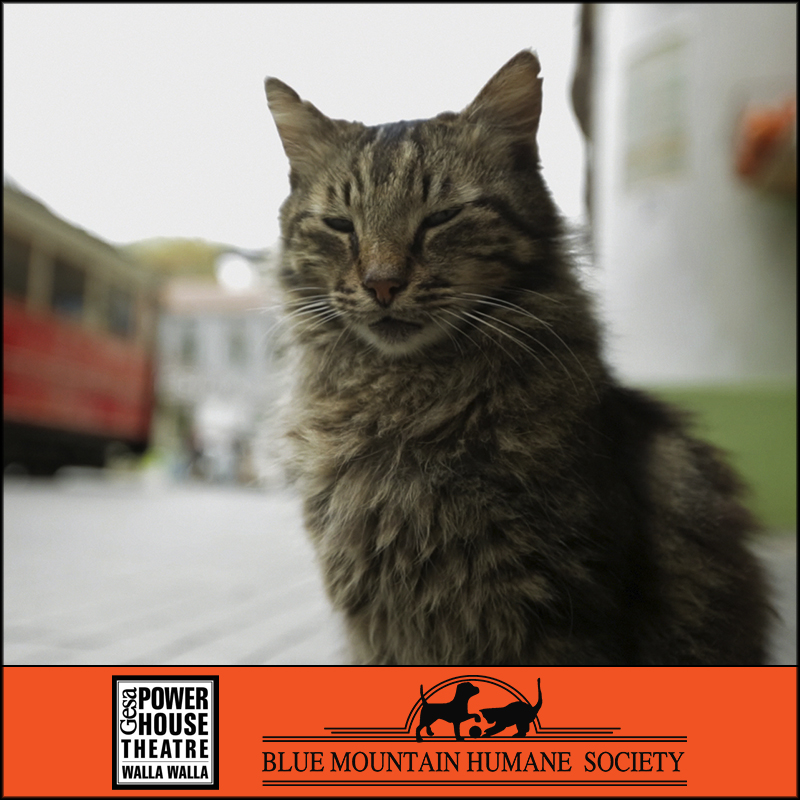 Press Release: Film screening of "Kedi" to benefit Blue Mountain Humane Society – July 7
June 25, 2017 – Gesa Power House Theatre will screen the documentary film "Kedi" on Friday, July 7. A portion of the proceeds will go to support the Blue Mountain Humane Society.
"Kedi" – an independent foreign film directed by Ceyda Torun – documents the lives of some of the hundreds of thousands of cats who freely roam the metropolis of Istanbul. For thousands of years they have wandered in and out of people's lives, becoming an essential part of the communities that make the city so rich. Claiming no owners, these animals live between two worlds, neither wild nor tame – and they bring joy and purpose to those people they choose to adopt. In Istanbul, cats are the mirrors to the people, allowing them to reflect on their lives in ways nothing else could.
The film screening begins at 7:00 p.m. and runs for 79 minutes. The film is narrated in Turkish with English subtitles.
Patrons are invited to arrive early at Gesa Power House Theatre as early as 6:00 p.m. to visit with representatives from the Blue Mountain Humane Society, meet some adorable (and adoptable) cats, and make use of a a photo booth.
A portion of every $15 reserved seating ticket will go directly to Blue Mountain Humane Society. Additional donations will be accepted. All donations that Blue Mountain Humane Society receives during the PETS90X Challenge will be matched by the Murr Family Foundation.
Blue Mountain Humane Society was founded in 1967 by a group of local residents committed to creating positive outcomes for animals in the Walla Walla Valley. Over the years, the Society has grown and evolved to include a humane, state-of-the-art no-kill shelter facility designed to serve companion animals. Last year, the Society found adoptive homes for more than 1,300 animals, including 731 cats.
More information and tickets are available at www.phtww.org or by calling the box office at 509-529-6500.
# # #
---
About the Gesa Power House Theatre
The historic Gesa Power House Theatre is a world-class, 300-seat performing arts venue, located in downtown Walla Walla. The 120-year-old building was once the Walla Walla Gas Plant, built to produce coal gas used to light the streets, businesses, and homes of Walla Walla. In 2011 the Gesa Power House Theatre building was transformed into a state-of-the-art playhouse for live performance. The interior design of the theatre was inspired by Shakespeare's own intimate Blackfriars Theatre in London, England.
The Gesa Power House Theatre is on the Washington State Building Preservation Commission list of State historic buildings and on the National Register of Historic Places. The venue also hosts a variety of other cultural events, musical concerts, and private events (including weddings).
For additional marketing and media information, including interviews and hi-res images, contact:
Bradley Nelson
Media Contact
Phone: 509.529-6500
webmaster@phtww.org
Gesa Power House Theatre
111 North Sixth Ave.
Walla Walla, Washington 99362