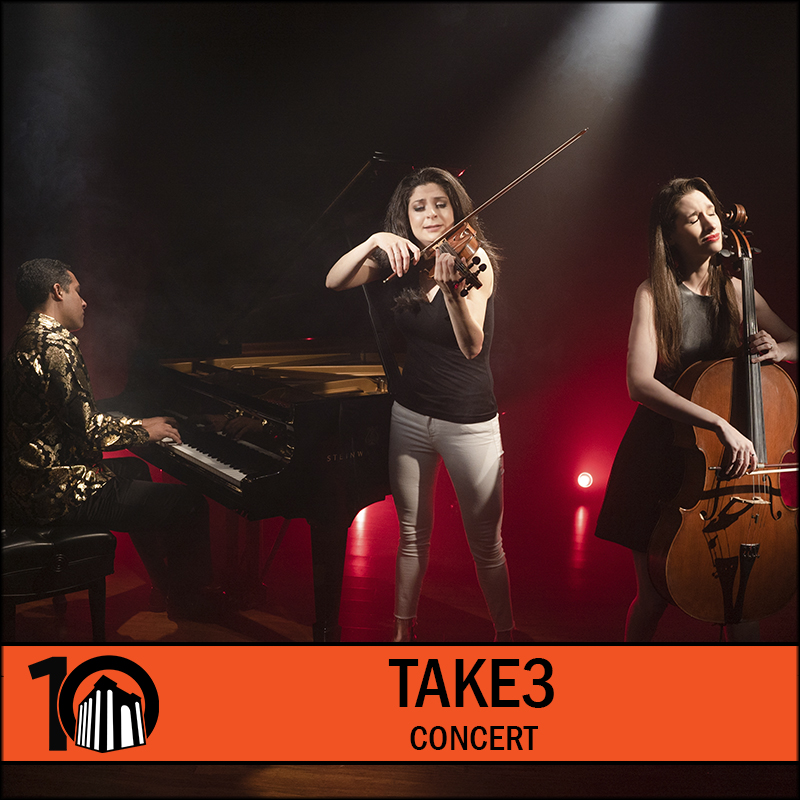 Press Release: 2022 Announcement
Tickets are now on sale for 25 new events in the 2022 Season at Gesa Power House!
The first live event announced in 2022 is Vincent, with two performances, on Friday, January 21, and Saturday, January 22. Vincent is a one-actor play written by Leonard Nimoy (Star Trek) and starring Jean-Michel Richaud, who has performed this show for more than five years on an international tour spanning three continents. The play is set just after the death of little-known painter Vincent Van Gogh. His brother Theo (Richaud) takes the stage in a rented lecture hall to dispel rumors that are flying about the late artist.
On Friday, February 11, genre-defying trio TAKE3 will take to the stage in concert. TAKE3 brings the refinement of a rigorous classical music background and infuses it with rock-star charisma. TAKE3, comprised of Lindsay Deutsch on violin, Jason Stoll on piano, and Mikala Schmitz on cello, perform their own arrangements of top pop hits, Americana, and classic favorites.
On Saturday, March 5, actress Cat LaCohie will perform her Vixen DeVille Revealed show, where she explores the truths behind her burlesque persona, "Vixen DeVille." The show is entertaining, but will also leave the audience inspired to embrace their own inner "Vixen." Cat LaCohie will also offer two classes while she is in town: Fire Eating and Intro to Burlesque.
The March live entertainment schedule continues on Friday, March 18 with the current national tour of The Ladies of Laughter. What started out as an annual videotape comedy competition in New York to honor a female comedian who helped other women get their start, is now a touring live show that is known in the comedy world as a platform for women building their comedy careers.
Seattle Rock Orchestra, which sells out nearly every time it visits Walla Walla, will return in 2022 with two back-to-back concerts. On Saturday, April 30, Seattle Rock Orchestra will take a deep dive into The Beatles discography performing two classic 1967 albums, Sgt. Pepper's Lonely Hearts Club Band and Magical Mystery Tour. On Sunday, May 1, Seattle Rock Orchestra will play a concert of music by Patsy Cline & Loretta Lynn.
Tickets are also still available for the previously-announced performance of Mike Super – Magic & Illusion on Friday, February 26. Mike Super is the only magician in history to win a live magic competition on prime time US television (Phenomenon), and was also a finalist on America's Got Talent!
In addition to live events, Gesa Power House Theatre also announced the first 2022 titles in two different film series.
The Power House Movie Series showcases award-winning festival favorites, feature-length narratives, documentaries, and undiscovered gems you won't find in the local cinemas. The film screenings are also paired with exclusive content from the movie makers themselves, most often in conversation with Gesa Power House Theatre Director of Film Programming Warren Etheredge (Walla Walla Movie Crush).
The 2022 Power House Movie lineup will include:
Filmed during live events and later broadcast to select theaters, The Live Cinema Series offers audiences an equivalent to the best seat in the house, with incredibly detailed close-ups of the performers. The Live Cinema Series is supported in part by Shakespeare Walla Walla.
The 2022 Live Cinema lineup will include:
More information and tickets for all these events are available online or by calling the box office at 509-529-6500. Additional events, including events by other renters, will be announced.
Additional precautions, such as required mask use, will be observed based on the latest guidance from state and county health departments.
---
Season Sponsors:
Union-Bulletin, KAPP-KVEW TV, Pacific Power, Northwest Public Broadcasting, Hayden Homes, Walla Walla Valley Honda
Additional support provided by:
Walla Walla County, Port of Walla Walla, City of Walla Walla
Each Coldwell Banker Office is Independently Owned and Operated
---
About Gesa Power House Theatre
The historic Gesa Power House Theatre is a 300-seat performing arts venue, located in downtown Walla Walla. The 120-year-old building was once the Walla Walla Gas Plant, built to produce coal gas used to light the streets, businesses, and homes of Walla Walla. In 2011 the Gesa Power House Theatre building was transformed into a state-of-the-art playhouse for live performance. The interior design of the theatre was inspired by Shakespeare's own intimate Blackfriars Theatre in London, England.
The Gesa Power House Theatre is on the Washington State Building Preservation Commission list of State historic buildings and on the National Register of Historic Places. The venue also hosts a variety of other cultural events, musical concerts, and private events (including weddings).
For additional marketing and media information, including interviews and hi-res images, contact:
Bradley Nelson
Media Contact
Phone: 509.529-6500
webmaster@phtww.org
Gesa Power House Theatre
111 North Sixth Ave.
Walla Walla, Washington 99362