Gesa Power House Theatre presents Seattle Rock Orchestra performing a concert of music by Patsy Cline and Loretta Lynn on Sunday, May 1, 2022 at 2:00 p.m.
In this brand new concert, Seattle Rock Orchestra (SRO) pays service to two country music trailblazers: Patsy Cline and Loretta Lynn. Both friends and contemporaries, Cline popularized the "Nashville Sound" and reached new technical and expressive heights in country singing, while Lynn challenged audiences with lyrics that were fearlessly autobiographical and often controversial for the time. Come delight in this night of classic country sounds as we celebrate these two titans of music. Featured songs include "Crazy," " Fall to Pieces," "Coal Miner's Daughter," "Don't Come Home A-Drinkin' (With Lovin' on Your Mind)," and many more.
"This is the first Seattle Rock Orchestra program that is dedicated exclusively to music made by women," says Scott Teske, Artistic Director and Founder of Seattle Rock Orchestra. "And it is also the first time we have entered the country music genre, which is such an important cornerstone of the popular music canon."
This concert will also feature Kate Dinsmore and Annie Jantzer on vocals.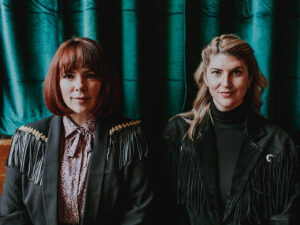 Seattle Rock Orchestra doesn't hide behind a rock band … it is the rock band! SRO utilizes strings, woodwinds, brass, percussion, and rotating cast of exciting guest vocalists to deliver high energy tribute shows unlike any other. Each SRO show offers a dynamic mix of possibilities: a classy night out at the symphony with the infectious energy of a dance party; searing rock solos with intimate orchestral moments of staggering beauty; and fan favorite sing-alongs with lesser known 'deep cuts'—combining to create a fun yet profoundly moving night out that honors the featured artist's lasting legacy.
Reserved seating tickets ($50-$45) are available online or by calling the box office at 509-529-6500. Seattle Rock Orchestra will also perform a concert of music by The Beatles on Saturday, April 30.
Gesa Power House Theatre is currently operating at full capacity, but will continue to follow the most recent guidance from state and county Departments of Health. Current health and safety guidelines at Gesa Power House Theatre are available online or by calling the box office.
---
Want to receive early notice and access to ticket sales? Join the +Power Club (highest priority) or sign up for our e-mail list!
---
Season Sponsors:
Walla Walla Union-Bulletin, Northwest Public Broadcasting, Pacific Power
Additional support provided by:
Walla Walla County, Port of Walla Walla, City of Walla Walla
Each Coldwell Banker Office is Independently Owned and Operated