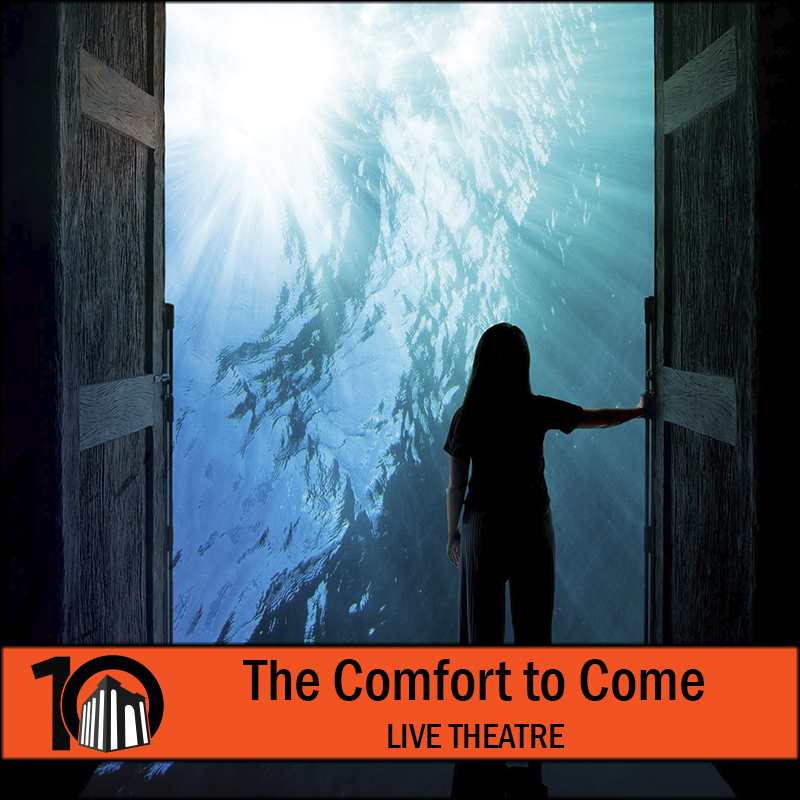 Press Release: World premiere of "The Comfort to Come" – November 19-21
Gesa Power House Theatre will present the world premiere live production of The Comfort to Come at Gesa Power House Theatre with performances on Friday, November 19 at 7:00 p.m., Saturday, November 20 at 7:00 p.m. and Sunday, November 21 at 2:00 p.m. There will be a live Q&A with the playwright following the Saturday performance.
The Comfort to Come is a new play by Whitman College graduate Lisa Battle, and is directed by Whitman College Professor Emerita Nancy Simon. The cast includes: Shauna Lilly Bogley, Kevin Loomer, Nathan Loomer, Kathryn Bogley, and Julie Jones.
Cass (Shauna Lilly Bogley) spent most of her life taking care of her mother who suffered Alzheimer's disease. She realized that as her mother lost touch with the reality around her, she created a new one. The hereditary nature of the disease means Cass soon follows her mother into this reality – the fantasy world they created when she was a child. The family Cass leaves behind watches with wonder and sorrow as she slips into a world of griffins, mermaids, and rhyming couplets. Cass, however, finally finds comfort joining her mother in their shared creation at the border of life and death.
The Comfort to Come was first developed at The Barrow Group Theater in New York City in their "Works in Progress" series. Two installations of the piece were presented there as dramatic readings. Later the play was a semifinalist for the 14th St. Y fellowship in 2019. After the pandemic spoiled plans for an independent production, director Rachel Whorton and Lisa Battle produced the play virtually. In March of 2021, they put up a production up over zoom and raised more than $2,000 for The Alzheimer's Foundation.
Playwright Lisa Battle was an Arthur Miller Fellow working as a drama teacher at a public middle school in Queens until the pandemic hit. Now she is a high school English Teacher in California. Several of her 10 minute plays were presented at The Barrow Group Instant Play Festivals and Works in Progress Readings in New York City. She is an alumnus of the British American Drama Academy and has performed with the People's Theater Project in Manhattan. Lisa also toured the U.S. and Canada with Formerly Whitty Productions as the director/producer. Her commentary has been featured on numerous popular comedy podcasts. She holds a Master of Arts degree in Educational Theater from NYU and a Bachelor of Arts degree in Theater from Whitman College where she studied under Nancy Simon.
In a career spanning more than a half century, Nancy Simon has directed well over a hundred plays and operas while also teaching acting, directing, theatre history, dramatic literature, and lighting design. Paul Garrett Professor of Dramatic Art Emerita at Whitman College, she holds theatre degrees from Whitman College, Tufts University, and the University of Washington. She is a member of Actors' Equity Association, the Stage Directors and Choreographers Society, and Theatre Communications Group. Previous productions for Gesa Power House Theatre include Auschwitz and After, Every Brilliant Thing, and A Doll's House, Part 2.
Reserved seating tickets ($23 adults, $17 students) are available online or by calling the box office at 509-529-6500.
Additional precautions, such as required mask use, will be observed based on the latest guidance from state and county health departments.
---
Season Sponsors:
Union-Bulletin, KAPP-KVEW TV, Pacific Power, Northwest Public Broadcasting, Hayden Homes, Walla Walla Valley Honda
Additional support provided by:
Walla Walla County, Port of Walla Walla, City of Walla Walla
Each Coldwell Banker Office is Independently Owned and Operated
---
About Gesa Power House Theatre
The historic Gesa Power House Theatre is a 300-seat performing arts venue, located in downtown Walla Walla. The 120-year-old building was once the Walla Walla Gas Plant, built to produce coal gas used to light the streets, businesses, and homes of Walla Walla. In 2011 the Gesa Power House Theatre building was transformed into a state-of-the-art playhouse for live performance. The interior design of the theatre was inspired by Shakespeare's own intimate Blackfriars Theatre in London, England.
The Gesa Power House Theatre is on the Washington State Building Preservation Commission list of State historic buildings and on the National Register of Historic Places. The venue also hosts a variety of other cultural events, musical concerts, and private events (including weddings).
For additional marketing and media information, including interviews and hi-res images, contact:
Bradley Nelson
Media Contact
Phone: 509.529-6500
webmaster@phtww.org
Gesa Power House Theatre
111 North Sixth Ave.
Walla Walla, Washington 99362