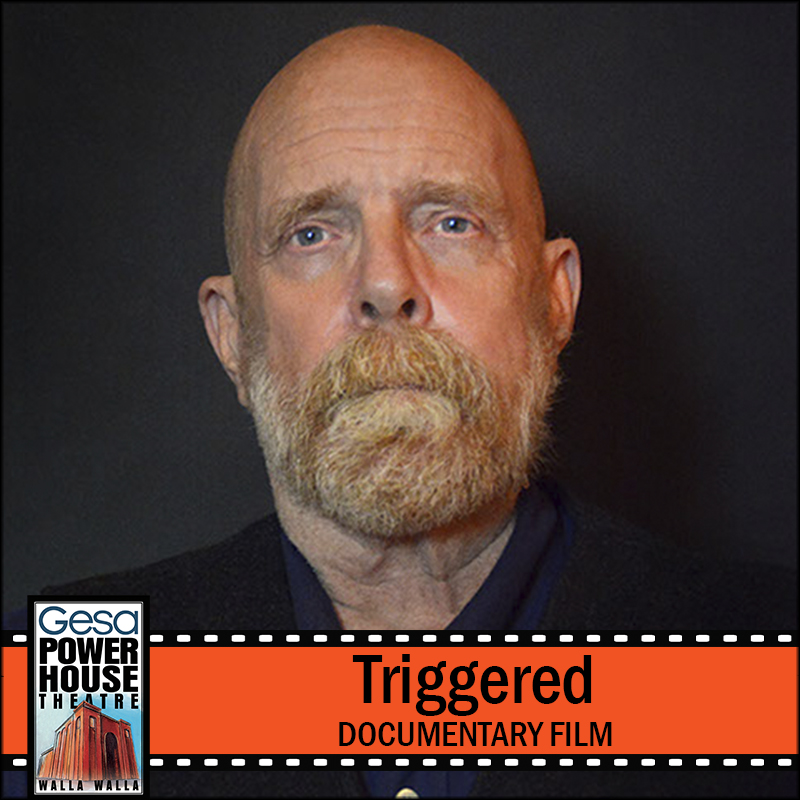 Press Release: "Triggered" work-in-progress documentary screening – April 23 & 28
Gesa Power House Theatre presents a work-in progress screening of the upcoming documentary film Triggered: The Charles Krafft Story on Friday, April 23 at 7:00PM with an encore screening on Wednesday, April 28 at 7:00PM. Each screening will be followed by an exclusive pre-recorded conversation between Director of Film Programming Warren Etheredge and filmmaker Nadeem Uddin.
Triggered is the story of artist Charles Krafft's lifelong quest to piss people off.
A Pacific Northwest artist with a stellar pedigree, Charles Krafft was riding high as the bad boy of ceramic sculpture until, in 2013, a Seattle newspaper published a piece by local art critic Jen Graves, labeling Krafft as a holocaust denier and white nationalist. The response was instantaneous and foreshadowed the rise of cancel culture: within months, galleries and museums the world-over removed Krafft's work from exhibition and cancelled his participation in shows, symposia, and events.
Where there had previously been a casual acceptance of his irreverent work, which included exquisite pieces of Delftware china featuring Nazi iconography, suddenly Krafft found himself shunned by friends and colleagues who had previously laughed at his pleas for "forgiveness" for the Third Reich, and who had previously defended his right to make racist and homophobic comments.
Following nearly two decades of filming, director Nadeem Uddin reveals that the truth is far more complex. Triggered is the story of how the Seattle art world ignored, enabled, and were even amused by his descent into a rabbit hole of conspiracy and white nationalism. The film also explores how Krafft's growing obsession with Holocaust revisionism closely tracks with the growth of a massive glioblastoma tumor in his brain. Although doctors and psychologists have recorded cases of brain tumors changing people's personality and beliefs, the possibility was never pursued for Charles Krafft.
Before Krafft died in 2020, he gave filmmakers access to his own archives and granted permission for an in-depth portrayal of his life and work.
"While his obsession with Nazis is unpleasant," says director Nadeem Uddin, "And his holocaust revisionism disgusting, Charles Krafft was also a unique and important figure in the cultural life of the Northwest."
Nadeem Uddin was born in Bhopal, India, and studied filmmaking in the United States He is internationally known for his films on diverse subjects such as the Spanish Civil War, the 1984 Bhopal Union Carbide disaster, and he currently splits his time between India and the Pacific Northwest.
General admission tickets ($15 Adults, $10 Students) are available online at www.phtww.org or by calling the box office at 509-529-6500.
Seating for each screening is capped at 100 patrons, as allowed under Phases 2 and 3 of Washington's Safe Start Plan. Additional precautions including required mask use and physical distancing between households will be observed.
---
Season Sponsors:
KAPP-KVEW TV, Pacific Power, Northwest Public Broadcasting, Hayden Homes
Additional support provided by:
Walla Walla County, Port of Walla Walla, City of Walla Walla
Each Coldwell Banker Office is Independently Owned and Operated
---
About Gesa Power House Theatre
The historic Gesa Power House Theatre is a 300-seat performing arts venue, located in downtown Walla Walla. The 120-year-old building was once the Walla Walla Gas Plant, built to produce coal gas used to light the streets, businesses, and homes of Walla Walla. In 2011 the Gesa Power House Theatre building was transformed into a state-of-the-art playhouse for live performance. The interior design of the theatre was inspired by Shakespeare's own intimate Blackfriars Theatre in London, England.
The Gesa Power House Theatre is on the Washington State Building Preservation Commission list of State historic buildings and on the National Register of Historic Places. The venue also hosts a variety of other cultural events, musical concerts, and private events (including weddings).
For additional marketing and media information, including interviews and hi-res images, contact:
Bradley Nelson
Media Contact
Phone: 509.529-6500
webmaster@phtww.org
Gesa Power House Theatre
111 North Sixth Ave.
Walla Walla, Washington 99362