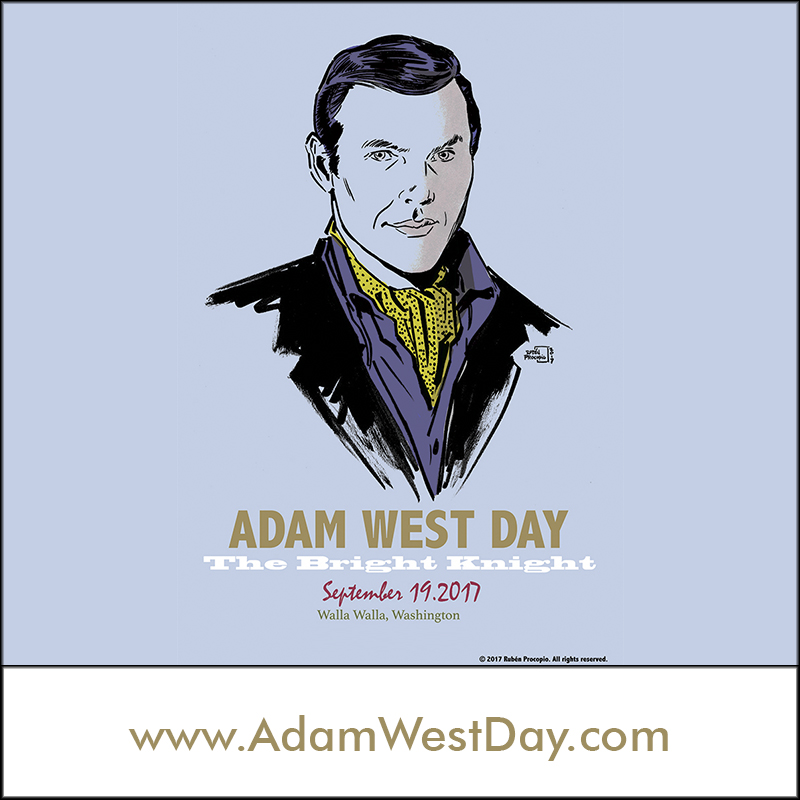 Press Release: "Starring Adam West" to screen on Adam West Day – Sept. 19
Gesa Power House Theatre will participate in the city-wide Adam West Day celebration on September 19 by hosting host a free screening of the critically-acclaimed documentary film "
Starring Adam West
" on Adam West Day – September 19, 2017 – at 7:00 p.m. A live Q & A panel with Director James Tooley and Producer Ralph Garman will immediately following the showing.
There is only one classic Batman and his name is Adam West. Following his death in June of this year from leukemia, the City of Walla Walla proclaimed September 19, 2017 as Adam West Day – celebrated on the anniversary of West's birthday. A number of West's close friends and family members will be in attendance for a day of festivities.
"This is a community joining together to honor someone who they love and that the residents of this city are quite proud of," said Jonathan Grant, front office manager at the Marcus Whitman Hotel & Conference Center and a co-organizer of the event. "Frankly, it is something we should have done years ago, but I am excited that we are doing it now."
Adam West was born in 1928 in Walla Walla as William West Anderson. He grew up in what was then a tiny southeastern Washington farming community, before moving to Seattle at age 15. After graduating from high school, though, he returned to Walla Walla and graduated from Whitman College.
In 1959, he changed his name to Adam West and began his acting career, famously portraying Batman in the 1960s television version of the comic book hero. Though he moved away from Walla Walla, he returned frequently throughout his life.
Free admission to the screening of "Starring Adam West" is limited and will be first come, first served. Doors open at 6:00PM. Free photos with The Batmobile will be available in front of the theater courtesy of The Marcus Whitman Hotel.
Proceeds and donations from Adam West Day will go support cancer charities. For more information about Adam West Day, please visit 
www.adamwestday.com
.
# # #
The schedule of festivities for Adam West Day includes the following:
ALL DAY – (downtown) – "The Adam West Experience"
Every business that has a batman sticker in the window will be offering a special promotion in honor of Adam West.
11:00AM – (Land Title Plaza- 1st & Main St) – Opening Ceremony with Special City Presentation
Meet Batman and take free photos with The Batmobile courtesy of The Marcus Whitman Hotel.
1:30PM – (Marcus Whitman Hotel – 6 West Rose) – "A Conversation with Ruben Procopio"
Hear the founder of Masked Avenger Studios, an award-winning artist, animator and sculptor, talk about his work on Batman Comics, Animated classics and how he was the personal sculptor of Adam West himself. Clips of Adam West's work will be shown and door prizes will be awarded. Free photos with The Batmobile courtesy of The Marcus Whitman Hotel.
3:00PM – (Land Title Plaza – 1st & Main St) – Live Music with Debra Arlyn and Daniel Minteer
Kids activities, Batman mask giveaways and free photos with Batman and The Batmobile courtesy of The Marcus Whitman Hotel.
7:00PM – (Gesa Power House Theatre – 111 N. 6th Avenue) – "Starring Adam West"
A free screening of the critically-acclaimed documentary film with a live Q & A with Director James Tooley and Producer Ralph Garmin immediately following.
Free photos with the Batmobile courtesy of McCurley Integrity Toyota of Walla Walla.
9:00PM – (Parking lot directly across from Marcus Whitman Hotel) – "Lighting of the Bat Signal"
A special tribute to Walla Walla's home-town hero – The Bat Signal.
9:30PM – (Sapolil Cellars – 15 E. Main St.) – After Party
Music by Wide Stance (formerly the Hitmen). Door prizes. Funds raised will be going to Camp Rainbow Gold.
---
About Gesa Power House Theatre
The historic Gesa Power House Theatre is a 300-seat performing arts venue, located in downtown Walla Walla. The 120-year-old building was once the Walla Walla Gas Plant, built to produce coal gas used to light the streets, businesses, and homes of Walla Walla. In 2011 the Gesa Power House Theatre building was transformed into a state-of-the-art playhouse for live performance. The interior design of the theatre was inspired by Shakespeare's own intimate Blackfriars Theatre in London, England.
The Gesa Power House Theatre is on the Washington State Building Preservation Commission list of State historic buildings and on the National Register of Historic Places. The venue also hosts a variety of other cultural events, musical concerts, and private events (including weddings).
For additional marketing and media information, 
including interviews and hi-res images, contact:
Bradley Nelson
Media Contact
Phone: 614.202.1475
webmaster@phtww.org
Gesa Power House Theatre
111 North Sixth Ave.
Walla Walla, Washington 99362
509.529.6500