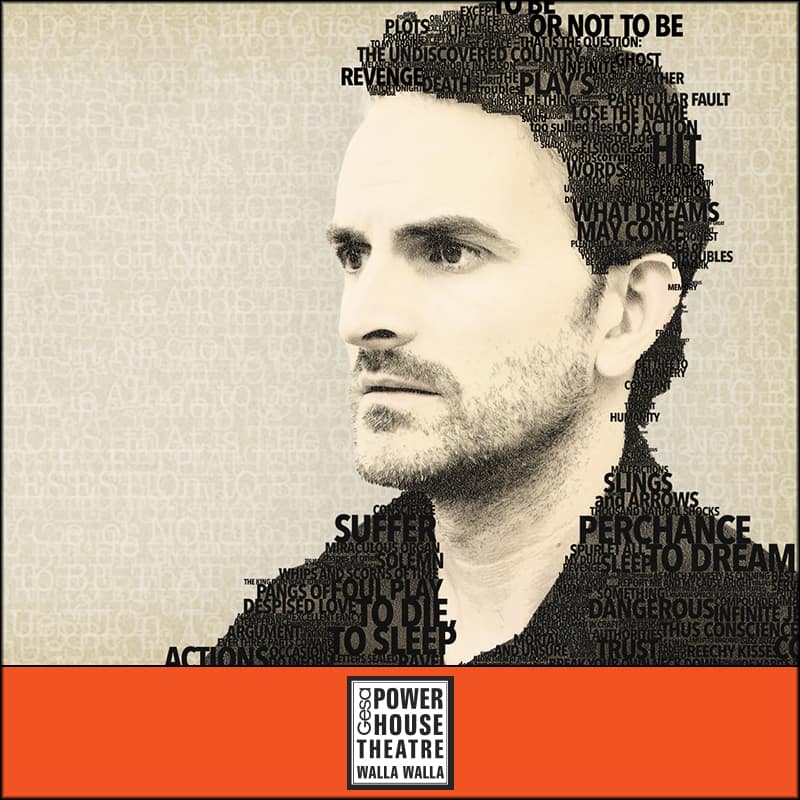 Press Release: Rude Mechanicals bring "Hamlet" to Walla Walla – October 20
The Rude Mechanicals will debut their live theatrical production of Hamlet at Gesa Power House Theatre on October 20 at 7:00 p.m.
One of Shakespeare's most famous plays and often quoted in popular culture, Hamlet tells the tale of Denmark's grieving prince who seeks to avenge his father's murder by bringing the new king, Claudius (his uncle and his mother's new husband) to justice. Hamlet vividly portrays the power of overwhelming grief and rage while exploring themes of treachery, revenge, and moral corruption.
The Rude Mechanicals' production of Hamlet stars Cameron Milton in the leading role. Milton has worked professionally for fifteen years in California on the NBC network, performed and trained with The Blue Man Group at the Astor Place Theatre in New York, and acted in multiple films in Portland. He holds a BFA in Theatre Arts from the University of Idaho. Other actors in major roles include Jim Wutzke as Claudius and the Ghost of King Hamlet, Miriam Kerzner as Gertrude, Robert Chisholm as Polonius, Claire Dann as Ophelia, Anthony Ochoa as Rosencrantz and Gravedigger, Samantha Weakley as Gulidenstern and Gravedigger, and Bryan Grossman as Horatio.
Hamlet is directed by Ellicia Elliott, co-founder and artistic director of The Rude Mechanicals. She holds a MA in Theatre Production from Central Washington University, and is a candidate for a MFA in Directing from the University of Idaho. Elliott's concept was inspired by and has received the blessing of Bill Rauch, the artistic director of the Oregon Shakespeare Festival, focusing on the process of grief, bereavement, and revenge in a contemporary time. Ghosts from the past will be visible through design elements, tying in the history of this famous and gut-wrenching play to how it is still incredibly relevant in our current time.
Reserved seating tickets: $25-$20 Adults, $15 Students (in advance) and $28-$23 Adults, $17 Students (at the door). Tickets will go on sale on Friday, September 28, online or by calling the box office at 509-529-6500.
# # #
The 2018 Season is supported in part by: Coldwell Banker First Realtors, Foundry Vineyards, KAPP-KVEW, Inland Cellular, Pacific Power, McCurley Integrity Toyota of Walla Walla.
---
About the Gesa Power House Theatre
The historic Gesa Power House Theatre is a 300-seat performing arts venue, located in downtown Walla Walla. The 120-year-old building was once the Walla Walla Gas Plant, built to produce coal gas used to light the streets, businesses, and homes of Walla Walla. In 2011 the Gesa Power House Theatre building was transformed into a state-of-the-art playhouse for live performance. The interior design of the theatre was inspired by Shakespeare's own intimate Blackfriars Theatre in London, England.
The Gesa Power House Theatre is on the Washington State Building Preservation Commission list of State historic buildings and on the National Register of Historic Places. The venue also hosts a variety of other cultural events, musical concerts, and private events (including weddings).
For additional marketing and media information, including interviews and hi-res images, contact:
Bradley Nelson
Media Contact
Phone: 509.529-6500
webmaster@phtww.org
Gesa Power House Theatre
111 North Sixth Ave.
Walla Walla, Washington 99362