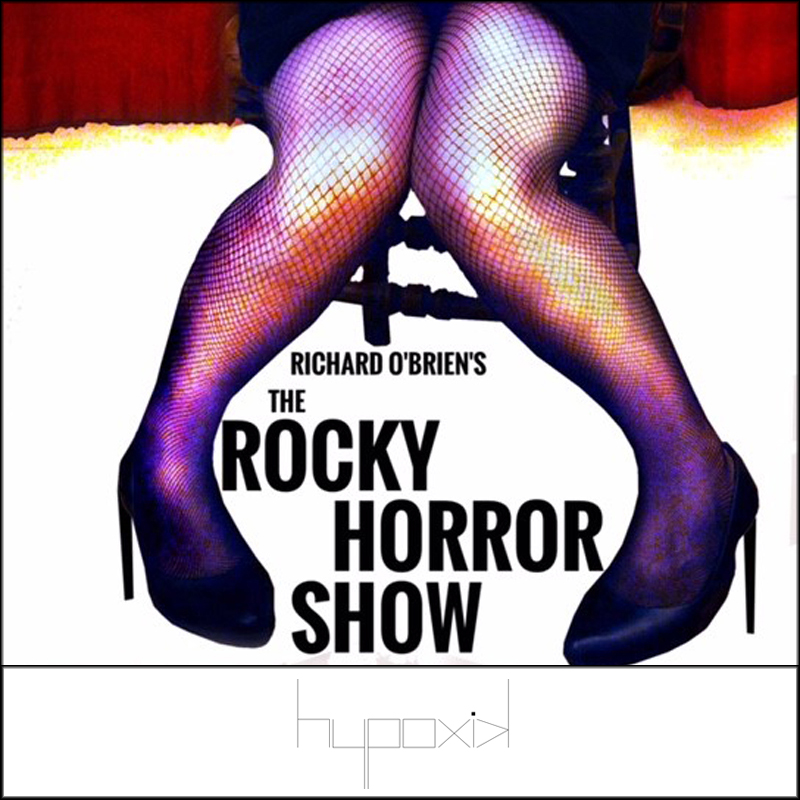 Press Release: Rocky Horror Live in Walla Walla – Sept. 9 & 10
July 28, 2016 – Richard O'Brien's "The Rocky Horror Show" comes to Walla Walla in a live theatrical production by Hypoxik Productions. Four performances over two nights will take place at Gesa Power House Theatre on September 9-10, at 7 p.m. and 10 p.m.
Dr. Frank-N-Furter and his merry band of misfits take you on a strange journey of love, lust, and the quest for ultimate satisfaction in this updated version of the 1975 Broadway musical that inspired the cult film "The Rocky Horror Picture Show".
One dark and stormy night, Brad and Janet, a newly-engaged couple, set out to begin their journey toward matrimonial bliss when a sudden blowout forces them down a path of domination, illumination, and sensual debauchery that ultimately leaves them searching for more than just help with a flat tire.
A parody tribute to the science fiction and horror B movies of the 1930s through early 1970s, this hilariously dark and foreboding musical invites you to leave your inhibitions at the door, and revel in the strange and absurd. Fans of the film will recognize many of the songs, such as "Science Fiction Double Feature", "Damn it Janet", "Time Warp", "Sweet Transvestite", "Hot Patootie", and more.
The production features many local actors, including: Chanel Finnie, Isaiah Stodola, Rande Moss, Daniel Rose, Diana Milton, Reyn Hodgson, Alex Leeper, Topher Murphy, Richele Heilbrun Loney, Gabriela Salazar, Sara Beko, Kassidy Haluska, Katrina M. James, and Romey Drabek.
Audience members are encouraged to dress in costume, bring props (non-food only), to dance, or to sing-along.
Tickets to The Rocky Horror Show ($20-$35 Reserved Seating) are available online at www.phtww.org or through the Gesa Power House Theatre box office (509-529-6500). This show is recommended for ages 18 and up.
An after party is scheduled in the Electric Lounge, upstairs at the theater following the final performance. Admission is an additional $10 and may be purchased with a ticket to any performance or at the door based on availability.
PERFORMANCE SCHEDULE
Friday, September 9 – 7:00 p.m.
RAWW Night: Friday, September 9 – 10:00 p.m.
Saturday, September 10 – 7:00 p.m.
Saturday, September 10 – 10:00 p.m.
After-Party: Saturday, September 10 – approximately 11:30 p.m.
ABOUT RAWW NIGHT
Hypoxik Productions is partnering with the newly-formed Rainbow Alliance of Walla Walla (RAWW) to raise money for the families of Orlando shooting victims. RAWW Founder Jimmy Michael-Vaughan will make a guest appearance as host and narrator during the Friday, September 9, 10:00 p.m. performance and 5% of ticket sales from that performance will be donated to the Orlando cause.
"Our goal with Rocky Horror is to promote inclusiveness, and give people of all walks of life a safe place to express themselves as individuals, " says Rocky Horror director Tyson Kaup. "Working with RAWW is a natural fit."
ABOUT THE COMPANY
Hypoxik Productions, helmed by Director/Producer Tyson Kaup, promises to present theatrical experiences that are "anything but boring". The theatrical production company aims to build professional creative connections between Walla Walla, Seattle, and New York, bring together local and regional talent, and establish Walla Walla as a launch pad for cutting edge professional theater.
# # #
For additional marketing information, please contact:
Tyson Kaup
Owner/Creative Producer
Hypoxik, LLC
AEA Actor, Producer, and Director
tysonkaup@gmail.com
(917) 952-1016