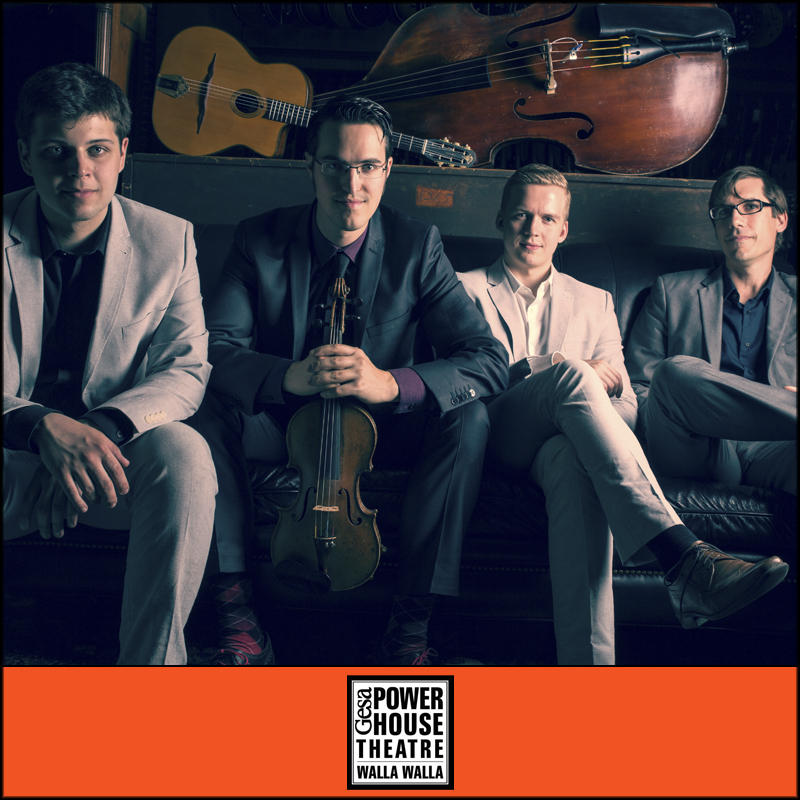 Press Release: Rhythm Future Quartet to play gypsy jazz May 4
Tickets are on sale for an acoustic jazz concert by Rhythm Future Quartet at Gesa Power House Theatre on Thursday, May 4 at 7:00 p.m.
Tickets are on sale for an acoustic jazz concert by Rhythm Future Quartet at Gesa Power House Theatre on Thursday, May 4 at 7:00 p.m.
Rhythm Future Quartet has a straightforward agenda: to keep the spirit of gypsy jazz alive and expanding in today's musical universe. The virtuosic foursome, named for a Django Reinhardt tune, offers up a newly minted sound, influenced by the classic Hot Club of France, yet wholly contemporary. The group performs dynamic and lyrical arrangements of both gypsy jazz standards and original compositions that draw upon diverse international rhythms and musical idioms.
Jason Anick, an award-winning composer and one of the youngest professors at the esteemed Berklee College of Music in Boston, has shared the stage with an array of artists including Grammy award winning guitarist John Jorgenson, Stevie Wonder, The Jim Kweskin Jug Band, and Tommy Emmanuel.
Olli Soikkeli (coined "the Finnish boy wonder") recently made the move from Scandinavia to New York City, where he quickly became a top call guitarist in the bustling Brooklyn jazz scene. He has performed alongside rising star Cyrille Aimee, world-renowned Gypsy guitarist Stochelo Rosenberg, Bucky Pizzarelli and many others.
Max O'Rourke was the winner of the 2015 Saga Award from DjangoFest Northwest, and at 19 has already toured/recorded with many of the top American Gypsy Jazz musicians including John Jorgenson and Gonzalo Bergara.
Greg Loughman is a top call bassist in Boston and has been heard with such luminaries as Sheila Jordan, Curtis Fuller and George Garzone.
Reserved seating tickets ($32-$27) are available online or by calling the box office at 509-529-6500. More information about upcoming events can be found at www.phtww.org.
 # # #
---
About the Gesa Power House Theatre
The historic Gesa Power House Theatre is a world-class, 300-seat performing arts venue, located in downtown Walla Walla. The 120-year-old building was once the Walla Walla Gas Plant, built to produce coal gas used to light the streets, businesses, and homes of Walla Walla. In 2011 the Gesa Power House Theatre building was transformed into a state-of-the-art playhouse for live performance. The interior design of the theatre was inspired by Shakespeare's own intimate Blackfriars Theatre in London, England.
The Gesa Power House Theatre is on the Washington State Building Preservation Commission list of State historic buildings and on the National Register of Historic Places. The venue also hosts a variety of other cultural events, musical concerts, and private events (including weddings).
For additional marketing and media information, including interviews and hi-res images, contact:
Bradley Nelson
Media Contact
Phone: 509.529-6500
webmaster@phtww.org
Gesa Power House Theatre
111 North Sixth Ave.
Walla Walla, Washington 99362