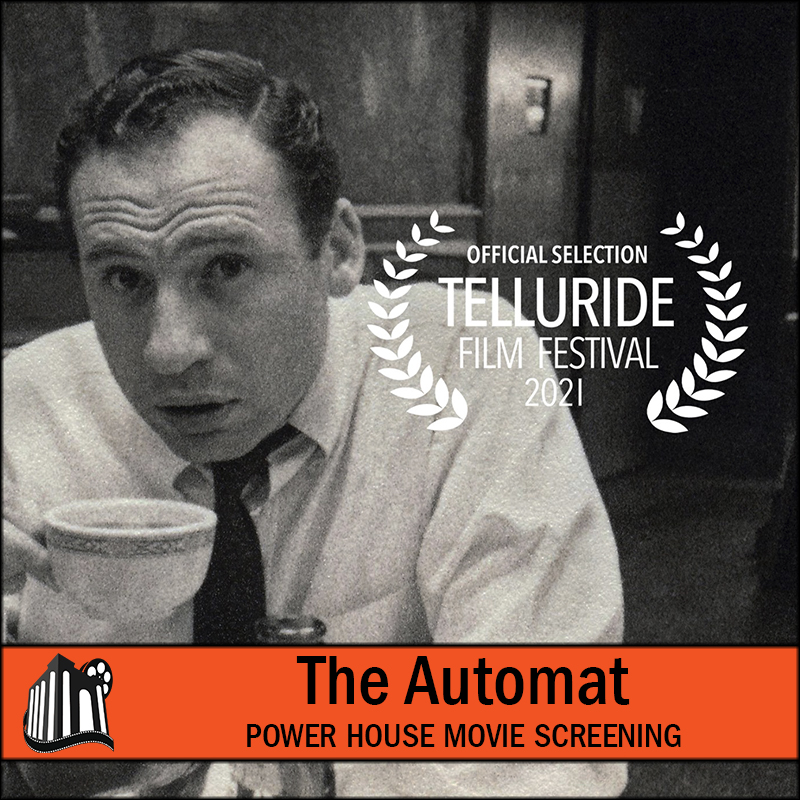 Press Release: Power House Movie screening of "The Automat" – April 6
Gesa Power House Theatre presents a Power House Movie screening of the documentary The Automat on Wednesday, April 6 at 7:00 pm.
Recent winner of the Audience Award for Best Documentary Film at the 2022 Miami Jewish Film Festival, The Automat is a documentary film about the phenomena of Horn & Hardart, America's original & most beloved restaurant chain in NYC & Philadelphia.
Featuring an original new song written and performed by Mel Brooks, The Automat tells the 100-year story of the iconic restaurant chain – the inspiration for Starbucks – where generations of Americans ate and drank coffee together at communal tables. From the perspective of former customers, entertainer Mel Brooks, Starbucks founder Howard Schultz, Supreme Court Justice Ruth Bader Ginsburg, Secretary of State Colin Powell, the Horns, the Hardarts, and key employees – the film follows the business as it climbs to success and then grapples with the evolution of fast food in America.
The Power House Movie Series showcases award-winning festival favorites, feature-length narratives, documentaries, and undiscovered gems, paired with exclusive content from the movie makers themselves – most often in conversation with Gesa Power House Theatre Director of Film Programming, Warren Etheredge.
Reserved seating tickets ($15 adult, $10 students) are available online at www.phtww.org or by calling the box office at 509-529-6500. Gesa Power House Theatre is located at 111 N. 6th Avenue in downtown Walla Walla.
---
The Power House Movies Series continues:
Disfluency (drama)
Wednesday, March 16
All Sorts (comedy)
Wednesday, March 30
The Automat (documentary)
Wednesday, April 6
Thin Skin (drama)
Friday, April 15 (live Q&A with director Charles Mudede)
Best of 2021 Movie Crush (short cinema)
Saturday, April 16
Seattle Jewish Film Festival (selected shorts)
Wednesday, April 27
Charm Circle (documentary)
Wednesday, June 1
Cat Daddies (documentary)
Wednesday, June 29
All Ages Show (local documentary)
Wednesday, July 6
---
Season Sponsors:
Walla Walla Union-Bulletin, Northwest Public Broadcasting, Pacific Power, Hayden Homes
Additional support provided by:
Walla Walla County, Port of Walla Walla, City of Walla Walla
Each Coldwell Banker Office is Independently Owned and Operated
---
About Gesa Power House Theatre
The historic Gesa Power House Theatre is a 300-seat performing arts venue, located in downtown Walla Walla. The 120-year-old building was once the Walla Walla Gas Plant, built to produce coal gas used to light the streets, businesses, and homes of Walla Walla. In 2011 the Gesa Power House Theatre building was transformed into a state-of-the-art playhouse for live performance. The interior design of the theatre was inspired by Shakespeare's own intimate Blackfriars Theatre in London, England.
The Gesa Power House Theatre is on the Washington State Building Preservation Commission list of State historic buildings and on the National Register of Historic Places. The venue also hosts a variety of other cultural events, musical concerts, and private events (including weddings).
Gesa Power House Theatre is owned and operated by Power House Theatre Walla Walla, a 501(c)(3) nonprofit organization.
For additional marketing and media information, including interviews and hi-res images, contact:
Bradley Nelson
Media Contact
Phone: 509.529-6500
webmaster@phtww.org
Gesa Power House Theatre
111 North Sixth Ave.
Walla Walla, Washington 99362