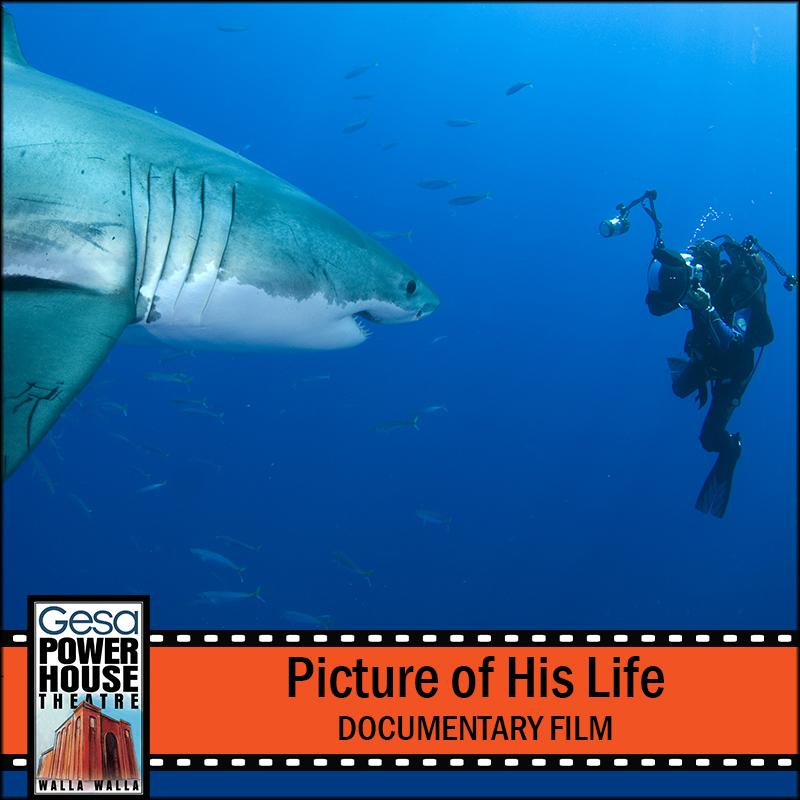 Press Release: "Picture of His Life" documentary screenings March 12 & 17
Gesa Power House Theatre presents a screening of the award-winning documentary film Picture of His Life on Friday, March 12 at 7:00PM with an encore screening on Wednesday, March 17 at 7:00PM. Each screening will be followed with an exclusive pre-recorded conversation between Director of Film Programming Warren Etheredge and filmmaker Dani Menkin.
Amos Nachoum is one of the world's greatest underwater photographers. Fascinated by the most fearsome creatures on Earth, he has developed a unique approach, that puts him face to face with his subjects, without any protection. He swam with crocodiles and killer whales, with anacondas and with great white sharks but one major predator has always eluded him: the polar bear. He tried before and barely escaped, but now, as he nears the end of his career, he is determined to give it one last shot.
As his journey unfolds in Picture of His Life, Amos contemplates the series of unspoken events that drove him here, to the end of the world. It has been a long and painful journey, after serving in an Elite Commando unit and witnessing the horrors of war, but where others find fear, Amos finds redemption.
Amos Nachoum's photos and essays have appeared in hundreds of publications around the globe, including National Geographic, Time, Life, The New York Times, Condé Nast Traveler, Le Figaro, Terra Sauvage, Airone, Mondo Somerso, Der Spiegel, Unterwasser, and many more. He has appeared on National Geographic Explorer, Today, and Good Morning America and has been featured in People, Esquire, and Money magazines.
Amos's photography has won Nikon, Communication Arts, and BBC Wildlife Photographer of the Year awards. Amos was honored with The International SeaKeeper of the Year 2019, an award that has previously been given to James Cameron, Prince Albert, Dr. Sylvia Earle, Mikhail Gorbachev, Jean-Michel Cousteau and others.
Picture of His Life is currently opening festivals throughout the world, frequently winning Audience Awards for Best Documentary. Picture of His Life is a Yonatan Nir and Dani Menkin Film.
General admission tickets ($15 Adults, $10 Students) are available online or by calling the box office at 509-529-6500.
Seating for each screening is capped at 100 patrons, as allowed under Phase 2 of Washington's Safe Start Plan. Additional precautions including required mask use and physical distancing between households will be observed.
---
Season Sponsors:
KAPP-KVEW TV, Pacific Power, Northwest Public Broadcasting, Hayden Homes
Additional support provided by:
Walla Walla County, Port of Walla Walla, City of Walla Walla
Each Coldwell Banker Office is Independently Owned and Operated
---
About the Gesa Power House Theatre
The historic Gesa Power House Theatre is a 300-seat performing arts venue, located in downtown Walla Walla. The 120-year-old building was once the Walla Walla Gas Plant, built to produce coal gas used to light the streets, businesses, and homes of Walla Walla. In 2011 the Gesa Power House Theatre building was transformed into a state-of-the-art playhouse for live performance. The interior design of the theatre was inspired by Shakespeare's own intimate Blackfriars Theatre in London, England.
The Gesa Power House Theatre is on the Washington State Building Preservation Commission list of State historic buildings and on the National Register of Historic Places. The venue also hosts a variety of other cultural events, musical concerts, and private events (including weddings).
For additional marketing and media information, including interviews and hi-res images, contact:
Bradley Nelson
Media Contact
Phone: 509.529-6500
webmaster@phtww.org
Gesa Power House Theatre
111 North Sixth Ave.
Walla Walla, Washington 99362