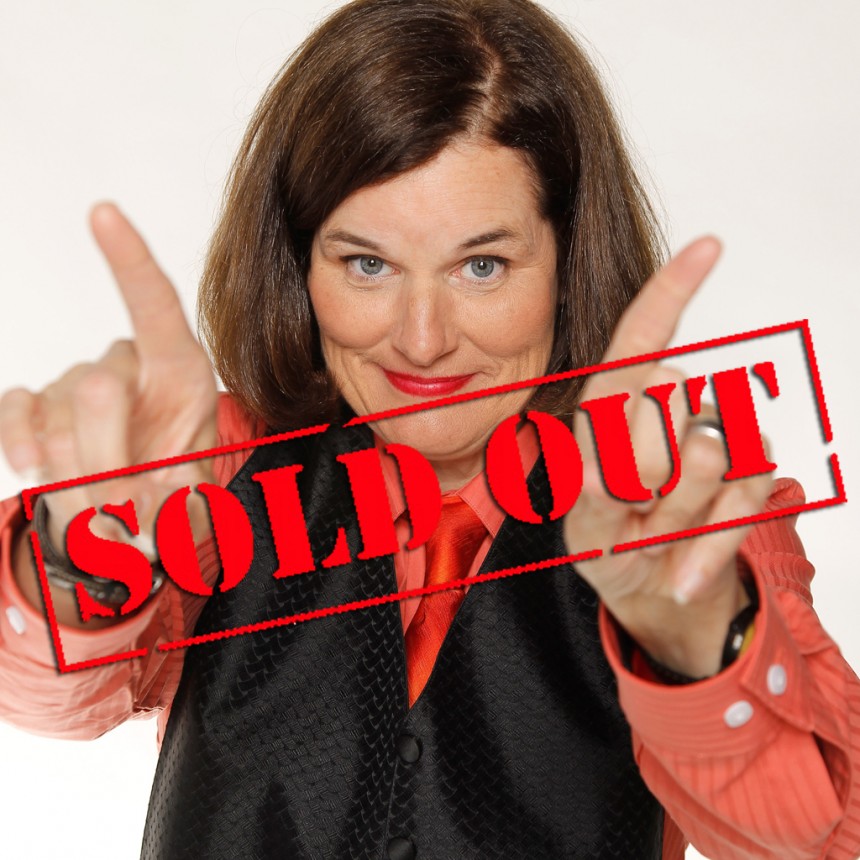 Press Release: Paula Poundstone to Perform at Power House on Jan. 28
December 1, 2015 – Comedian Paula Poundstone will perform at the Gesa Power House Theatre on Thursday, January 28, at 7:00 p.m.
Thirty-two years ago Paula Poundstone climbed on a Greyhound bus and traveled across the country, stopping in at open mic nights at comedy clubs as she went. Today she is one of the country's foremost humorists and is a regular panelist on NPR's weekly news quiz show, "Wait Wait…Don't Tell Me". This year Poundstone was part of the talented cast in Pixar's critically acclaimed movie, "Inside Out" and she tours regularly, performing standup comedy across the country, where her ability to be spontaneous with a crowd is legendary.
"No two shows I do are the same," says Poundstone. "It's not that I don't repeat material. I do. My shows, when they're good, and I like to think they often are, are like a cocktail party. When you first get there, you talk about how badly you got lost and how hard it was to find parking. Then you tell a story about your kids or what you just saw on the news. You meet some new people and ask them about themselves. Then, someone says, 'Tell that story you used to tell,' and then someone on the other side of the room spills a drink, and you mock them."
Poundstone's career highlights include starring in comedy specials for HBO and BRAVO, being a political correspondent for The Tonight Show during the 1992 US Presidential campaign, and appearing on Hollywood Squares. Comedy Central recognized her as one of the top 100 greatest standups of all time. She was the first woman to win the cable ACE Award for Best Standup Comedy Special (1992), the first woman to perform standup at the White House Correspondents dinner (1993), and was voted into the Comedy Hall of Fame in 2010.
Reserved seating tickets ($45) will be available on Friday, November 27, online, or by calling the box office at 509-529-6500. Support for this show is provided by Northwest Public Radio.
For more information about upcoming events at the Gesa Power House Theatre, visit www.phtww.org.
Additional Links:
Twitter.com/paulapoundstone
Facebook.com/paulapoundstone
www.paulapoundstone.com
---
About the Gesa Power House Theatre
The historic Gesa Power House Theatre is a world-class, 342 seat performing arts venue, located in downtown Walla Walla. The 120-year-old building was once the Walla Walla Gas Plant, built to produce coal gas used to light the streets, businesses, and homes of Walla Walla. In 2011 the Gesa Power House Theatre building was transformed into a state-of-the-art playhouse for live performance. The interior design of the theatre was inspired by Shakespeare's own intimate Blackfriars Theatre in London, England.
The Gesa Power House Theatre is on the Washington State Building Preservation Commission list of State historic buildings and on the National Register of Historic Places. Home to Shakespeare Walla Walla, a nonprofit organization working to bring Shakespearean theater and other events to Walla Walla, the venue also hosts a variety of other cultural events, musical concerts, and private events (including weddings).
---
For additional marketing and media information, including interviews and hi-res images, contact:
Michelle Liberty
Media Contact
Phone: 509.629.0584
bookings@phtww.org