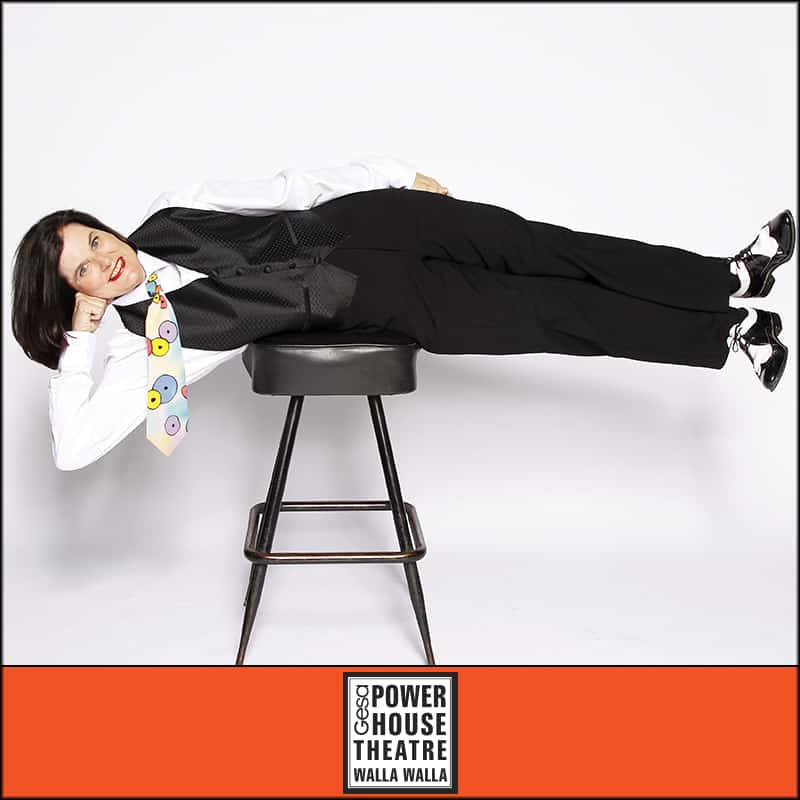 Press Release: Paula Poundstone reschedules visit to Walla Walla – July 26 & 27
Comedian, author, lecturer, host, and actress Paula Poundstone returns to Walla Walla to perform at Gesa Power House Theatre for two nights on Friday, July 26 and Saturday, July 27 at 7:00 p.m. Her appearance is sponsored in part by Northwest Public Broadcasting.
Paula Poundstone was scheduled to perform to a sold out audience in February, but the weather forced her to cancel. A second performance was added to meet the demand for tickets.
Paula Poundstone is known for her smart, observational humor and spontaneous wit. She is also a popular panelist on NPR's #1 show, the weekly comedy news quiz, Wait, Wait…Don't Tell Me! Guest appearances include The Late Show with Stephen Colbert, Star Talk with Neil deGrasse Tyson, Late Night with Carson Daly, and Nerdist with Chris Hardwick. She was a clue in a New York Times crossword puzzle; she's filed commentaries for CBS Sunday Morning, and NPR's Morning Edition and All Things Considered. She voices the character "Paulette" in Cartoon Network's new animated series Summer Camp Island, and voiced the character "Forgetter Paula" in Disney/Pixar's Inside Out, winner of the 2017 Academy Award for Best Animated Feature Film.
Paula Poundstone's new weekly podcast for Maximum Fun, Nobody Listens to Paula Poundstone, is a comedy field guide to life. Each week with her co-host, Adam Felber – a friend and fellow panelist on Wait Wait…Don't Tell Me! – bring on leading expert guests and use their unique comedic sensibility to help us navigate life in the 21st century. Along the way, Paula attempts to explain existence through her kaleidoscopic perspective, and Adam tries to interject some rationality.
Paula Poundstone has had numerous HBO specials and starred in her own series on HBO and ABC. Her second special for HBO, Paula Poundstone goes to Harvard, marked the first time the elite university allowed its name to be used in the title of a television show. Paula was the first woman, in its then 73rd year, to perform standup comedy at the White House Correspondents' Dinner. She won an American Comedy Award for Best Female Standup Comic and is recognized in innumerable lists, documentaries, and literary compendiums noting influential standup comedians.
Reserved seating tickets ($45) will go on sale to the general public on Monday, March 4, online or by calling the box office at 509-529-6500.
# # #
The 2019 Season is supported in part by: Coldwell Banker First Realtors, Foundry Vineyards, KAPP-KVEW, Inland Cellular, Pacific Power, McCurley Integrity Toyota of Walla Walla, Courtyard Marriott, and Northwest Public Broadcasting.
---
About the Gesa Power House Theatre
The historic Gesa Power House Theatre is a 300-seat performing arts venue, located in downtown Walla Walla. The 120-year-old building was once the Walla Walla Gas Plant, built to produce coal gas used to light the streets, businesses, and homes of Walla Walla. In 2011 the Gesa Power House Theatre building was transformed into a state-of-the-art playhouse for live performance. The interior design of the theatre was inspired by Shakespeare's own intimate Blackfriars Theatre in London, England.
The Gesa Power House Theatre is on the Washington State Building Preservation Commission list of State historic buildings and on the National Register of Historic Places. The venue also hosts a variety of other cultural events, musical concerts, and private events (including weddings).
For additional marketing and media information, including interviews and hi-res images, contact:
Bradley Nelson
Media Contact
Phone: 509.529-6500
webmaster@phtww.org
Gesa Power House Theatre
111 North Sixth Ave.
Walla Walla, Washington 99362