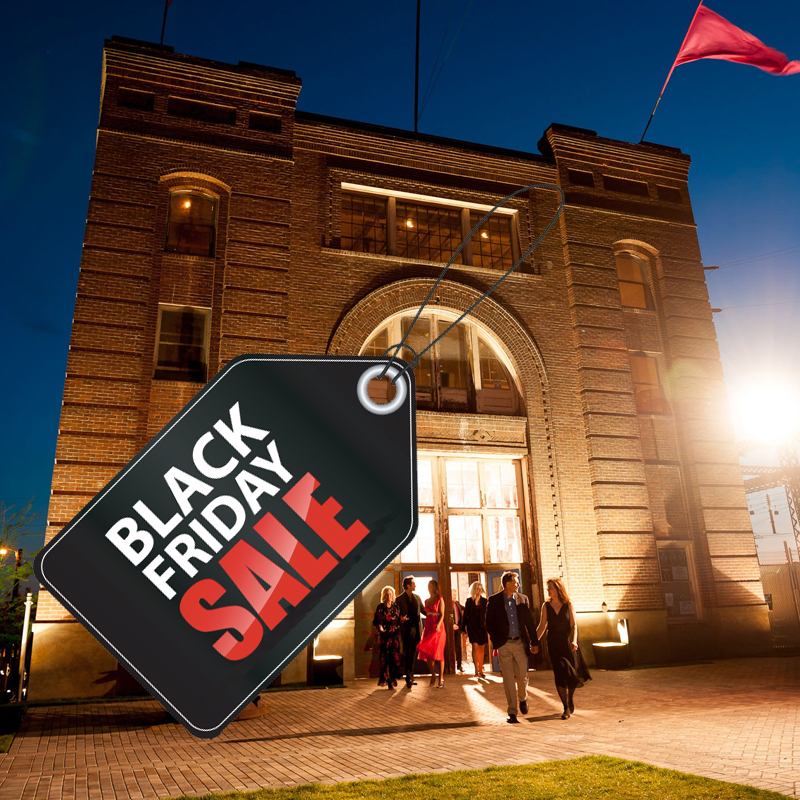 Press Release: November 25 Black Friday Sale
Gesa Power House Theatre will launch their 2017 Season with a Black Friday sale on Friday, November 25.
"I am pleased to be able to announce the first five shows we have booked at the Power House in 2017," says Mark Anderson, co-owner of Gesa Power House Theatre. "This is just the beginning of what we have in store for Walla Walla in the upcoming year."
Gesa Power House Theater will offer limited-time discounts on tickets to the following shows in the 2017 Season:
January 14:
Rémi Bolduc – "Dave Brubeck Tribute"
Few American jazz artists have had as much influence or were as popular as Dave Brubeck was in the 1950s. In this tribute concert, the Rémi Bolduc Jazz Ensemble, led by one of Canada's best jazz saxophonists, perform music of Brubeck's celebrated band. The program includes several compositions from the album "Time Out" – one of the most famous and best-selling albums in the history of jazz, even to this day.
Off Broadway's only improvised pirate musical is a mashup of "Pirates of the Carribean" and "Whose Line is it Anyway?" with audience suggestions driving the plot of a musical adventure. This comedy event is appropriate for all ages.
"Jazz Noir" puts a fresh spin on familiar TV and movie themes (film noir, spy thrillers and crime dramas), and includes new works and jazz classics. Featuring master of the flugelhorn Dmitri Matheny, the concert includes a Noir Medley of cinematic favorites (Touch of Evil, Laura, Chinatown, Vertigo, Taxi Driver, Blues in the Night) and an original Crime Scenes jazz suite.
Six sensational musicians and two professional dancers perform Irish traditional music, song, and dance. Between these eight young performers, they have performed for presidents and royalty, toured the globe, performed with Bono, and were chosen by Sting to perform at his exclusive private parties.
Acoustic jazz ensemble Rhythm Future Quartet aims to keep the spirit of gypsy jazz alive in a modern world. Influenced by the classic Hot Club of France, yet wholly contemporary, four talented performers perform gypsy jazz standards, original compositions, and arrangements of familiar pop tunes.
Black Friday discounted pricing will start at 15% off tickets to any 2017 show, and increase to 20% off purchase of tickets to 2 or more 2017 shows, and 25% off 3 or more shows.
The Gesa Power House Theatre box office will be closed on Thursday, November 24, but will be open from noon to 5:00 p.m. on Friday, November 25. Tickets will also be available online throughout the sale. Sale prices are good through Cyber Monday, November 28.
More information about upcoming events can be found at 
www.phtww.org
 or by calling the box office at 509-529-6500.
---
About the Gesa Power House Theatre
The historic Gesa Power House Theatre is a world-class, 342 seat performing arts venue, located in downtown Walla Walla. The 120-year-old building was once the Walla Walla Gas Plant, built to produce coal gas used to light the streets, businesses, and homes of Walla Walla. In 2011 the Gesa Power House Theatre building was transformed into a state-of-the-art playhouse for live performance. The interior design of the theatre was inspired by Shakespeare's own intimate Blackfriars Theatre in London, England.
The Gesa Power House Theatre is on the Washington State Building Preservation Commission list of State historic buildings and on the National Register of Historic Places. The venue also hosts a variety of other cultural events, musical concerts, and private events (including weddings).
For additional marketing and media information, including interviews and hi-res images, contact:
Bradley Nelson
Media Contact
Phone: 509.529-6500
webmaster@phtww.org
Gesa Power House Theatre
111 North Sixth Ave.
Walla Walla, Washington 99362