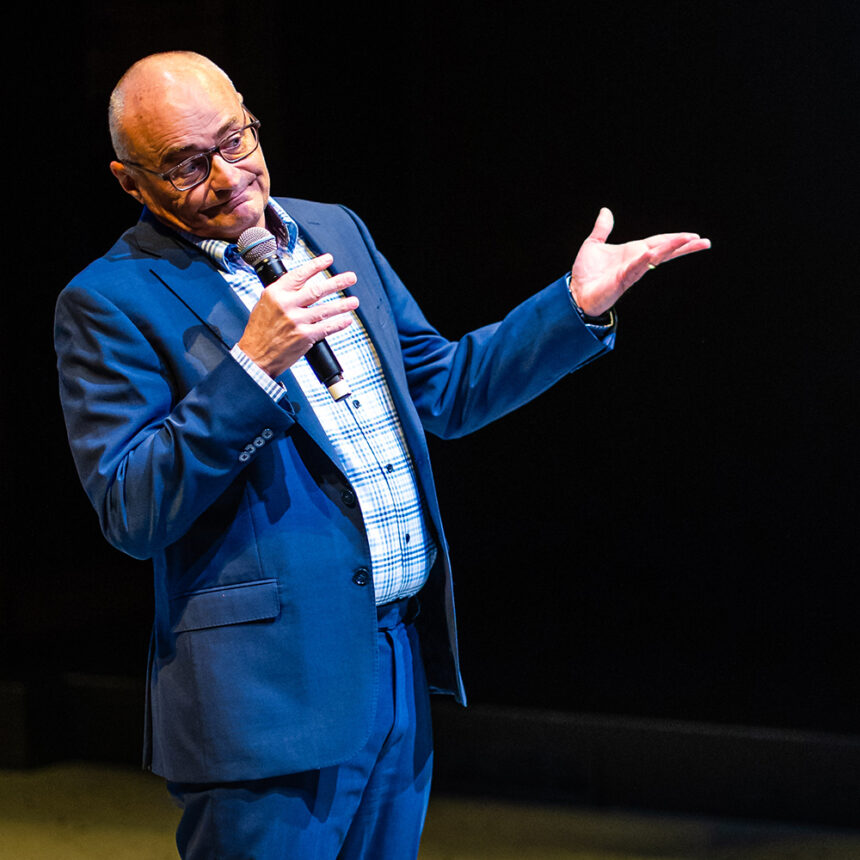 Press Release: New Year's Comedy Show to feature Brad Upton – December 31
Gesa Power House Theatre invites you ring in the New Year with comedy by Brad Upton, starting at 7:00 p.m. on Saturday, December 31, 2022 and finishing with a New Year's toast at 9:00 p.m. Tickets are on sale now.
If the Pacific Northwest had a Mt. Rushmore of Comedy, this man's head would be on it. With more than 30 years of experience in comedy, Brad Upton performs all over the world, and opens for some of the biggest names in show business, including the legendary Johnny Mathis.
Brad Upton was a 4th grade teacher and high school track coach (at Pasco High School) when he stepped on stage for the very first time in September of 1984 and he's never looked back. He quickly rose through the stand-up comedy ranks making numerous television appearances and headlining comedy clubs from coast-to-coast.
In June of 2018 Brad went viral around the world. Dry Bar Comedy posted a video on Facebook and it had 36 million views in 10 days. Another video quickly followed, for a combined 47 million views in 11 days! His CD shot to Number 1 on the iTunes Comedy chart, and Brad's Dry Bar Comedy videos currently have a combined 170 million views!
Although his comedy career keeps him busy, each year Brad takes time off for one of his other passions: coaching track and field. He recently coached the fastest high school 100 and 300 hurdlers in Washington state. Both set school records and his 300 hurdler went on to become state champion!
Brad's latest comedy album, Brad Uptonogood is heard regularly on Sirius Satellite Radio, and he recently released his first DVD, Brad Upton, Live from the 509.
Reserved seating tickets ($35-$30 adults, $25 students) are available online at www.phtww.org or by calling the box office at 509-529-6500. Gesa Power House Theatre is located at 111 N. 6th Avenue in downtown Walla Walla.
---
Gesa Power House Theatre is currently operating at full capacity but will continue to follow the most recent guidance from state and county Departments of Health.
---
About Gesa Power House Theatre
The historic Gesa Power House Theatre is a 300-seat performing arts venue, located in downtown Walla Walla. The 120-year-old building was once the Walla Walla Gas Plant, built to produce coal gas used to light the streets, businesses, and homes of Walla Walla. In 2011 the Gesa Power House Theatre building was transformed into a state-of-the-art playhouse for live performance. The interior design of the theatre was inspired by Shakespeare's own intimate Blackfriars Theatre in London, England.
The Gesa Power House Theatre is on the Washington State Building Preservation Commission list of State historic buildings and on the National Register of Historic Places. The venue also hosts a variety of other cultural events, musical concerts, and private events (including weddings).
Gesa Power House Theatre is owned and operated by Power House Theatre Walla Walla, a 501(c)(3) nonprofit organization.
For additional marketing and media information, including interviews and hi-res images, contact:
Bradley Nelson
Media Contact
Phone: 509.529-6500
webmaster@phtww.org
Gesa Power House Theatre
111 North Sixth Ave.
Walla Walla, Washington 99362