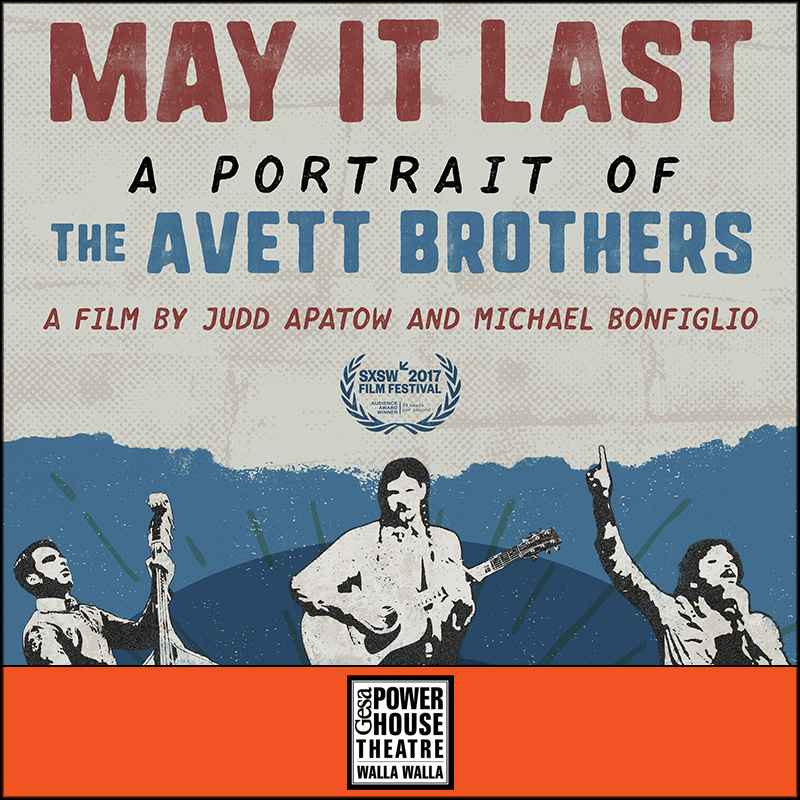 Press Release: "May It Last: A Portrait of the Avett Brothers" – Sept. 12
Gesa Power House Theatre will screen a new independent film: "May It Last: A Portrait of the Avett Brothers" on Tuesday, September 12, at 7:00 p.m. The film is being screened nationwide to select theaters on that night only.
Filmed with extraordinary access over more than two years, "May It Last: A Portrait of the Avett Brothers" is a deeply intimate and revealing look at the Grammy Award-nominated North Carolina band fronted by Seth and Scott Avett.
Directors Judd Apatow and Michael Bonfiglio chart the Avett Brothers' decade-and-a-half rise, while chronicling their 2016 collaboration with famed producer Rick Rubin on the critically-acclaimed album "True Sadness," released on American Recordings/Republic Records. Using the recording process as a backdrop, the film depicts a lifelong creative partnership put to the test as band members undergo marriage, divorce, parenthood, illness, and the challenges of the music business.
More than just a concert documentary, "May It Last" is a meditation on family, love, and the passage of time.
"A total joy! You'll laugh, you'll cry, you'll sing, you'll sigh – basically, how you feel walking away from any show by The Avett Brothers."
– Michael Roffman, Consequence of Sound  
Reserved seating tickets ($15 Adults, $10 Students) are available online, by calling the box office at 509-529-6500, or at the door.
This screening is sponsored in part by Henry Earl Estates and Russell Creek Winery and with the generous support of Bill Dunham and Heather Schermann.
The 2017 Season is also supported in part by: KAPP-KVEW, Coldwell Banker First Realtors, Foundry Vineyards, Courtyard Marriott, Inland Cellular, Pacific Power, McCurley Integrity Toyota of Walla Walla.
# # #
---
About the Gesa Power House Theatre
The historic Gesa Power House Theatre is a 300-seat performing arts venue, located in downtown Walla Walla. The 120-year-old building was once the Walla Walla Gas Plant, built to produce coal gas used to light the streets, businesses, and homes of Walla Walla. In 2011 the Gesa Power House Theatre building was transformed into a state-of-the-art playhouse for live performance. The interior design of the theatre was inspired by Shakespeare's own intimate Blackfriars Theatre in London, England.
The Gesa Power House Theatre is on the Washington State Building Preservation Commission list of State historic buildings and on the National Register of Historic Places. The venue also hosts a variety of other cultural events, musical concerts, and private events (including weddings).
For additional marketing and media information, including interviews and hi-res images, contact:
Bradley Nelson
Media Contact
Phone: 509.529-6500
webmaster@phtww.org
Gesa Power House Theatre
111 North Sixth Ave.
Walla Walla, Washington 99362