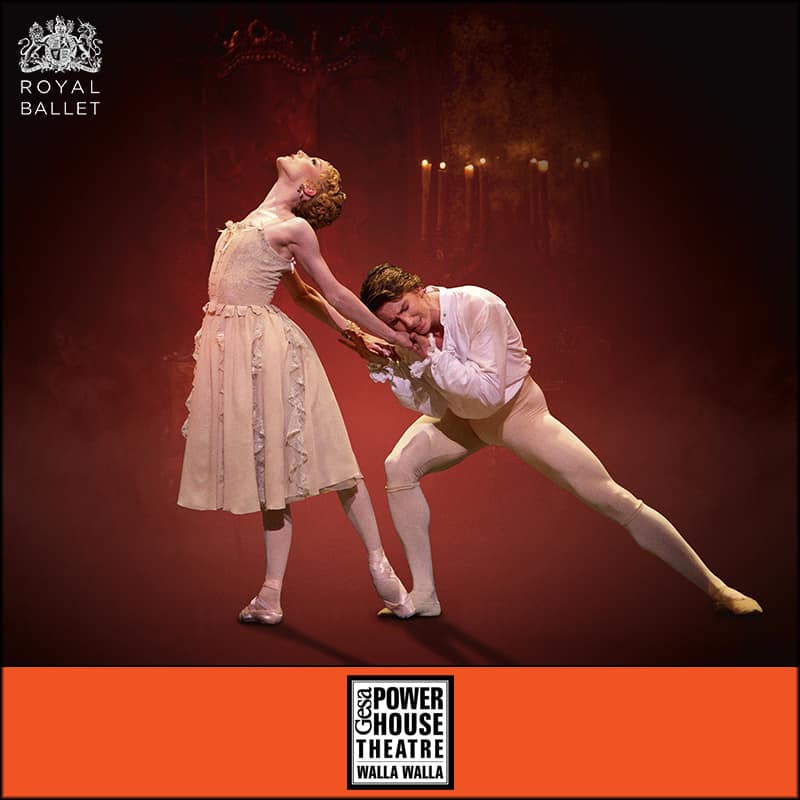 Press Release: Live Cinema Series "Manon" – The Royal Ballet – June 20
Gesa Power House Theatre will screen the current Royal Ballet production of Manon on Wednesday, June 20, 2018 at 6:00 p.m. This production is filmed live in London and rebroadcast internationally to select screens.
Kenneth MacMillan's source for Manon was the 18th-century French novel already adapted for opera by Massenet and Puccini. The premiere was given on March 7, 1974, with the lead roles danced by Antoinette Sibley and Anthony Dowell. The ballet quickly became a staple of The Royal Ballet's repertory, and a touchstone of adult, dramatic dance.
MacMillan found new sympathy with the capricious Manon and her struggle to escape poverty. Designs by his regular collaborator Nicholas Georgiadis reflect this, depicting a world of lavish splendour polluted by miserable destitution. MacMillan's spectacular ensemble scenes for the whole Company create vivid, complex portraits of the distinct societies of Paris and New Orleans. But it is Manon and Des Grieux's impassioned pas de deux – recalling the intensity of MacMillan's earlier Romeo and Juliet – that drive this tragic story, and make Manon one of MacMillan's most powerful dramas.
The cast of this production of Manon includes Sarah Lamb and Vadim Muntagirov in the lead roles.
This screening runs approximately 2 hours 35 minutes including two intervals and an onscreen introduction. Beer, wine, popcorn, and snacks will be available for purchase. Outside food and beverages are not allowed.
The Live Cinema series features current productions by the Royal Shakespeare Company, Royal Ballet, and Royal Opera. Direct from England, these professional productions are filmed live and rebroadcast later to select international screens.
Reserved seating tickets ($15 Adults, $10 Students) are available online (www.phtww.org) or by calling the box office at 509-529-6500.
The 2018 Live Cinema Series is sponsored by Shakespeare Walla Walla, a local 501(c)3 nonprofit organization that aims to make Shakespeare and theater approachable and entertaining to students in eastern Washington and Oregon. 
---
Live Cinema Schedule
Sunday, May 20
Bernstein Centenary
The Royal Ballet
Wednesday, May 16 & Sunday, May 27
Macbeth
The Royal Shakespeare Company
Wednesday, June 20
Manon
The Royal Ballet
Wednesday, July 18
Swan Lake
The Royal Ballet
Wednesday, September 5
Romeo & Juliet
The Royal Shakespeare Company
Wednesday, October 10
The Merry Wives of Windsor
The Royal Shakespeare Company
---
About the Gesa Power House Theatre
The historic Gesa Power House Theatre is a 300-seat performing arts venue, located in downtown Walla Walla. The 120-year-old building was once the Walla Walla Gas Plant, built to produce coal gas used to light the streets, businesses, and homes of Walla Walla. In 2011 the Gesa Power House Theatre building was transformed into a state-of-the-art playhouse for live performance. The interior design of the theatre was inspired by Shakespeare's own intimate Blackfriars Theatre in London, England.
The Gesa Power House Theatre is on the Washington State Building Preservation Commission list of State historic buildings and on the National Register of Historic Places. The venue also hosts a variety of other cultural events, musical concerts, and private events (including weddings).
For additional marketing and media information, including interviews and hi-res images, contact:
Bradley Nelson
Media Contact
Phone: 509.529-6500
webmaster@phtww.org
Gesa Power House Theatre
111 North Sixth Ave.
Walla Walla, Washington 99362