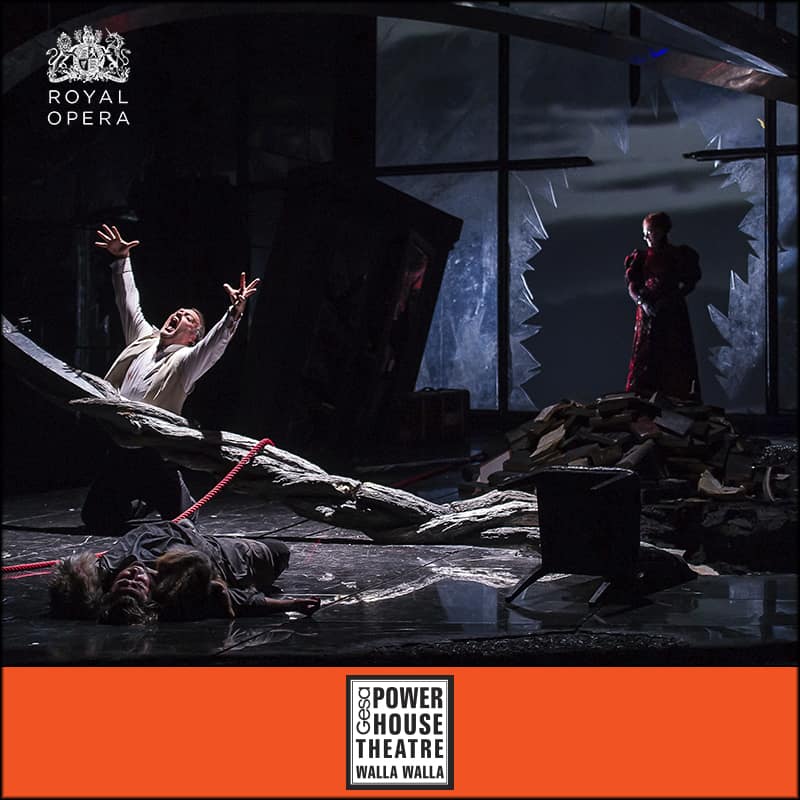 Press Release: Live Cinema screening of Wagner's "Die Walkure" opera – December 9
The Live Cinema series at Gesa Power House Theatre continues with the screening of Die Walküre, on Sunday, December 9 from 1:00 p.m. to 6:00 p.m. at Gesa Power House Theatre.
Die Walküre (The Valkyrie) is the second opera in Richard Wagner's epic Der Ring Des Nibelungen (The Ring Cycle). It features several of the Ring's musical highlights – the sparkling "Magic Fire Music" and the electrifying "Ride of the Valkyries." But among the musical fireworks and Norse mythology, at the centre of this opera are the unforgettable characters and the complex entanglements between them, including twins Siegmund and Sieglinde, and Wotan and his Valkyrie daughter, Brünnhilde.
Die Walküre features a stellar international cast including Australian tenor Stuart Skelton (Siegmund) and John Lundgren (Wotan), who both make their Royal Opera debuts, American soprano Emily Magee (Sieglinde) and award-winning Swedish soprano Nina Stemme (Brünnhilde). This production is conducted by Antonio Pappano, Music Director of The Royal Opera House.
Die Walküre is a story of love, loss and family entanglements. Years before the opera opens, Wotan, ruler of the gods, disguised himself as a mortal man and had twins with a mortal woman who gave birth to twins Siegmund and Sieglinde who were separated during their childhood. Wotan hopes that he can use his son Siegmund to retrieve a gold ring of ultimate power, which threatens to bring about the Gods' destruction. He engineers a meeting between Siegmund and Sieglinde, now unhappily married to Hunding. Initially unaware of each other's identity, the siblings fall in love. Wotan intends to protect his incestuous children from Hunding's wrath, but his wife Fricka, guardian of marriage, forbids him to do this. However, Wotan's daughter Brünnhilde, who is moved by Siegmund's devotion to Sieglinde, intervenes in an attempt to save the couple. Wotan kills Siegmund, fulfilling his promise to Fricka. Brünnhilde manages to save Sieglinde, now pregnant with Siegmund's child but cannot escape punishment from Wotan, who condemns her to mortality and marriage. However, Wotan's love for his daughter leads him to grant her a final request: that she be left to sleep encircled by magical fire, so that only a hero can find and wake her.
This screening has a runtime of approximately 5 hours, including an on-screen introduction and two intermissions. Beer, wine, popcorn, and snacks will be available for purchase, and may be taken into the theater.
Note: This opera is performed in German with English surtitles.
The Royal Opera House cinema broadcasts offer audiences an equivalent to the best seat in the house, with exclusive behind-the-scenes footage, interviews and incredibly detailed close-ups of performers. The 2018 Live Cinema Series is sponsored in part by Shakespeare Walla Walla.
Reserved seating tickets ($15 Adults, $10 Students) are available online or by calling the box office at 509-529-6500.
Shakespeare Walla Walla is a local 501(c)3 nonprofit organization that aims to make Shakespeare and theater approachable and entertaining to students in eastern Washington and Oregon. 
---
About the Gesa Power House Theatre
The historic Gesa Power House Theatre is a 300-seat performing arts venue, located in downtown Walla Walla. The 120-year-old building was once the Walla Walla Gas Plant, built to produce coal gas used to light the streets, businesses, and homes of Walla Walla. In 2011 the Gesa Power House Theatre building was transformed into a state-of-the-art playhouse for live performance. The interior design of the theatre was inspired by Shakespeare's own intimate Blackfriars Theatre in London, England.
The Gesa Power House Theatre is on the Washington State Building Preservation Commission list of State historic buildings and on the National Register of Historic Places. The venue also hosts a variety of other cultural events, musical concerts, and private events (including weddings).
For additional marketing and media information, including interviews and hi-res images, contact:
Bradley Nelson
Media Contact
Phone: 509.529-6500
webmaster@phtww.org
Gesa Power House Theatre
111 North Sixth Ave.
Walla Walla, Washington 99362