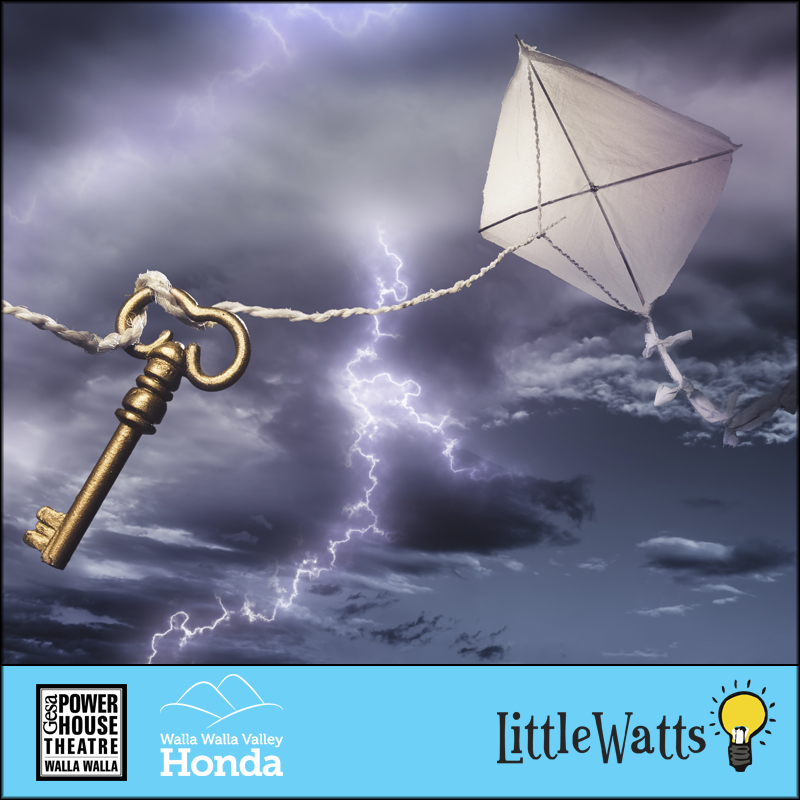 Press Release: Little Watts Series – "Benjamin Franklin" – February 24
Walla Walla Valley Honda presents 
Benjamin Franklin
 – the first in the 2017 
Little Watts Children's Series of Family Entertainment 
at Gesa Power House Theatre on Friday, February 24 at 6:30 p.m.
In this play, young audience members will be introduced to Mr. Benjamin Franklin – inventor, author, scientist, and founding father. Travel with him, meet his friends, help him in his work and learn all about the courageous and diligent man who tamed electricity with a kite and a key – a fascinating and humorous romp with one of America's most endearing historical characters.
"Benjamin Franklin" is presented by Traveling Lantern who last appeared in Walla Walla for a sold-out performance of "A Christmas Carol" in December. Their mission is to bring great stories to children, to draw them into an active theater experience, to excite their minds and to tickle their imaginations. This production is geared towards grade school audiences and will run about an hour.
Reserved seating tickets ($10 Adults, $7 Youth 12 and under) are available online (www.phtww.org) or by calling the box office at 509-529-6500.
---
The 2017 Little Watts Children's Series of Family Entertainment is presented by:
---
About the Gesa Power House Theatre
The historic Gesa Power House Theatre is a world-class, 342 seat performing arts venue, located in downtown Walla Walla. The 120-year-old building was once the Walla Walla Gas Plant, built to produce coal gas used to light the streets, businesses, and homes of Walla Walla. In 2011 the Gesa Power House Theatre building was transformed into a state-of-the-art playhouse for live performance. The interior design of the theatre was inspired by Shakespeare's own intimate Blackfriars Theatre in London, England.
The Gesa Power House Theatre is on the Washington State Building Preservation Commission list of State historic buildings and on the National Register of Historic Places. The venue also hosts a variety of other cultural events, musical concerts, and private events (including weddings).
For additional marketing and media information, including interviews and hi-res images, contact:
Bradley Nelson
Media Contact
Phone: 509.529-6500
webmaster@phtww.org
Gesa Power House Theatre
111 North Sixth Ave.
Walla Walla, Washington 99362