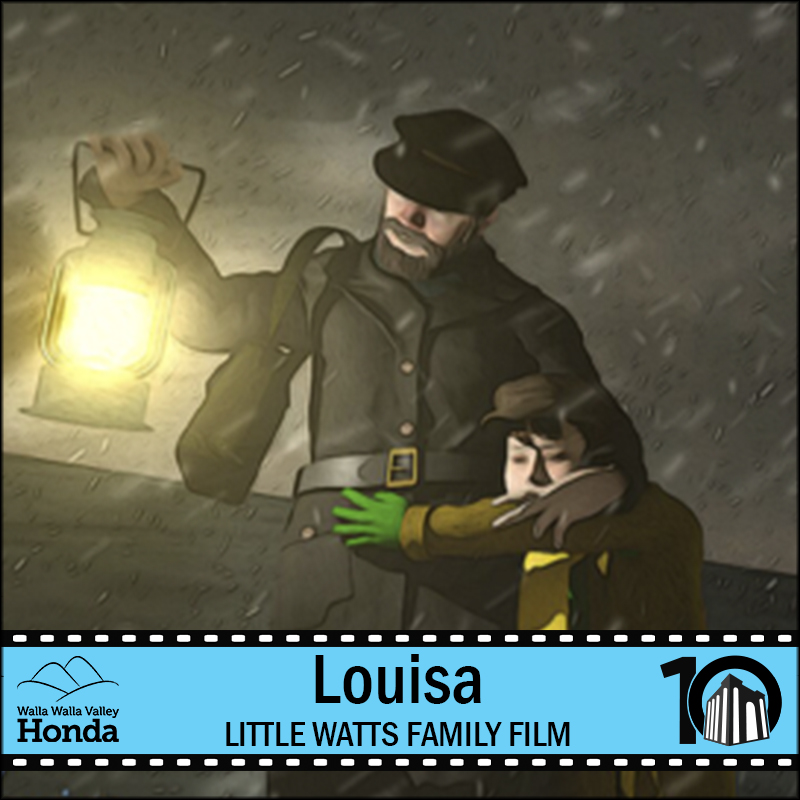 Press Release: Little Watts Movie "Louisa: An Amazing Adventure" – June 26
Gesa Power House Theatre announces the return of the Little Watts Family Series with a screening of the family-friendly animated film Louisa: An Amazing Adventure on Saturday, June 26 at 10:00AM. The Little Watts series is sponsored by Walla Walla Valley Honda.
January 12, 1899 was the setting for one of the most astonishing lifeboat recue attempts during one of the worst storms at sea in living memory. Unable to launch directly into the storm, the coxswain of the Louisa lifeboat, decided to haul the lifeboat 13 miles overland to a more sheltered bay in order to rescue a sailing ship.
This real life story is dramatically told in Louisa: An Amazing Adventure, and explores the true courage, determination, and extraordinary spirit of ordinary people trying to save the lives of strangers in need. The animation style resembled that of an oil painting brought to life and the adventure is narrated by the coxswain's daughter, May, voiced by acclaimed actor Celia Imrie (Best Exotic Marigold Hotel).
Louisa: An Amazing Adventure is currently touring festivals and recently won Best Animation Feature at the Moscow International Children's Film Festival. This screening is recommended for ages 8 and up and has a runtime of about an hour.
General admission tickets ($12 adults, $8 youth 12 and under) are available online at www.phtww.org or by calling the box office at 509-529-6500.
The Little Watts Series will continue on July 10 with an hour of short films during the Walla Walla Movie Crush festival, and on Saturday, July 24 with a screening of the family-friendly documentary Curtain Up! about elementary students in New York's Chinatown as they rehearse for a musical production of Frozen.
Seating for each screening is capped at 100 patrons, as allowed under Washington's Safe Start Plan. Additional precautions including required mask use for unvaccinated patrons and physical distancing between households will be observed.
---
The Little Watts Family Series is presented by:

Additional support provided by:
Yancey P Winans Community Grant
---
Season Sponsors:
KAPP-KVEW TV, Pacific Power, Northwest Public Broadcasting, Hayden Homes
Additional support provided by:
Walla Walla County, Port of Walla Walla, City of Walla Walla
Each Coldwell Banker Office is Independently Owned and Operated
---
About Gesa Power House Theatre
The historic Gesa Power House Theatre is a 300-seat performing arts venue, located in downtown Walla Walla. The 120-year-old building was once the Walla Walla Gas Plant, built to produce coal gas used to light the streets, businesses, and homes of Walla Walla. In 2011 the Gesa Power House Theatre building was transformed into a state-of-the-art playhouse for live performance. The interior design of the theatre was inspired by Shakespeare's own intimate Blackfriars Theatre in London, England.
The Gesa Power House Theatre is on the Washington State Building Preservation Commission list of State historic buildings and on the National Register of Historic Places. The venue also hosts a variety of other cultural events, musical concerts, and private events (including weddings).
For additional marketing and media information, including interviews and hi-res images, contact:
Bradley Nelson
Media Contact
Phone: 509.529-6500
webmaster@phtww.org
Gesa Power House Theatre
111 North Sixth Ave.
Walla Walla, Washington 99362