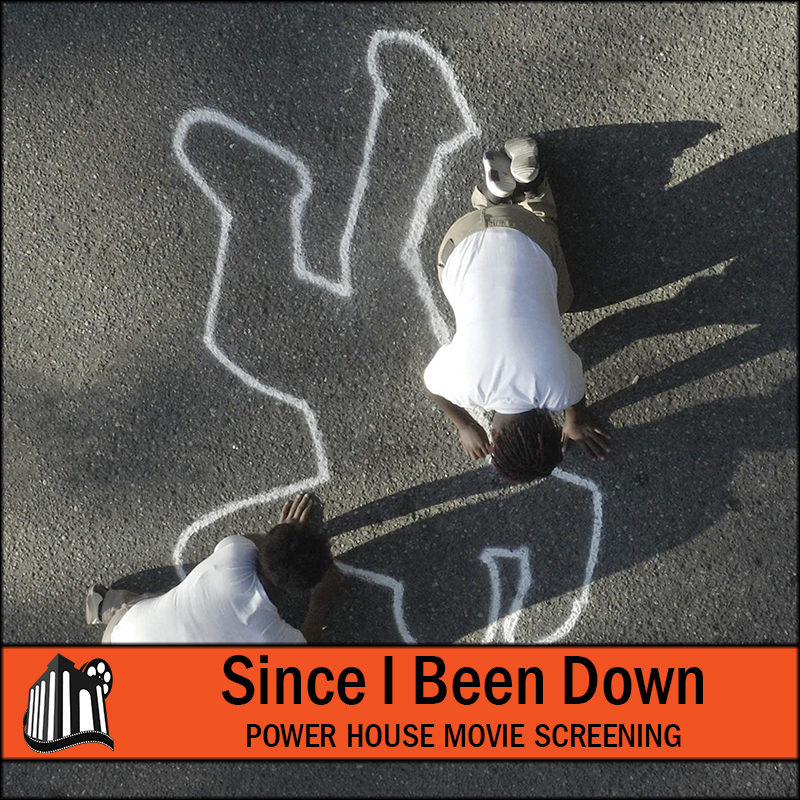 Press Release: Free community screening of "Since I Been Down" documentary – February 2
Gesa Power House Theatre presents a free screening of the documentary film Since I Been Down on Wednesday, February 2 at 7:00 p.m.
In 1993, the voters of Washington State allowed a law to pass that sent children to prison for life as "irredeemable". What has this legacy of captivity done to them, and to their communities?
Meet Kimonti Carter, former president and current member of an over 40-year Washington State prisoner-initiated program, the Black Prisoners' Caucus. At 34, he founded TEACH (Taking Education and Creating History), a remarkably innovative prisoner education program.
Kimonti and a group of his peers maneuver through a non-negotiable pathway to joining gangs as early as 11-years-old. This is a community profoundly impacted by the city's disinvestment in housing, education, and employment as well as our policies in the 1990's.
Since I Been Down is told by the people who have lived these conditions, and intimate stories from interviews are brought to life through archival footage, cinema verité discussions, masquerade, and dance. The film explores why children commit violent crime and how these children – now adults – are breaking free from their fate by creating a model of justice that is transforming their lives, our humanity and a quality of life for all our children.
The Power House Movie Series showcases award-winning festival favorites, feature-length narratives, documentaries, and undiscovered gems, paired with exclusive content from the movie makers themselves – most often in conversation with Gesa Power House Theatre Director of Film Programming, Warren Etheredge.
Free reserved seating tickets are available online or by calling the box office at 509-529-6500.
Additional precautions, such as required mask use, will be observed based on the latest guidance from state and county health departments.
---
The Power House Movies Series continues:
Takeover (documentary)
Wednesday, March 2
All Sorts (comedy)
Wednesday, March 30
The Automat (documentary)
Wednesday, April 6
Thin Skin (drama)
Friday, April 15 (with live Q&A with director Charles Mudede
Seattle Jewish Film Festival (selected shorts)
Wednesday, April 27
Charm Circle (documentary)
Wednesday, June 1
Cat Daddies (documentary)
Wednesday, June 29
All Ages Show (local documentary)
Wednesday, July 6
---
Season Sponsors:
Walla Walla Union-Bulletin, Northwest Public Broadcasting, Pacific Power, Hayden Homes
Additional support provided by:
Walla Walla County, Port of Walla Walla, City of Walla Walla
Each Coldwell Banker Office is Independently Owned and Operated
---
About Gesa Power House Theatre
The historic Gesa Power House Theatre is a 300-seat performing arts venue, located in downtown Walla Walla. The 120-year-old building was once the Walla Walla Gas Plant, built to produce coal gas used to light the streets, businesses, and homes of Walla Walla. In 2011 the Gesa Power House Theatre building was transformed into a state-of-the-art playhouse for live performance. The interior design of the theatre was inspired by Shakespeare's own intimate Blackfriars Theatre in London, England.
The Gesa Power House Theatre is on the Washington State Building Preservation Commission list of State historic buildings and on the National Register of Historic Places. The venue also hosts a variety of other cultural events, musical concerts, and private events (including weddings).
Gesa Power House Theatre is owned and operated by Power House Theatre Walla Walla, a 501(c)(3) nonprofit organization.
For additional marketing and media information, including interviews and hi-res images, contact:
Bradley Nelson
Media Contact
Phone: 509.529-6500
webmaster@phtww.org
Gesa Power House Theatre
111 North Sixth Ave.
Walla Walla, Washington 99362