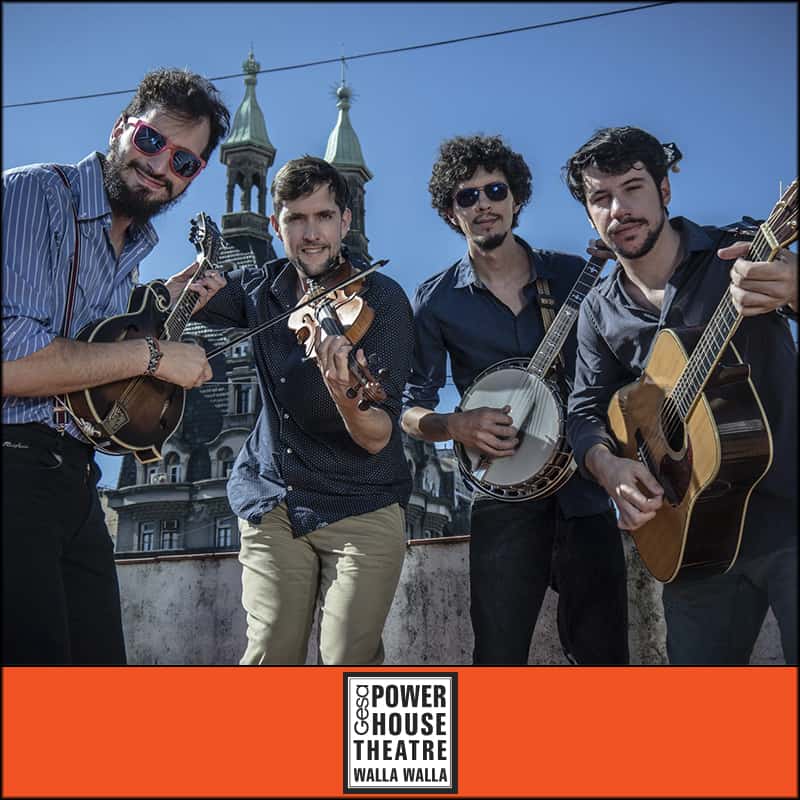 Press Release: Che Apalache – Latin Bluegrass – October 18
Tickets are now on sale for Che Apalache in concert at Gesa Power House Theatre on Friday, October 18 at 7:00 p.m.
Che Apalache is a four-man string band based in Buenos Aires with members from Argentina, Mexico and the United States. The group's founder is Joe Troop (fiddle), a North Carolinian multi-instrumentalist, singer-songwriter and composer who moved to Argentina in 2010. While patiently carving out a niche in the local music scene, Joe taught bluegrass and old-time music for a living. That's how he met Pau Barjau (banjo), Franco Martino (guitar) and Martin Bobrik (mandolin), his most dedicated students. They quickly became picking buddies and in 2013 decided to hit the stage.
Che Apalache began as a bluegrass band, but eventually incorporated Latin American styles into their repertoire. Combining instrumental prowess with tight vocal harmonies, they have created an authentic blend of genres to reflect the nature of their lives. Evoking images from Appalachia to the Andes, their debut album, "Latingrass," is a testament to a powerful cultural and musical exchange.
In 2017 the band received grants from the North Carolina Humanities Council and the Virginia Foundation for the Humanities to tour the United States. Everywhere they went on their five-week ramble, they were met with enthusiasm and praise. At the prestigious Appalachian String Band Music Festival in Clifftop, WV they were awarded first place in the Neo-Traditional band competition.
Reserved seating tickets ($35-$30 Adults; $20 Students) are available online at www.phtww.org or by calling the box office at 509-529-6500. Group ticket sales are available by calling 509-876-1662.
---
The 2019 Season is supported in part by: Coldwell Banker First Realtors, Foundry Vineyards, Walla Walla Union-Bulletin, Courtyard Marriott, Inland Cellular, KAPP-KVEW, McCurley Integrity Toyota of Walla Walla, Northwest Public Broadcasting, and Pacific Power.
---
About the Gesa Power House Theatre
The historic Gesa Power House Theatre is a 300-seat performing arts venue, located in downtown Walla Walla. The 120-year-old building was once the Walla Walla Gas Plant, built to produce coal gas used to light the streets, businesses, and homes of Walla Walla. In 2011 the Gesa Power House Theatre building was transformed into a state-of-the-art playhouse for live performance. The interior design of the theatre was inspired by Shakespeare's own intimate Blackfriars Theatre in London, England.
The Gesa Power House Theatre is on the Washington State Building Preservation Commission list of State historic buildings and on the National Register of Historic Places. The venue also hosts a variety of other cultural events, musical concerts, and private events (including weddings).
For additional marketing and media information, including interviews and hi-res images, contact:
Bradley Nelson
Media Contact
Phone: 509.529-6500
webmaster@phtww.org
Gesa Power House Theatre
111 North Sixth Ave.
Walla Walla, Washington 99362