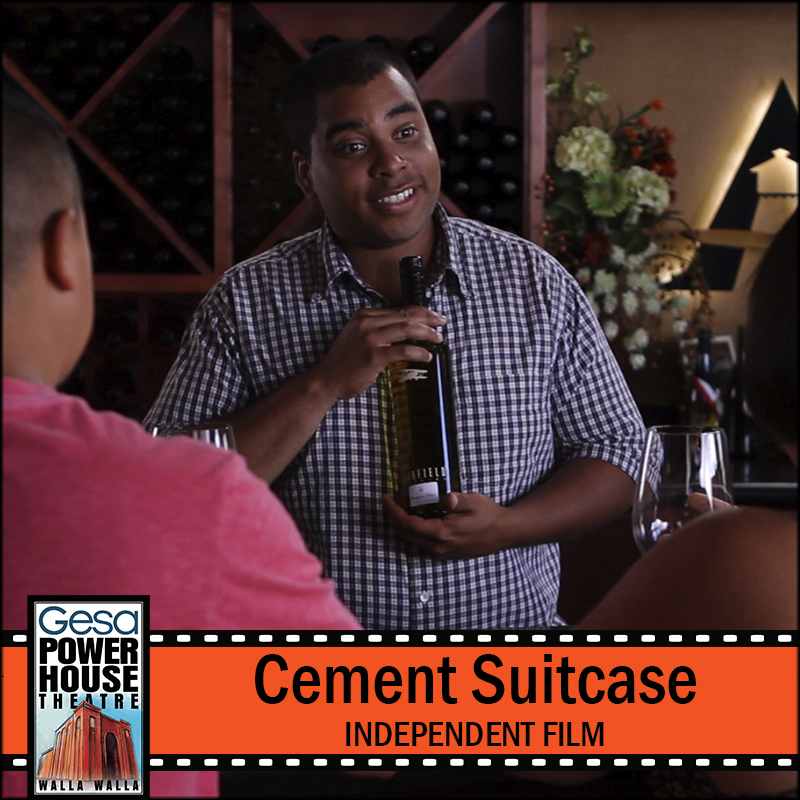 Press Release: "Cement Suitcase" independent film screening – April 16 & 21
Gesa Power House Theatre presents a screening of the award-winning independent film Cement Suitcase on Friday, April 16 at 7:00PM with an encore screening on Wednesday, April 21 at 7:00PM. Each screening will be followed by an exclusive pre-recorded conversation between Director of Film Programming Warren Etheredge and filmmaker J. Rick Castaneda.
Cement Suitcase is an "anti-romantic comedy" about what happens when a quarter-life crisis goes unchecked.
Comedian Dwayne Bartholomew stars as Franklin, the best wine salesman in the Yakima Valley, whose life happens to be falling apart. He's dangerously close to losing his job, his house, and his girlfriend Charlene (Kristina Guerrero; E! News), who he's discovered is having an affair. But things take a turn when he meets two people who help him realize that it's not too late to take back his life.
Jackford (Nathan Sapsford; MTV Australia), a charismatic vagabond, is the first to shake things up. Jackford forces his way in literally and figuratively when he breaks into Franklin's house and convinces Franklin to let him stay. After Jackford's antics push Franklin's proverbial train off its tracks, Franklin starts taking chances – including pursuing long-imagined art projects and bizarrely befriending the one person he hates most in this world: his girlfriend's lover, Brad (Shawn Parsons; Parks and Recreation). Brad, a handsome golf pro, is as carefree as he is clueless. As Franklin befriends Brad against his better instincts, he starts to realize more about himself and the life he's made. Maybe its time to let go of some baggage.
"I decided to set a movie in the Yakima Valley," says writer/director J. Rick Castaneda, "because no one else has. I wanted to make a movie about a place most people have never seen before, in a place where people still get excited about movies."
Cement Suitcase was filmed on location in the greater Yakima area. The independent comedy was recognized at many festivals when it was released in 2013, including winning the Dances with Films Audience Award, and the Ellensburg Film Festival Audience Award.
General admission tickets ($15 Adults, $10 Students) are available online at www.phtww.org or by calling the box office at 509-529-6500.
Seating for each screening is capped at 100 patrons, as allowed under Phases 2 and 3 of Washington's Safe Start Plan. Additional precautions including required mask use and physical distancing between households will be observed.
---
Season Sponsors:
KAPP-KVEW TV, Pacific Power, Northwest Public Broadcasting, Hayden Homes
Additional support provided by:
Walla Walla County, Port of Walla Walla, City of Walla Walla
Each Coldwell Banker Office is Independently Owned and Operated
---
About Gesa Power House Theatre
The historic Gesa Power House Theatre is a 300-seat performing arts venue, located in downtown Walla Walla. The 120-year-old building was once the Walla Walla Gas Plant, built to produce coal gas used to light the streets, businesses, and homes of Walla Walla. In 2011 the Gesa Power House Theatre building was transformed into a state-of-the-art playhouse for live performance. The interior design of the theatre was inspired by Shakespeare's own intimate Blackfriars Theatre in London, England.
The Gesa Power House Theatre is on the Washington State Building Preservation Commission list of State historic buildings and on the National Register of Historic Places. The venue also hosts a variety of other cultural events, musical concerts, and private events (including weddings).
For additional marketing and media information, including interviews and hi-res images, contact:
Bradley Nelson
Media Contact
Phone: 509.529-6500
webmaster@phtww.org
Gesa Power House Theatre
111 North Sixth Ave.
Walla Walla, Washington 99362