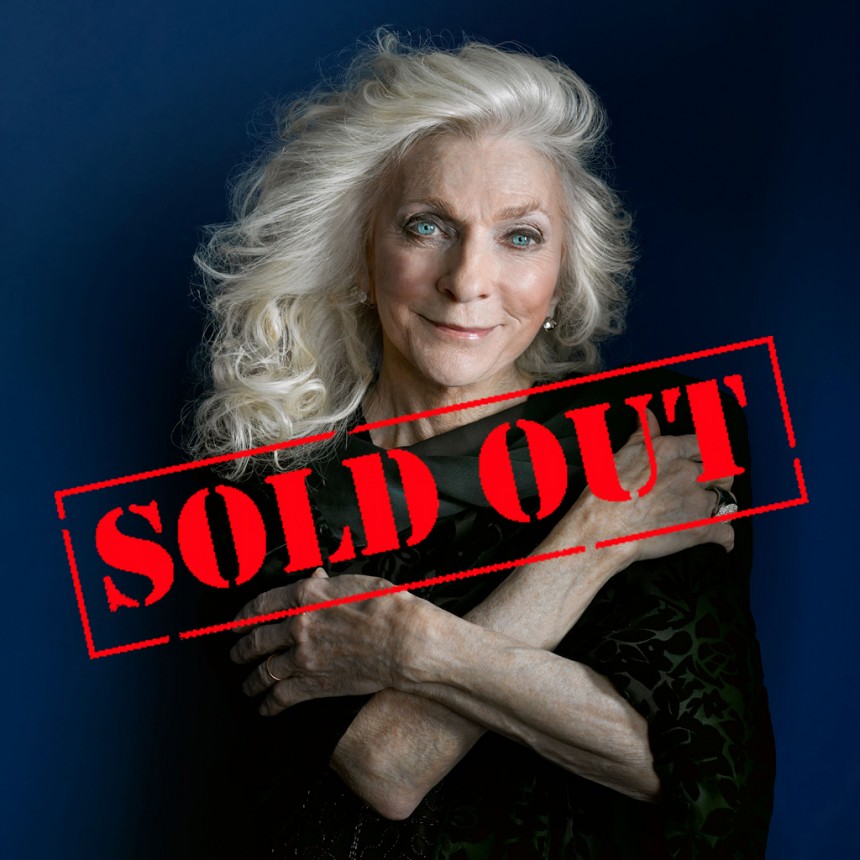 Press Release: An Evening with Judy Collins – February 12
December 7, 2015 – Grammy Award-winning singer-songwriter Judy Collins will perform live at the Gesa Power House Theatre on February 12, 2016 at 7:00 p.m.
Judy Collins is esteemed for her imaginative interpretations of traditional and contemporary folk standards and her own poetically poignant original compositions. Her rendition of Joni Mitchell's "Both Sides Now" from her landmark 1967 album, Wildflowers, was entered into the Grammy Hall of Fame. Her dreamy and sweetly intimate version of "Send in the Clowns", a ballad written by Stephen Sondheim for the Broadway musical "A Little Night Music", won Song of the Year at the 1975 Grammy Awards.
Judy Collins began her impressive music career at 13 as a piano prodigy dazzling audiences performing Mozart's "Concerto for Two Pianos", but the hard luck tales and rugged sensitivity of folk revival music by artists such as Woody Guthrie and Pete Seeger seduced her away from a life as a concert pianist. Over her long and varied career, Judy Collins garnered several top-ten hits gold- and platinum-selling albums, and four Grammy Award nominations.
Recently, contemporary and classic artists such as Rufus Wainwright, Shawn Colvin, Dolly Parton, Joan Baez, and Leonard Cohen honored her legacy with the album "Born to the Breed: A Tribute to Judy Collins". On September 18, 2015, Collins released her first studio album in four years, "Strangers Again". She invited a cast of icons and young talents to sing with her on this fresh collection, from Willie Nelson, Jackson Browne and Jeff Bridges to Glen Hansard, Ari Hest and Bhi Bhiman. Judy Collins delicately soars over a revitalized "Send In The Clowns" and breathes new life into "Hallelujah." She puts her indelible touch on songs by Leonard Bernstein, Randy Newman, James Taylor and more.
Judy Collins, now 76, is as creatively vigorous as ever, writing, touring worldwide, and nurturing fresh talent. She is a modern day Renaissance woman who is also an accomplished filmmaker, record label head, musical mentor, and an in-demand keynote speaker for mental health and suicide prevention. She continues to create music of hope and healing that lights up the world and speaks to the heart.
Reserved seating tickets ($46) will go on sale to the public on Friday, December 18, online (www.phtww.org) or by calling the box office at 509-529-6500.
For more information about this show and other upcoming events at the Gesa Power House Theatre, visit www.phtww.org.
---
About the Gesa Power House Theatre
The historic Gesa Power House Theatre is a world-class, 342 seat performing arts venue, located in downtown Walla Walla. The 120-year-old building was once the Walla Walla Gas Plant, built to produce coal gas used to light the streets, businesses, and homes of Walla Walla. In 2011 the Gesa Power House Theatre building was transformed into a state-of-the-art playhouse for live performance. The interior design of the theatre was inspired by Shakespeare's own intimate Blackfriars Theatre in London, England.
The Gesa Power House Theatre is on the Washington State Building Preservation Commission list of State historic buildings and on the National Register of Historic Places. Home to Shakespeare Walla Walla, a nonprofit organization working to bring Shakespearean theater and other events to Walla Walla, the venue also hosts a variety of other cultural events, musical concerts, and private events (including weddings).
---
For additional marketing and media information, including interviews and hi-res images, contact:
Michelle Liberty
Media Contact
Phone: 509.629.0584
bookings@phtww.org