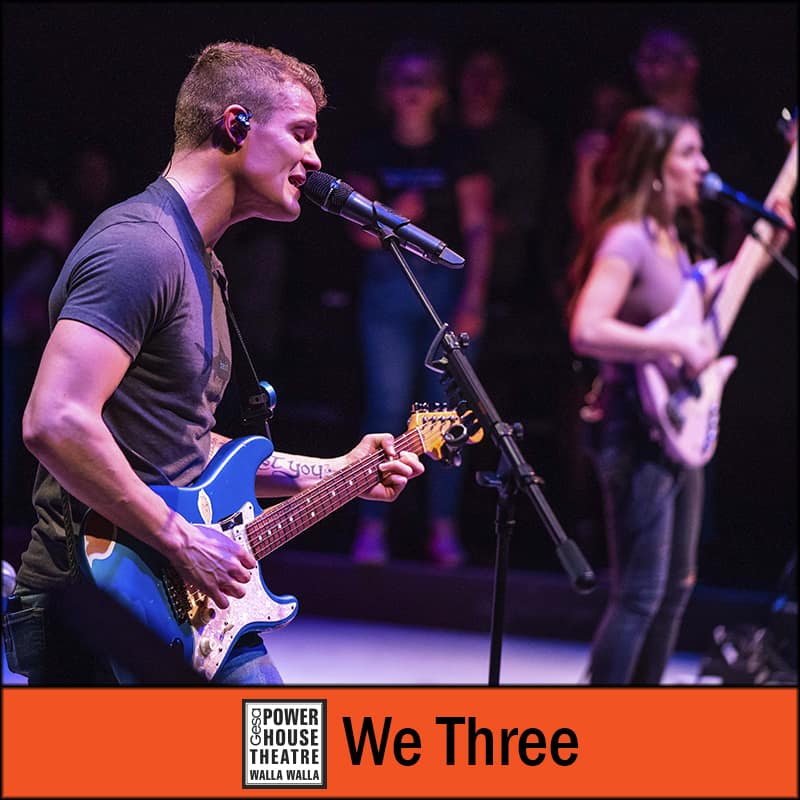 Press Release: America's Got Talent Semi-finalists We Three in concert – May 2
"America's Got Talent" semi-finalists 
We Three
return to Walla Walla to perform at Gesa Power House Theatre on Saturday, May 2 was postponed due to pandemic restrictions.
We Three (siblings Joshua, Bethany and Manny) warmed hearts with their unforgettable 2018 "America's Got Talent" audition in which they poured all their emotions into an original song, which they dedicated to their late mother, who passed away after a battle with cancer. They finished the season as semi-finalists.
Joshua plays the Piano and Drums – sometimes simultaneously, Manny the Guitar, and Bethany the Bass. But there are no rules as each can adeptly swap instruments and often sound like a much larger ensemble. A strong lead vocal is complemented by lush harmonies that glide with superlative ease over complex arrangements that appear deliciously simple.
In December of 2019, We Three released a five-track EP they wrote themselves called "We're All Messed Up But It's Okay." The collection of original songs mixes elements of pop, indie, rock, rap, and country to create a life-affirming sound that contrasts with the darkness of the subject matter. The lead track, "Machine" was mixed by Grammy-winning Ruadhri Cushnan (Ed Sheeran, Coldplay), and was accompanied by a music video in which the band play office workers rising against mundane aspects of corporate life. Other songs explore serious topics like depression ("Sara"), faltering relationships ("You and I"), and how your perceptions of someone can change as you grow into adulthood ("Superman").
We Three's original songwriting style is positive and purposeful, with smart lyrics and infectious melodies. Their songs have landed on numerous Spotify play lists where their songs have been streamed more than 38 million times on Spotify and Apple Music alone.
We Three last performed at Gesa Power House Theatre to a sold out audience in January 2019.
---
The 2020 Gesa Power House Theatre Season is sponsored by:
Courtyard Marriott, KAPP-KVEW TV, Pacific Power
McCurley Integrity Toyota of Walla Walla, Northwest Public Broadcasting
Additional support provided by:
Walla Walla County, Port of Walla Walla, City of Walla Walla
Each Coldwell Banker Office is Independently Owned and Operated
---
About the Gesa Power House Theatre
The historic Gesa Power House Theatre is a 300-seat performing arts venue, located in downtown Walla Walla. The 120-year-old building was once the Walla Walla Gas Plant, built to produce coal gas used to light the streets, businesses, and homes of Walla Walla. In 2011 the Gesa Power House Theatre building was transformed into a state-of-the-art playhouse for live performance. The interior design of the theatre was inspired by Shakespeare's own intimate Blackfriars Theatre in London, England.
The Gesa Power House Theatre is on the Washington State Building Preservation Commission list of State historic buildings and on the National Register of Historic Places. The venue also hosts a variety of other cultural events, musical concerts, and private events (including weddings).
For additional marketing and media information, including interviews and hi-res images, contact:
Bradley Nelson
Media Contact
Phone: 509.529-6500
webmaster@phtww.org
Gesa Power House Theatre
111 North Sixth Ave.
Walla Walla, Washington 99362