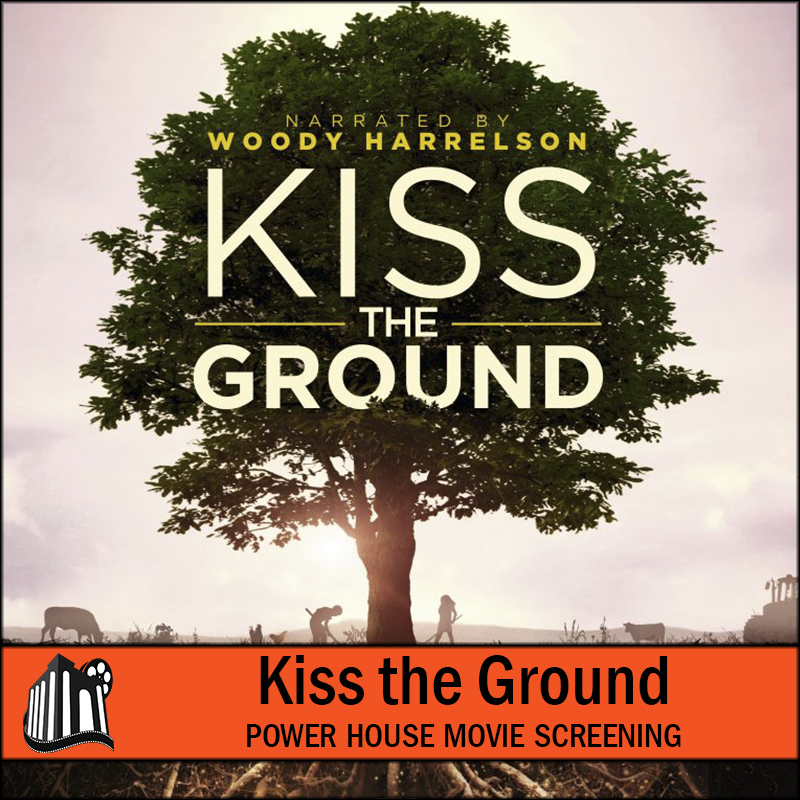 Press Release: 2022 Power House Movie Series announced
Gesa Power House Theatre announces the return of its Power House Movie Series in 2022 starting with two film screenings in January: Aviva on Wednesday, January 19 at 7:00 p.m. and Kiss the Ground on Wednesday, January 26 at 7:00 p.m.
In the experimental film Aviva, transatlantic lovers Aviva and Eden embark on a tumultuous courtship, love affair, and marriage. The couple struggles, separates, and tries to get back together, as dual aspects of each one's personality battles forces inside and out.
Directed by Boaz Yakin (Remember the Titans), Aviva tells a story that is timeless, universal and yet up-to-the-moment. Incorporating exuberant dance sequences, and featuring a pair of principal characters played by four different actors daringly expressing both masculine and feminine sides, Aviva captures a restless and changing modern view of the world.
Aviva contains on-screen nudity, is recommended for mature audiences, and has a runtime of about 2 hours.
Kiss the Ground, narrated by and featuring actor Woody Harrelson, is an inspiring and groundbreaking documentary film that reveals the first viable solution to the climate crisis. Kiss the Ground explores a concept called Regenerative Agriculture – the idea that, by regenerating the world's soils, we can completely and rapidly stabilize Earth's climate, restore lost ecosystems and create abundant food supplies.
Using compelling graphics and visuals, along with striking NASA and NOAA footage, Kiss the Ground artfully illustrates how, by drawing down atmospheric carbon, soil is the missing piece of the climate puzzle. The film also includes an original song by Jason Mraz written for this project.
Kiss the Ground, which "inspires a feeling of hope" (NY Times), is appropriate for all audiences and has a runtime of about 90 minutes.
The Power House Movie Series showcases award-winning festival favorites, feature-length narratives, documentaries, and undiscovered gems, paired with exclusive content from the movie makers themselves – most often in conversation with Gesa Power House Theatre Director of Film Programming, Warren Etheredge.
The Power House Movies Series continues:
Since I Been Down (documentary)
Wednesday, February 2 (free admission)
Takeover (documentary)
Wednesday, March 2
All Sorts (comedy)
Wednesday, March 30
The Automat (documentary)
Wednesday, April 6
Thin Skin (drama)
Friday, April 15 (with live Q&A with director Charles Mudede
Seattle Jewish Film Festival (selected shorts)
Wednesday, April 27
Charm Circle (documentary)
Wednesday, June 1
Cat Daddies (documentary)
Wednesday, June 29
All Ages Show (local documentary)
Wednesday, July 6
Reserved seating tickets ($15 adult, $10 student) are available online or by calling the box office at 509-529-6500.
Additional precautions, such as required mask use, will be observed based on the latest guidance from state and county health departments.
---
Season Sponsors:
Walla Walla Union-Bulletin, Northwest Public Broadcasting, Pacific Power, Hayden Homes
Additional support provided by:
Walla Walla County, Port of Walla Walla, City of Walla Walla
Each Coldwell Banker Office is Independently Owned and Operated
---
About Gesa Power House Theatre
The historic Gesa Power House Theatre is a 300-seat performing arts venue, located in downtown Walla Walla. The 120-year-old building was once the Walla Walla Gas Plant, built to produce coal gas used to light the streets, businesses, and homes of Walla Walla. In 2011 the Gesa Power House Theatre building was transformed into a state-of-the-art playhouse for live performance. The interior design of the theatre was inspired by Shakespeare's own intimate Blackfriars Theatre in London, England.
The Gesa Power House Theatre is on the Washington State Building Preservation Commission list of State historic buildings and on the National Register of Historic Places. The venue also hosts a variety of other cultural events, musical concerts, and private events (including weddings).
Gesa Power House Theatre is owned and operated by Power House Theatre Walla Walla, a 501(c)(3) nonprofit organization.
For additional marketing and media information, including interviews and hi-res images, contact:
Bradley Nelson
Media Contact
Phone: 509.529-6500
webmaster@phtww.org
Gesa Power House Theatre
111 North Sixth Ave.
Walla Walla, Washington 99362