Pink Floyd tribute band Pigs on the Wing will perform "Finding the Dark Side of the Moon" on Friday, October 12 at 7:00 p.m. at Gesa Power House Theatre.
"Finding the Dark Side of the Moon" is a retrospective live concert experience culminating in a full performance of Pink Floyd's 1973 concept album "The Dark Side of the Moon."
Since its formation in Portland in 2006, Pigs on the Wing has steadily developed a reputation for delivering a high quality, high energy take on Pink Floyd's music. All of the members of the band are seasoned veterans of the original rock scene and balance a decidedly un-tribute like attitude towards the music with a deep understanding of the precision and importance of Pink Floyd in many fans' lives. The result is a sound and experience both refreshing in delivery and yet true to the original – something the band believes sets it apart from other Pink Floyd tributes.
After immersing themselves in the polished rock theatrics of "The Wall" during the 2017 season – the band felt it was time to try something different. Pigs on the Wing's 2018 production – "Finding the Dark Side of the Moon," call back to the band's very first show, which was a performance of "The Dark Side of the Moon." In the ensuing years, the band's regional fan base has grown exponentially alongside the band themselves as musicians, as well as the scale of the show as an immersive audio-visual experience.
This time around – expect two full sets of Pink Floyd music – the first a loosely chronological retrospective of Pink Floyd's work before becoming a household name; and the second a full performance of what many would argue is among rock music's finest works from cover to cover, "The Dark Side of the Moon."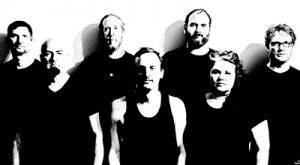 Pigs on the Wing is comprised of (L to R): Eric Welder (bass, vocals); Pete Galluzzo (sax); David Lindenbaum (guitar, vocals); Matt Jones (keys, vocals); Bryan Fairfield (drums); Keeley St. Clair (vocals, acoustic guitar); Jason Baker (guitar, vocals).
Reserved seating tickets ($25 adults, $22 students). This concert is SOLD OUT. Please contact the box office at 509-529-6500 if you would like to be on a wait list for tickets.
Join the Facebook event and invite your friends!