Pink Floyd tribute band Pigs on the Wing return to Gesa Power House Theatre on their "Wish You Were Here" concert tour on Saturday, October 23 at 7:30 p.m.

Close your eyes and imagine having the opportunity to experience the soaring majesty of Pink Floyd's music in an intimate venue. That is the Pigs on the Wing experience: a melding of the epic, arena scale of Pink Floyd with the visceral experience of being front row at a rock club.
Pigs on the Wing has on occasion been referred to as "the most punk rock of the Pink Floyd tributes" and that is a badge the band wears with unequivocal pride. None are bigger fans of the work of Pink Floyd than the members of Pigs on the Wing, and while the band approaches the material with the deepest respect for legacy of the music, they also chart a course suggesting a willingness to push the musical boundaries of a traditional tribute band.
Tracing its roots to a one-off performance in Portland in 2006, Pigs on the Wing has steadily developed a devoted fanbase and a reputation for delivering a high quality, high energy take on Pink Floyd's music, steeped in the NW's own rich musical heritage.
All members of the band are seasoned veterans of the original NW rock scene and balance a decidedly un-tribute like attitude towards the music with a deep understanding of the precision and importance of Pink Floyd's music in many fans' lives. The result is a sound and experience both refreshing in delivery and yet true to the original – something the band believes sets it apart from other Pink Floyd tributes.
Pigs on the Wing's 2021-2022 feature show is a full album performance of Pink Floyd's 1975 psychedelic masterpiece Wish You Were Here, followed by a full second set of carefully curated Roger Waters era Floyd.
Reserved seating ticket ($25 in advance, $30 at the door) are available online or by calling the Gesa Power House Theatre box office at 509-529-6500. Please review our current health and safety precautions, including required mask use. Ticket holders will receive an email during the week before the show with any updates.
---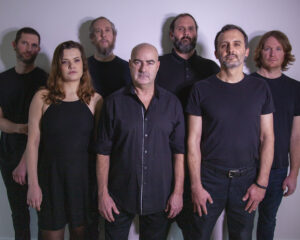 Pigs on the Wing is ( L to R): Eric Welder (bass / vocals); Holly Brooks (vocals); David Lindenbaum (guitar / vocals); Pete Galluzzo (sax); Bryan Fairfield (drums); Matt Jones (keys / vocals); Jason Baker (guitar / vocals)
---
This event is a rental by Pigs on the Wing. Click here to learn more about renting the theatre for your own event!