Gesa Power House Theatre will host the Washington Premiere of the 2017 independent film "A Very Sordid Wedding" on Friday, September 25 at 7:00 p.m. Two of the filmmakers, Del Shores (writer/director) and Emerson Collins (producer/actor) will be in attendance. A portion of every ticket sale will be donated to the Triple Point program (details below).
"A Very Sordid Wedding" (2017) is a direct sequel to "Sordid Lives" (2000) and takes place seventeen years later in the same small Texas community with many of the same memorable characters. Sissy Hickey is reading the Bible, cover to cover, trying to make some kind of sense out of what it really says about gay people. Her niece Latrelle Williamson has divorced her husband Wilson who has taken up with a hot young gold digger. Latrelle's now out and proud gay son Ty is on his way back to town with his black man and news of their own. Her sister LaVonda is still cussin' and drankin' and is being blackmailed to sit with the sick and afflicted. LaVonda's best friend Noleta meets a hot younger man while visiting her awful mama in the hospital. G.W., sporting new fiberglass legs, but is still feeling guilty and mourning Peggy. Nearly incoherent barfly Juanita is now obsessed with the royal family while Wardell and Odell still bicker at the bar. Tammy Wynette champion Brother Boy is working at a tragic little gay bar, having added Loretta and Dolly to his new medley act "We Three Queens of Oper-y Are" until a chance meeting with a dangerous criminal forces him out on the run. Again.
The cast includes many memorable characters and actors, including Leslie Jordan ("Will & Grace"), Caroline Rhea ("Sabrina: The Teenage Witch"), Alec Mapa ("Ugly Betty"), and comedian Whoopi Goldberg.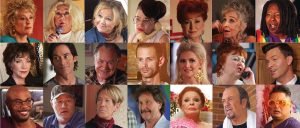 As the sordid saga continues, an anniversary memorial service is being planned in honor of Peggy at Bubba's Bar while the Southside Baptist Church is planning an "Anti-Equality Rally" to protest the advancement of same-sex marriage. Both events are to take place on the same night, so the cast of colorful characters are all on a collision course for shenanigans and fireworks!
As the original film dealt with coming out in a conservative southern world, "A Very Sordid Wedding" explores the questions, bigotry and the fallout of what happens when gay marriage comes to communities and families that are not quite ready to accept it. Bigoted "religious freedom," marriage equality and cultural acceptance are all explored with Del Shores' trademark approach to using comedy and his much-beloved "Sordid Lives" characters to deal with these important current social issues and the very real process of accepting your family for who they are instead of who you want them to be.
"A Very Sordid Wedding" is unrated, but does contain adult language and situations. Recommended for 18+. The film runs 1 hour 50 minutes and will be followed by a Q&A with the filmmakers.
Visiting Filmmakers:
| | |
| --- | --- |
| | Del Shores (Writer/Director/Producer) has written, directed, and produced successfully across studio and independent film, network, and cable television and regional and national touring theater. He wrote "Sordid Lives" as a play which opened in 1996, then wrote and directed the film version released in 2000. He created, wrote, directed, and executive produced "Sordid Lives: The Series" which premiered on Viacom's LOGO network in 2008. Most recently, Shores wrote and directed "A Very Sordid Wedding" which is currently in limited theatrical release. |
| | |
| --- | --- |
| | Emerson Collins (Actor/Producer) is an actor, producer, and TV personality. He produced and starred in "Southern Baptist Sissies" (also written by Del Shores) and won Best Actor in a Feature Film from the Red Dirt International Film Festival. Collins co-produced "Sordid Lives: The Series" for LOGO, produced the national theatrical tour of "Sordid Lives" and "Southern Baptist Sissies", and directed and produced DVD live tapings of several of Del Shores' one man shows. He appears in "A Very Sordid Wedding" as the character Billy Joe Dobson. |
---
Reserved seating tickets ($20 Adults, $15 Students) will be available to Members on Saturday, July 15, to Email Subscribers on Friday, July 21, and to the public on Saturday, July 29. Tickets will be available separately for "Sordid Lives" and "A Very Sordid Wedding", however, buying both together is the best deal.
premium reserved seating for both films
private meet and greet reception with the filmmakers – 6PM Friday, September 15
souvenir poster
free popcorn
Ticket Combo ($20 Adults, $15 Students):
reserved seating for both films
Gesa Power House Theatre will donate $2 from every ticket sold to Children's Home Society of Washington's Triple Point of Walla Walla – a local youth group for lesbian, gay, bisexual, transgender, questioning, intersex and straight ally youth, age 13-18 years old. Triple Point exists to empower LGBTQI+ youth and their straight allies by providing education, safety, support and acceptance to end isolation.
# # #
Want to receive early notice and access to ticket sales? Become a Gesa Power House Theatre Member (highest priority) or sign up for our e-mail list!
---
The 2017 Gesa Power House Theatre Season receives support from:

Courtyard Marriott, Inland Cellular,
McCurley Integrity Toyota of Walla Walla, Pacific Power