Each June, the Walla Walla Chamber Music Festival presents over 30 events around the Walla Walla Valley. The first Festival Series Concert will take place at Gesa Power House Theatre on Tuesday, June 11 at 7:30 p.m.
---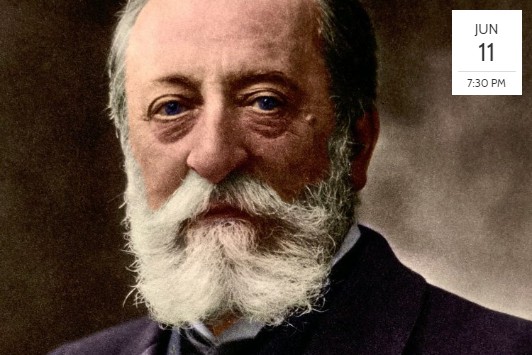 The opening Festival Series performance of the 2019 June season takes a close look at two distinct but related styles of composition. We have on the one hand the Sonata in D minor, Op. 75, by Camille Saint-Saëns, and the Piano Quintet in A, Op. 81, by Antonin Dvořák. One lays the groundwork for the style known as Impressionism, while the other barters overtly in the compositional movement known as Nationalism, though no less image-rich than its French counterpart. These pieces were composed about two years and 550 miles apart, the former in 1885 (Paris), the latter in 1887 (Prague).
How are they similar? Different? Both are crowd-pleasers (lucky you!), and both showcase the respective virtuosity of their instrumentation. As a brief introductory answer to those rhetorical questions, rhythm is the thing. Saint-Saëns begins to intentionally obscure "natural" rhythmic cycles while Dvořák revels in the most direct and impactful expression of meter. What does all this mean? It means you best attend and enjoy, because no amount of dissection will reveal the twin joys contained in these Romantic masterpieces. To feel the joy, you must only listen.
Doors open at 6:30 PM.
Artists: Timothy Christie, viola; Norbert Lewandowski, cello; Christina McGann, violin; Stephen Miahky, violin; Maria Sampen, violin; and Jingwen Tu, piano.
General Admission: $20; Family Ticket: $45 (admits two adults and up to four children); Student/Youth Ticket: $10. For more information and tickets, visit www.wwcmf.org.
---
About the Walla Walla Chamber Music Festival:
Founded in 2007 by Artistic Director Timothy Christie, the Walla Walla Chamber Music Festival (WWCMF) is a non-profit organization committed to making chamber music accessible to all. In addition to tickets events, WWCMF presents extensive free children's programming, targeted outreach events, and daily free open rehearsals throughout the Walla Walla community.