Each June, the Walla Walla Chamber Music Festival presents over 30 events around the Walla Walla Valley. The second Festival Series Concert will take place at Gesa Power House Theatre on Saturday, June 16 at 7:30 p.m.
---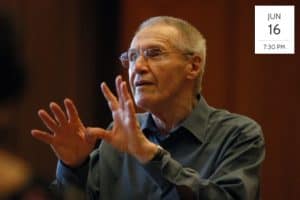 Tonight we feature music of Robert Schumann, György Kurtág, Josh Burrel and Andrew Norman.
Our second Festival Series performance invites the clarinet to the fore with works old and new. Robert Schumann, ever given to flights of fantasy, composed his Märchenerzählungen, Op.132 near the end of his compositional life. Loosely translated as "Fairy Tales," this work for piano, viola and clarinet does not tell any specific fairy tale but rather evokes certain tropes such as sparkling elven mischief, regal pomp and the lyricism of loneliness. György Kurtág provides modernist counterpoint to Schumann's foray into the magical with his Hommage à Robert Schumann for the same instrumentation. Also on the program are works by 21st-century composers Josh Burrel and Andrew Norman. Burrel, in his Andooni for clarinet quintet, mourns the Armenian genocide of 1915-1923 and Norman, in his Gran Turismo for eight violins, imagines an Italian baroque ensemble revving its engines at the speed of an F1 race car. Though each piece inhabits its own unique sphere, each work shares an essential component of storytelling that looks both to the past and the future.
Doors open at 6:30 PM.
General Admission: $20; Family Ticket: $45 (admits two adults and up to four children); Student Ticket: $8 (under 22 with valid student ID). For more information and tickets, visit www.wwcmf.org.
---
About the Walla Walla Chamber Music Festival:
Founded in 2007 by Artistic Director Timothy Christie, the Walla Walla Chamber Music Festival (WWCMF) is a non-profit organization committed to making chamber music accessible to all. In addition to tickets events, WWCMF presents extensive free children's programming, targeted outreach events, and daily free open rehearsals throughout the Walla Walla community.