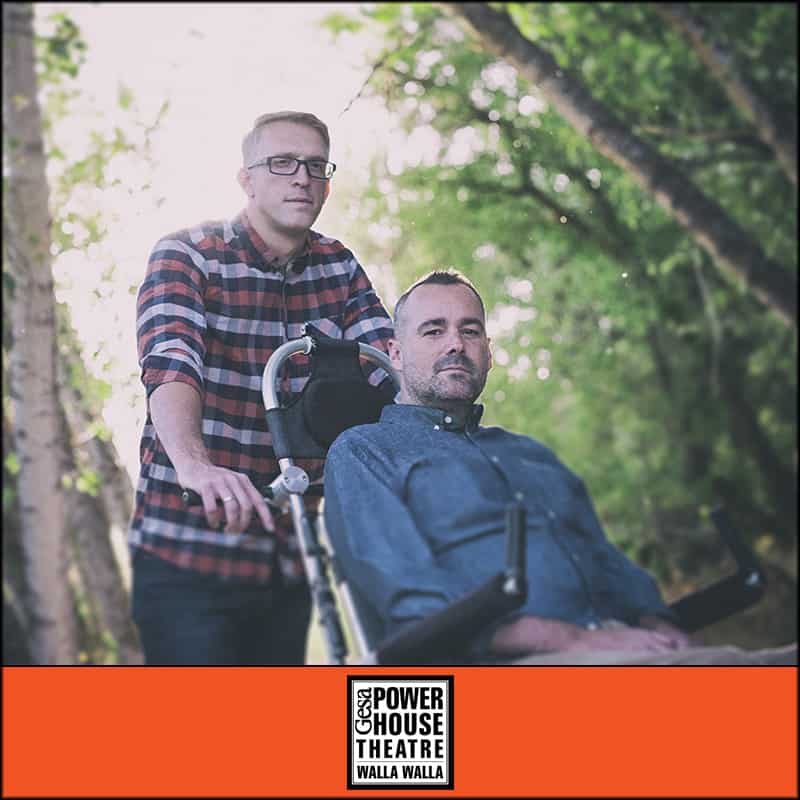 Press Release: WW Valley Disability Network presents screening of "I'll Push You" documentary – Sept. 8
Walla Walla Valley Disability Network presents a screening of the recent documentary film I'll Push You on Saturday, September 8 at 7:00 p.m. at Gesa Power House Theatre. The stars of the film, Justin Skeesuck and Patrick Gray, will be in attendance.
This feature-length film provides an up-close and personal look into the dynamics of a life-long friendship between two best friends – Justin and Patrick – as they travel across El Camino de Santiago. I'll Push You documents their struggles on the 35-day, 500-mile wheelchair journey across mountains, deserts, hills, and valleys and features perspectives from family and friends. The film also explores the struggles related to Justin's rare neurological disease.
The parallel paths of Patrick's experience in Spain and Justin's life journey come together in a singular moment to reveal their similarities where Patrick discovers he's both the pusher and the pushed. The beautiful cinematography of I'll Push You is set to poignant music tracks that underscore the inspiring example of love and vulnerability on display. Their trek in 2014 captivated individuals around the world and was featured in the Huffington Post, The Meredith Vieira Show, Der Spiegel, Fox & Friends, and many other outlets.
Since returning from Spain, Justin and Patrick have been sharing their message of hope, faith, and community worldwide. The story in book form (also titled "I'll Push You") won the 2018 Christian Book "Best Biography & Memoir of the Year" Award.
This film has a runtime of 100 minutes. Beer, wine, popcorn, and snacks will be available for purchase and may be taken into the theater.
Reserved seating tickets ($15 Adults; $10 Students) are available online or by calling the box office at 509-529-6500. For group ticket sales, please call 509-876-1662.
---
The 2018 Season is supported in part by: Coldwell Banker First Realtors, Foundry Vineyards, KAPP-KVEW TV, Inland Cellular, Pacific Power, McCurley Integrity Toyota of Walla Walla.
---
About the Gesa Power House Theatre
The historic Gesa Power House Theatre is a 300-seat performing arts venue, located in downtown Walla Walla. The 120-year-old building was once the Walla Walla Gas Plant, built to produce coal gas used to light the streets, businesses, and homes of Walla Walla. In 2011 the Gesa Power House Theatre building was transformed into a state-of-the-art playhouse for live performance. The interior design of the theatre was inspired by Shakespeare's own intimate Blackfriars Theatre in London, England.
The Gesa Power House Theatre is on the Washington State Building Preservation Commission list of State historic buildings and on the National Register of Historic Places. The venue also hosts a variety of other cultural events, musical concerts, and private events (including weddings).
For additional marketing and media information, including interviews and hi-res images, contact:
Bradley Nelson
Media Contact
Phone: 509.529-6500
webmaster@phtww.org
Gesa Power House Theatre
111 North Sixth Ave.
Walla Walla, Washington 99362