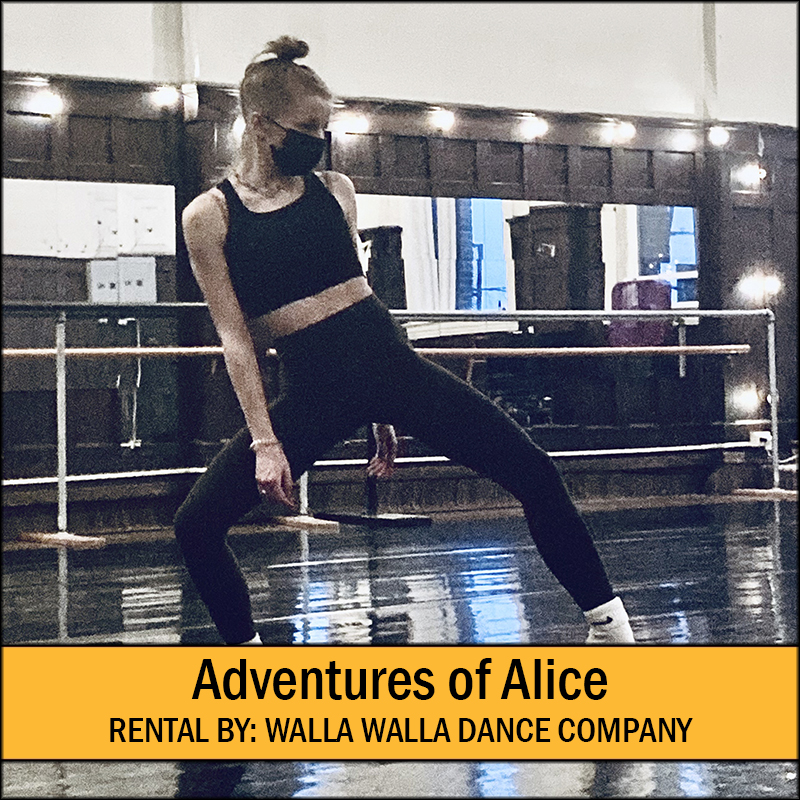 Press Release: WW Dance Company reschedules "The Adventures of Alice" to February 23, 24, 25
Walla Walla Dance Company announces a new performance schedule for The Adventures of Alice at Gesa Power House Theatre. Originally scheduled in January, the dance program is now scheduled on Wednesday, February 23, Thursday, February 24, Friday, February 25, with all performances starting at 6:00 p.m.
"We feel it is in the better interest of all to delay this joyous event in consideration of everyone's health, comfort, and safety," says Walla Walla Dance Company Director Justine Clark.
The Adventures of Alice is presented by the Walla Walla Dance Company dancers and follows Alice on her delightful adventures. The program features talented youth to pre-professional teens performing original choreography by Jennifer Clark, Justine Clark, Nancy Wells, and Grace Danielson. Enjoy an evening for all ages celebrating live performance with contemporary, jazz, ballet, and hip hop dance accompanied by music and original art by Javier S. Ortega.
Reserved seating tickets ($25 adults, $15 students) are available online or by calling the Gesa Power House Theatre box office at 509-529-6500.
This event is a rental at Gesa Power House Theatre, sponsored in part by ArtWalla. The current health and safety guidelines at Gesa Power House Theatre, including required mask use, will be observed.
Walla Walla Dance Company, founded by Nancy Wells and co-directed by Justine Clark and Jennifer Clark, has been offering multidisciplinary dance instruction with great love for the arts of dance and development of students in the Walla Walla community for more than 30 years.
---
About Gesa Power House Theatre
The historic Gesa Power House Theatre is a 300-seat performing arts venue, located in downtown Walla Walla. The 120-year-old building was once the Walla Walla Gas Plant, built to produce coal gas used to light the streets, businesses, and homes of Walla Walla. In 2011 the Gesa Power House Theatre building was transformed into a state-of-the-art playhouse for live performance. The interior design of the theatre was inspired by Shakespeare's own intimate Blackfriars Theatre in London, England.
The Gesa Power House Theatre is on the Washington State Building Preservation Commission list of State historic buildings and on the National Register of Historic Places. The venue also hosts a variety of other cultural events, musical concerts, and private events (including weddings).
Gesa Power House Theatre is owned and operated by Power House Theatre Walla Walla, a 501(c)(3) nonprofit organization.
For additional marketing and media information, including interviews and hi-res images, contact:
Bradley Nelson
Media Contact
Phone: 509.529-6500
webmaster@phtww.org
Gesa Power House Theatre
111 North Sixth Ave.
Walla Walla, Washington 99362