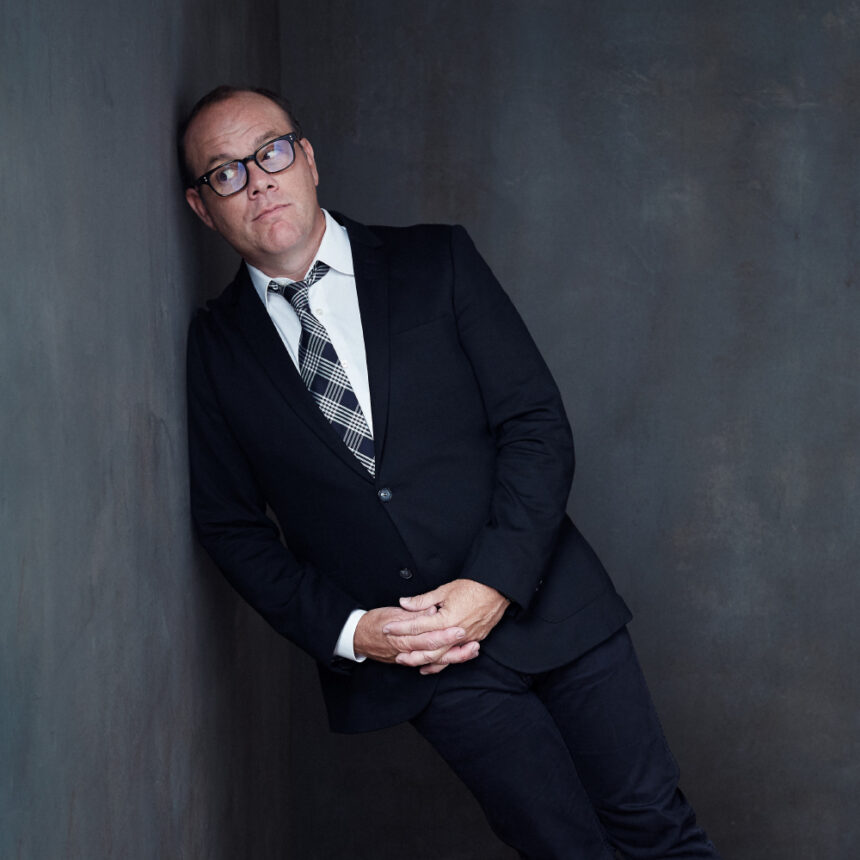 Press Release: Tom Papa – September 17
Gesa Power House Theatre presents comedian Tom Papa on Saturday, September 17 at 7:00 pm. Tickets go on sale Friday, June 10.
With more than 20 years as a stand-up comedian, Tom Papa is one of the top comedic voices in the country finding success as an author, in film, TV, radio and podcasts as well as on the live stage.
Tom has four hour-long stand-up specials, the latest Tom Papa: You're Doing Great! was a wildly successful Netflix Original. His other critically acclaimed specials include Human Mule, Freaked Out and Tom Papa Live in New York City, two of which were directed by Rob Zombie.
Tom recently released his second book, You're Doing Great! – And Other Reasons To Stay Alive, a follow-up to, Your Dad Stole My Rake: And Other Family Dilemmas, both released by St Martin's Press, making "Summer Must Read" lists from Parade Magazine to The New York Post. Tom is also a contributing writer to New Yorker Magazine.
Tom's podcast, Breaking Bread with Tom Papa, features Tom and his guest for an hour of eating, drinking, and enjoying life. Tom is host of the daily Netflix radio show, What A Joke With Papa And Fortune, on SiriusXM's Netflix Channel, airing Mondays through Thursdays from 10:00 AM – Noon ET.
Tom hosts the hit SiriusXM show, Come to Papa, a weekly, hour-long show featuring Tom exploring the funny side of life. Several times a year in New York and Los Angeles, Tom hosts a live Come To Papa scripted radio play that is recorded live for the podcast and SiriusXM show.
Tom was a regular performer on the nationally syndicated radio show, Live From Here (formerly A Prairie Home Companion) that featured his own regular segment, "Out. In. America. With Tom Papa," heard by the 2.6 million fans of the weekly radio show. Tom also appears on National Public Radio as a guest panelist on Wait, Wait Don't Tell Me which he also had the honor of guest hosting.
As an actor Tom recently starred opposite Lily Taylor in the film Paper Spiders and he also appears in North Hollywood. He starred opposite Matt Damon in The Informant, opposite Robert DeNiro in Analyze That, was the voice of El Superbeasto in Rob Zombie's animated feature, The Haunted World of El Superbeasto, and has guest starred on The Jim Gaffigan Show on TV Land. He also made appearances in Chris Rock's film, Top Five, and in the hit Comedy Central series, Inside Amy Schumer.
Personally chosen by Jerry Seinfeld, Tom hosted the NBC series, The Marriage Ref, which ran for two seasons. Tom had a recurring role opposite Julia Louis-Dreyfus on the CBS series, The New Adventures of Old Christine, and starred in his own NBC series, Come to Papa.
As a writer, Tom's credits include the Rob Zombie film, The Haunted World of El Superbeasto, the Jerry Seinfeld film Bee Movie, and the TV series Red Oaks, The Marriage Ref and Come To Papa.
When not touring the country, Tom lives in Los Angeles with his wife, two daughters, a cat and dog where he spends most of his time writing and baking bread.
Reserved seating tickets ($45) will go on sale to the public on Friday, June 10, online at www.phtww.org or by calling the box office at 509-529-6500. Gesa Power House Theatre is located at 111 N. 6th Avenue in downtown Walla Walla.
---
About Gesa Power House Theatre
The historic Gesa Power House Theatre is a 300-seat performing arts venue, located in downtown Walla Walla. The 120-year-old building was once the Walla Walla Gas Plant, built to produce coal gas used to light the streets, businesses, and homes of Walla Walla. In 2011 the Gesa Power House Theatre building was transformed into a state-of-the-art playhouse for live performance. The interior design of the theatre was inspired by Shakespeare's own intimate Blackfriars Theatre in London, England.
The Gesa Power House Theatre is on the Washington State Building Preservation Commission list of State historic buildings and on the National Register of Historic Places. The venue also hosts a variety of other cultural events, musical concerts, and private events (including weddings).
Gesa Power House Theatre is owned and operated by Power House Theatre Walla Walla, a 501(c)(3) nonprofit organization.
For additional marketing and media information, including interviews and hi-res images, contact:
Bradley Nelson
Media Contact
Phone: 509.529-6500
webmaster@phtww.org
Gesa Power House Theatre
111 North Sixth Ave.
Walla Walla, Washington 99362