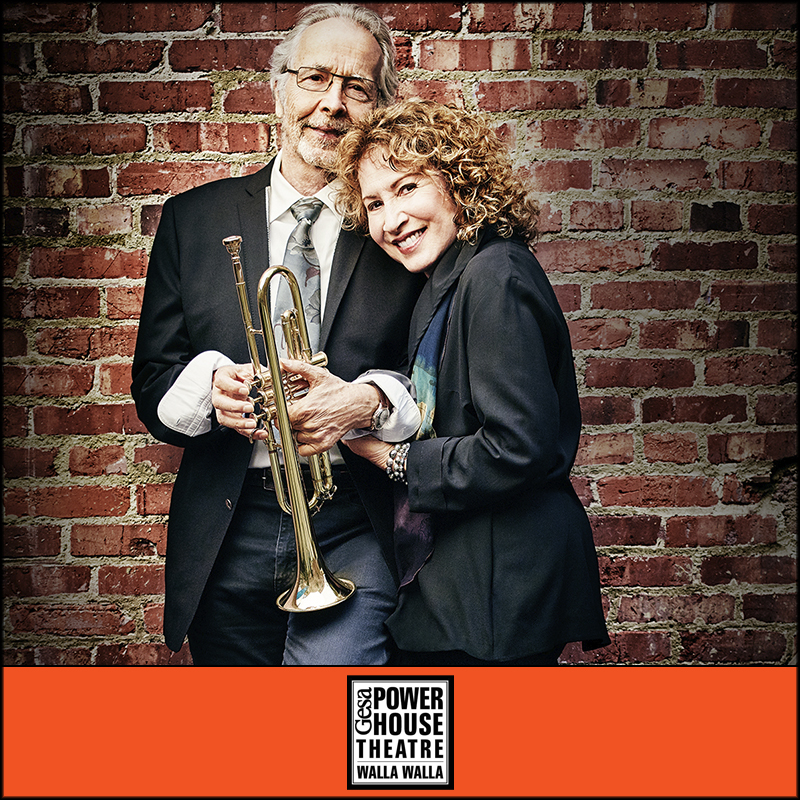 Press Release: Tickets on sale for Herb Alpert and Lani Hall – July 30 concert
June 15, 2017 – Gesa Power House Theatre presents Herb Alpert & Lani Hall in concert on Sunday, July 30 at 7:00 p.m.
Herb Alpert – the iconic trumpeter, composer, record label executive, artist and philanthropist – has had five #1 hits, won nine Grammy awards, released fifteen Gold albums, fourteen Platinum albums and has sold over 72 million records.
After more than 50 years of ground-breaking accomplishments, he continues to be a prolific musician. He recently released a Grammy-nominated album of new material, inspired by electronic and dance music, called "Human Nature" – his fourth album of new music in just three years. It features five new original compositions and Alpert's signature re-imagining of classics like Michael Jackson's "Human Nature," Burt Bacharach's "Alfie" and "Don't Go Breaking My Heart," and Bacharach and Elvis Costello's "Look Up Again."
Herb Alpert & The Tijuana Brass propelled Alpert's sound into the pop music limelight, at one point outselling the Beatles two to one. In 1966, they achieved the since-unmatched feat of simultaneously having four albums in the Top 10 and five in the Top 20. Alpert also has the distinction of being the only artist who has had a #1 instrumental and vocal single.
A 2006 Rock and Roll Hall of Fame inductee, Alpert has also dedicated his life to philanthropy, funding programs that include arts education, jazz and support to professional artists. Through the Herb Alpert Foundation, he has endowed the UCLA Herb Alpert School of Music, the Herb Alpert School of Music at CalArts and most recently the Music Department at Los Angeles City College. This gift to LACC provides free attendance, additional private lessons and further financial aid to music majors. Herb has also established the Herb Alpert Scholarships for Emerging Young Artists at California State Summer School for the Arts, and the Herb Alpert Award in the Arts administered by Cal Arts for the past 22 years.
Grammy Award-winning vocalist and producer Lani Hall joins her husband, Herb Alpert, on the current concert tour.  Hall started her singing career in 1966, as the lead singer of Sergio Mendes' break through group, Brasil '66. She has the distinction of recording more than 22 albums in three different languages (English, Portuguese and Spanish), and in 1983, she sang the title song for the James Bond film, Never Say Never Again. In 1986 Hall won her first Grammy Award for Best Latin Pop Performance for her album, "Es Facil Amar". She picked up her second Grammy Award as producer on Herb Alpert's 2013 album, "Steppin' Out".
Since 2006, Herb Alpert and Lani Hall have been touring with their band to sell out performances.
Reserved seating tickets ($60-$50) will be available to the public on Friday, June 16, online or by calling the box office at 509-529-6500.
More information about upcoming events at Gesa Power House Theatre can be found at www.phtww.org.
---
About the Gesa Power House Theatre
The historic Gesa Power House Theatre is a world-class, 300-seat performing arts venue, located in downtown Walla Walla. The 120-year-old building was once the Walla Walla Gas Plant, built to produce coal gas used to light the streets, businesses, and homes of Walla Walla. In 2011 the Gesa Power House Theatre building was transformed into a state-of-the-art playhouse for live performance. The interior design of the theatre was inspired by Shakespeare's own intimate Blackfriars Theatre in London, England.
The Gesa Power House Theatre is on the Washington State Building Preservation Commission list of State historic buildings and on the National Register of Historic Places. The venue also hosts a variety of other cultural events, musical concerts, and private events (including weddings).
For additional marketing and media information, including interviews and hi-res images, contact:
Bradley Nelson
Media Contact
Phone: 509.529-6500
webmaster@phtww.org
Gesa Power House Theatre
111 North Sixth Ave.
Walla Walla, Washington 99362