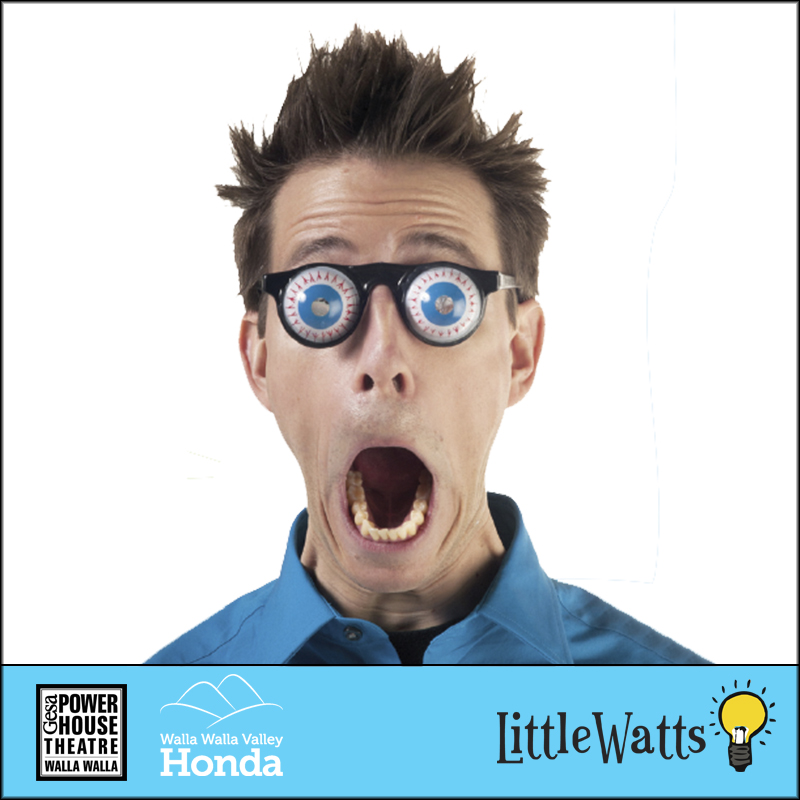 Press Release: The Zaniac Comedy Show – October 14
Walla Walla Valley Honda and Gesa Power House Theatre present 
The Zaniac Comedy Show
 on Sunday, October 14 at 2 p.m. as part of the ongoing Little Watts Series of Family Entertainment.
The Zaniac promises a high-energy show that demonstrates technical skills, dance moves, and clean comedy. Highlights include juggling bowling balls, and slicing vegetables in half with flying playing cards. A few volunteers will get the chance to join The Zaniac on stage and create a lasting memory.
The Zaniac holds two Guinness World Records, was voted Seattle's funniest prop comedian, is a Hacky Sack World Champion, and appeared on TV's America's Got Talent and Last Comic Standing. His claims to fame also include being Seattle's 3rd Best Air Guitarist!
This Little Watts production will last about an hour and is suitable for all ages.
Reserved seating tickets ($12 Adults, $8 Youth 12 and under) are available online or by calling the box office at 509-529-6500.
---
The 2018 Little Watts Series of Family Entertainment is sponsored by Walla Walla Valley Honda.
The 2018 Season is supported in part by: Coldwell Banker First Realtors, Foundry Vineyards, KAPP-KVEW, Inland Cellular, Pacific Power, McCurley Integrity Toyota of Walla Walla.
---
About the Gesa Power House Theatre
The historic Gesa Power House Theatre is a 300-seat performing arts venue, located in downtown Walla Walla. The 120-year-old building was once the Walla Walla Gas Plant, built to produce coal gas used to light the streets, businesses, and homes of Walla Walla. In 2011 the Gesa Power House Theatre building was transformed into a state-of-the-art playhouse for live performance. The interior design of the theatre was inspired by Shakespeare's own intimate Blackfriars Theatre in London, England.
The Gesa Power House Theatre is on the Washington State Building Preservation Commission list of State historic buildings and on the National Register of Historic Places. The venue also hosts a variety of other cultural events, musical concerts, and private events (including weddings).
For additional marketing and media information, including interviews and hi-res images, contact:
Bradley Nelson
Media Contact
Phone: 509.529-6500
webmaster@phtww.org
Gesa Power House Theatre
111 North Sixth Ave.
Walla Walla, Washington 99362