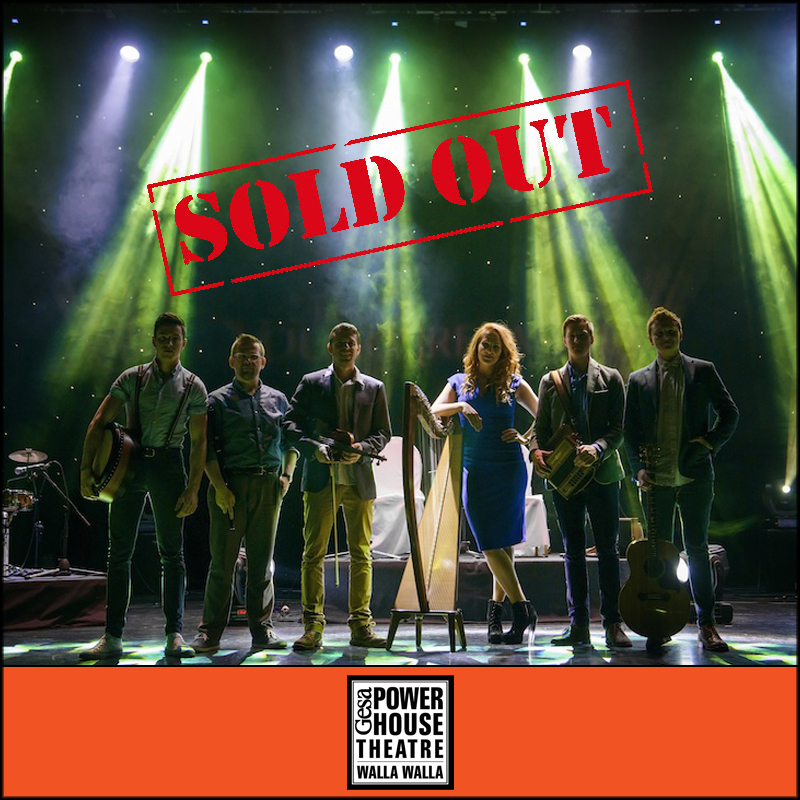 Press Release: The Young Irelanders – April 5
March 28, 2016 – The Young Irelanders concert at Gesa Power House Theatre on Wednesday, April 5, 2017 at 7:00 p.m. is officially sold out. The show is sponsored in part by Baker Boyer Bank.
The Young Irelanders are eight sensational young performers who have Irish traditional music, song and dance running through their veins: Damien Mullane (Accordion & Melodeon), Colin Farrell (Fiddle, Whistles & Vocals), Kieran Munnelly (Flute, Whistles, Bodhrán, Snare & Vocals), Stephen Markham (Keyboard, Piano, Percussion & Vocals), Sean O' Meara (Guitar & Vocals), Lisa Canny (Lead Vocals, Harp & Banjo), Siobhán Manson (Dancer), and Cathal Keaney (Dancer).
Although still in their 20's and 30's, these performers have achieved more than most people would aspire to in a lifetime. Between them they have performed for many heads of state, Presidents of Ireland, US Presidents, the Queen of England, the President of China, Prince Albert of Monaco, Empress Michiko of Japan, performed at Radio City Music Hall, the Great Hall of the People in China, Kremlin State Palace in Moscow, the US Capitol Building, Fox Theatre in Detroit and the Pantages Theatre in L.A. The artists have been soloists on PBS specials, shared the stage with Bono, and have recorded with Ronnie Wood (Rolling Stones) and been chosen by Sting to perform for his exclusive private parties.
Three of the eight performers hold Masters Degrees in Music. Female dancer Siobhán Manson was the principal dancer with Riverdance for 10 years and male dancer, Cathal Keaney, won the World Dancing Championships two consecutive years in a row.
The Young Irelanders was formed not only to merge the significant creative ideas and talents of a select group of young Irish performers who are unique among their peers but also in the hope that given their combined youthfulness and ability, their existence in the music business would act as a catalyst in attracting more young people to the world of traditional Irish music at home in Ireland and through out the world. The sound the band creates is best described as eclectic, where traditional Irish music, Celtic music, folk music, world music, jazz music, country music and popular music all come together to give rise to a very unique and multi-faceted sound.
Patrons interested in being on a Wait List for tickets should contact the box office at 509-529-6500. More information about upcoming events can be found at www.phtww.org.
---
About the Gesa Power House Theatre
The historic Gesa Power House Theatre is a world-class, 300-seat performing arts venue, located in downtown Walla Walla. The 120-year-old building was once the Walla Walla Gas Plant, built to produce coal gas used to light the streets, businesses, and homes of Walla Walla. In 2011 the Gesa Power House Theatre building was transformed into a state-of-the-art playhouse for live performance. The interior design of the theatre was inspired by Shakespeare's own intimate Blackfriars Theatre in London, England.
The Gesa Power House Theatre is on the Washington State Building Preservation Commission list of State historic buildings and on the National Register of Historic Places. The venue also hosts a variety of other cultural events, musical concerts, and private events (including weddings).
For additional marketing and media information, including interviews and hi-res images, contact:
Bradley Nelson
Media Contact
Phone: 509.529-6500
webmaster@phtww.org
Gesa Power House Theatre
111 North Sixth Ave.
Walla Walla, Washington 99362