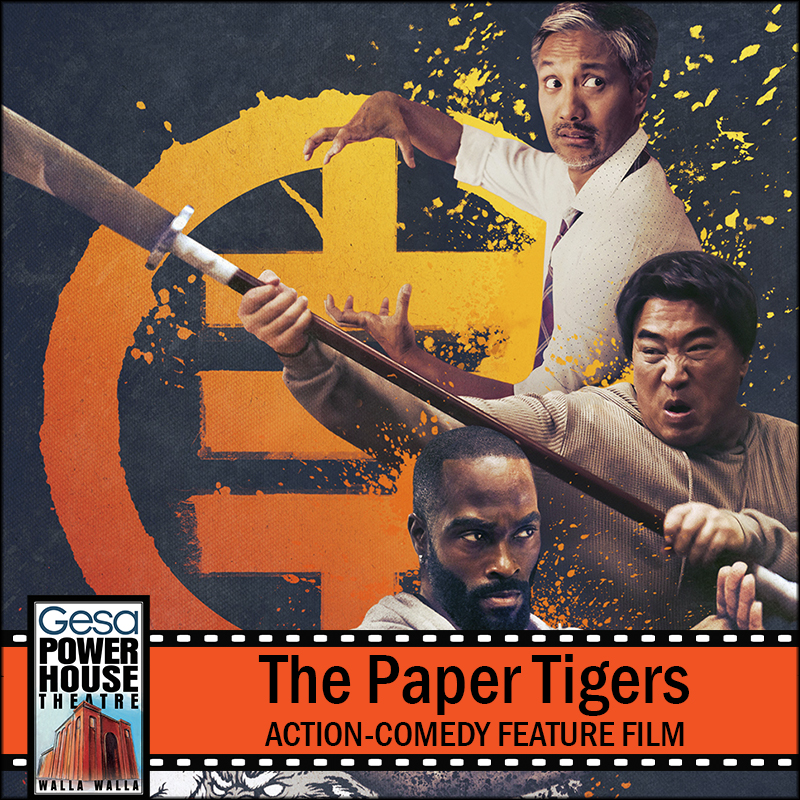 Press Release: "The Paper Tigers" film screening – May 21 & 26
Gesa Power House Theatre presents a screening of just-released action-comedy feature film The Paper Tigers on Friday, May 21 at 7:00PM with an encore on Wednesday, May 26 at 7:00PM. Each screening will be accompanied by a conversation between Director of Film Programming Warren Etheredge and the filmmakers.
As teenagers, kung fu disciples Danny (Alain Uy), Hing (Ron Yuan), and Jim (Mykel Shannon Jenkins) were inseparable. They trained together, fought together, and planned to become the next great martial arts masters. Life, as they say, had other plans. Fast forward 25 years, and each has grown into a washed-up, middle-aged man, seemingly one kick away from pulling a hamstring – and not at all preoccupied with thoughts of martial arts or childhood best friends. But when their old master is murdered, the trio reunites, soon learning that avenging their sifu will require conquering old grudges (and a dangerous hitman still armed with ample knee cartilage) if they are to honorably defend his legacy.
The Paper Tigers received its world premiere at the Fantasia Film Festival and had its limited theatrical release on May 7. It won a Special Jury Award for Best Editing, at the Los Angeles Asian Pacific Film Festival, and won an Audience Award at the Boston Asian American Film Festival.
Filmmaker Tran Quoc Bao (writer/director/editor) was mentored by master action director Corey Yuen (The Transporter), who instilled Bao with an approach to action that draws on story and character, and doesn't rely solely on spectacle. His editing credits include Cho Lon, one of Southeast Asia's highest-budgeted action blockbusters, and Jackpot, a heartfelt comedy selected as Vietnam's official entry for Best Foreign Film at the 2016 Academy Awards.
Power House Movies are powered by what you can't get anywhere else in the Walla Walla Valley. Not only do we showcase award-winning festival favorites, feature-length narratives, documentaries, and undiscovered gems, we pair them with exclusive content from the movie makers themselves – most often in conversation with our Director of Film Programming, Warren Etheredge. Join us for a night out in our historic venue, and enjoy a glass of wine with the show. It's an experience worth leaving the couch for!
In celebration of Gesa Power House Theatre's 10th Anniversary (on May 19), tickets to this film are priced at only $10 per screening! Please join us in celebrating the first decade of events at the Power House as we look forward to the next 10 years of art-filled performances.
General admission tickets are available online at www.phtww.org or by calling the box office at 509-529-6500. The weekly film series highlights films that might not otherwise we seen in Walla Walla.
Seating for each screening is capped at 100 patrons, as allowed under Washington's Safe Start Plan. Additional precautions including required mask use and physical distancing between households will be observed.
---
Season Sponsors:
KAPP-KVEW TV, Pacific Power, Northwest Public Broadcasting, Hayden Homes
Additional support provided by:
Walla Walla County, Port of Walla Walla, City of Walla Walla
Each Coldwell Banker Office is Independently Owned and Operated
---
About Gesa Power House Theatre
The historic Gesa Power House Theatre is a 300-seat performing arts venue, located in downtown Walla Walla. The 120-year-old building was once the Walla Walla Gas Plant, built to produce coal gas used to light the streets, businesses, and homes of Walla Walla. In 2011 the Gesa Power House Theatre building was transformed into a state-of-the-art playhouse for live performance. The interior design of the theatre was inspired by Shakespeare's own intimate Blackfriars Theatre in London, England.
The Gesa Power House Theatre is on the Washington State Building Preservation Commission list of State historic buildings and on the National Register of Historic Places. The venue also hosts a variety of other cultural events, musical concerts, and private events (including weddings).
For additional marketing and media information, including interviews and hi-res images, contact:
Bradley Nelson
Media Contact
Phone: 509.529-6500
webmaster@phtww.org
Gesa Power House Theatre
111 North Sixth Ave.
Walla Walla, Washington 99362