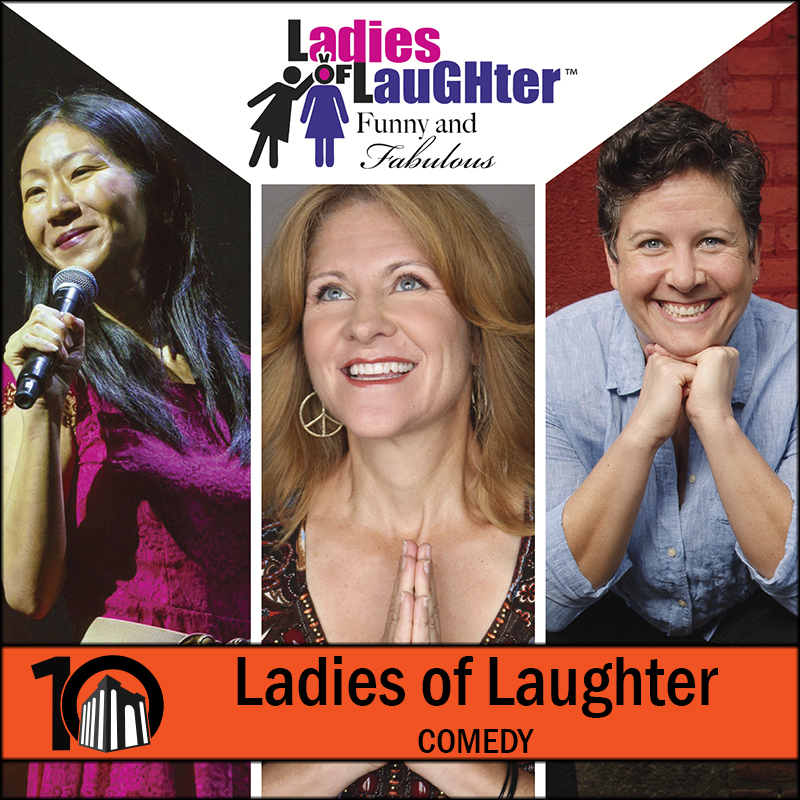 Press Release: The Ladies of Laughter Funny & Fabulous Tour – Friday, March 18
Gesa Power House Theatre presents The Ladies of Laughter Funny & Fabulous Tour on Friday, March 18 at 7:00 p.m.
The Ladies of Laughter started out as an annual videotape comedy competition in New York to honor a fellow woman in comedy who helped women get their start. Since its inaugural year when the contest went live in a YWCA in New Jersey, The Ladies of Laughter contest has visited national historic theaters and legendary venues, including Caesars and Madison Square Garden. Past participants include Amy Schumer (Inside Amy Schumer), Tammy Pescatelli (Finding the Funny), and Melissa Rauch (The Big Bang Theory), and it has steadily become known in the comedy world as a career builder for women in comedy.
The current national tour of The Ladies of Laughter includes Jocelyn Chia, Karen Rontowski, and Liz Glazer.
Jocelyn Chia is a New York-based stand up comedian who won the 2015 Ladies of Laughter "Newcomer" Award. Originally from Singapore, she brings her perspective of having lived much of her life in Asia to her experiences in the United States. A lawyer-turned-comedian, Jocelyn is the winner of the Gotham Comedy Club's Funniest Lawyer competition, has been a guest comedian on the Howard Stern Channel on Sirius XM, and is a two-time winner of the Moth Storyslams.
Karen Rontowski's fast-paced, quirky and charmingly optimistic comedy, incorporates her unique experience as a paranormal investigator, tarot card reader, and reiki master. She has appeared on The Late Show with David Letterman, Comics Unleashed, Live at Gotham Comedy Center, and Mysteries of the Unexplained. She is a regular on the Bob and Tom Radio Show and also hosts a web series and podcast called Paranormal Karen.
Liz Glazer is an award-winning standup comedian, actor, and writer. She won first place in the Boston Comedy Festival and has been featured in the Wall Street Journal, and has opened for Myq Kaplan and Maria Bamford. Liz was also a part of the Seattle International Comedy Competition and will be a part of HBO's upcoming Women in Comedy Festival. As an actor, Liz has appeared on ABC's For Life and CBS's Bull, and is on the faculty at Lesly Kahn & Co., the Los Angeles acting studio.
Reserved seating tickets ($40-$35 adult, $30 student) are available online or by calling the box office at 509-529-6500.
Additional precautions, such as required mask use, will be observed based on the latest guidance from state and county health departments.
---
Season Sponsors:
Walla Walla Union-Bulletin, Northwest Public Broadcasting, Pacific Power, Hayden Homes
Additional support provided by:
Walla Walla County, Port of Walla Walla, City of Walla Walla
Each Coldwell Banker Office is Independently Owned and Operated
---
About Gesa Power House Theatre
The historic Gesa Power House Theatre is a 300-seat performing arts venue, located in downtown Walla Walla. The 120-year-old building was once the Walla Walla Gas Plant, built to produce coal gas used to light the streets, businesses, and homes of Walla Walla. In 2011 the Gesa Power House Theatre building was transformed into a state-of-the-art playhouse for live performance. The interior design of the theatre was inspired by Shakespeare's own intimate Blackfriars Theatre in London, England.
The Gesa Power House Theatre is on the Washington State Building Preservation Commission list of State historic buildings and on the National Register of Historic Places. The venue also hosts a variety of other cultural events, musical concerts, and private events (including weddings).
Gesa Power House Theatre is owned and operated by Power House Theatre Walla Walla, a 501(c)(3) nonprofit organization.
For additional marketing and media information, including interviews and hi-res images, contact:
Bradley Nelson
Media Contact
Phone: 509.529-6500
webmaster@phtww.org
Gesa Power House Theatre
111 North Sixth Ave.
Walla Walla, Washington 99362