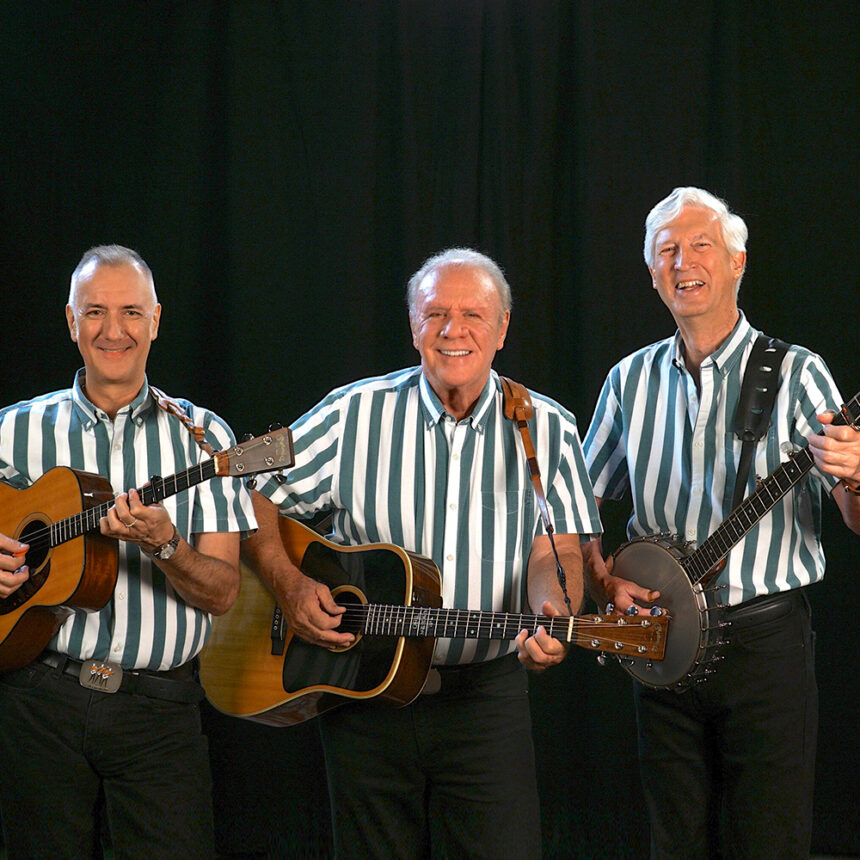 Press Release: The Kingston Trio – November 16
The Kingston Trio will perform an acoustic concert at Gesa Power House Theatre on Wednesday, November 16 at 7:00 p.m.
In 1957 The Kingston Trio emerged from San Francisco's North Beach club scene to take the country by storm, bringing the rich tradition of American folk music into the mainstream for the first time. During the late 50s & early 60s, the Trio enjoyed unprecedented record sales and worldwide fame, while influencing the musical tastes of a generation.
Through changing times, the Trio has played on, and fifty-eight years after "Tom Dooley" shot to the top of the charts, the Trio is still on the road thirty weeks a year, bringing back all the great memories and making new ones.
All three current members of The Kingston Trio, Mike Marvin, Tim Gorelangton and Buddy Woodward, have intrinsic links to and experience with the original group: Mike is the adopted son of founding member Nick Reynolds, who was also his musical mentor; Tim, a close friend since boyhood, is one of the few musicians outside the Trio who has recorded with Nick Reynolds; and Buddy, a longtime friend of the Kingston Trio, was invited in 2002 to perform at their World Folk Music Association's 45th Anniversary Tribute at the esteemed Birchmere in Alexandria, VA. Many of their personal memories recall the iconic trio's performances and journey as folk music made its extraordinary ascent to the pinnacle of popular culture – and the top of the music charts.
Reserved seating tickets ($70-$45) are available online at www.phtww.org or by calling the Gesa Power House Theatre box office at 509-529-6500.Gesa Power House Theatre is located at 111 N. 6th Avenue, Walla Walla.
This event is a rental by The Kingston Trio, presented by Paul Mitchell Systems at Gesa Power House Theatre, located at 111 N. 6th Avenue, Walla Walla, Washington.
---
About Gesa Power House Theatre
The historic Gesa Power House Theatre is a 300-seat performing arts venue, located in downtown Walla Walla. The 120-year-old building was once the Walla Walla Gas Plant, built to produce coal gas used to light the streets, businesses, and homes of Walla Walla. In 2011 the Gesa Power House Theatre building was transformed into a state-of-the-art playhouse for live performance. The interior design of the theatre was inspired by Shakespeare's own intimate Blackfriars Theatre in London, England.
The Gesa Power House Theatre is on the Washington State Building Preservation Commission list of State historic buildings and on the National Register of Historic Places. The venue also hosts a variety of other cultural events, musical concerts, and private events (including weddings).
Gesa Power House Theatre is owned and operated by Power House Theatre Walla Walla, a 501(c)(3) nonprofit organization.
For additional marketing and media information, including interviews and hi-res images, contact:
Bradley Nelson
Media Contact
Phone: 509.529-6500
webmaster@phtww.org
Gesa Power House Theatre
111 North Sixth Ave.
Walla Walla, Washington 99362