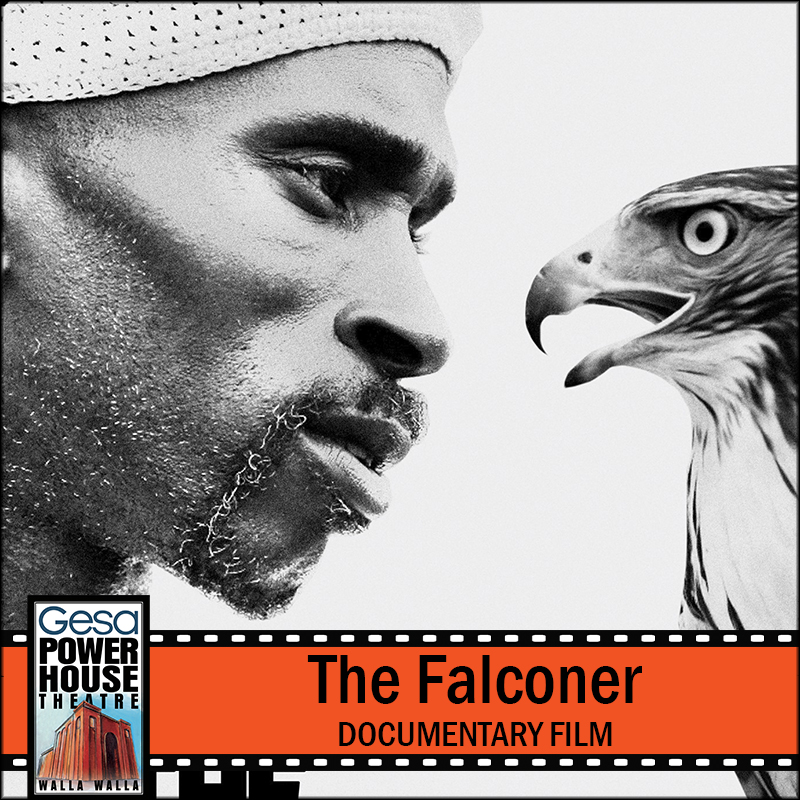 Press Release: "The Falconer" documentary film screening – April 9 & 14
Gesa Power House Theatre presents a screening of the award-winning documentary film The Falconer on Friday, April 9 at 7:00PM with an encore screening on Wednesday, April 14 at 7:00PM. Each screening will be followed by an exclusive pre-recorded conversation between Director of Film Programming Warren Etheredge and filmmaker Annie Kaempfer.
This intimate portrait film follows master falconer Rodney Stotts on his mission to build a bird sanctuary and provide access to nature for his stressed community. The Falconer weaves Rodney's present-day mission with the story of his past, both of which are deeply rooted in issues of social and environmental injustice, and consistently orient the viewer to his worldview that: nature heals. The Falconer captures beauty and hope in a forgotten corner of our nation's capital, as Rodney takes the time to break through to those too often dismissed as hard to reach.
"Rodney Stotts puts everything he has into trying to make his community a better place," says director Annie Kaempfer. "My hope is that after witnessing this struggle firsthand, the audience will aspire to do the same."
The Falconer is a story of second chances: for injured birds of prey, for an abandoned plot of land, for a group of teenagers who have dropped out of high school, and for Rodney himself as he seeks to promote a simple but powerful idea – everyone deserves access to nature.
The Falconer has been recognized at numerous film festivals, including winning the 1st Prize Storyteller's Award at the 2021 Destiny City Film Festival, and winning Best Outdoor/Environmental Feature at BendFilm in 2020.
General admission tickets ($15 Adults, $10 Students) are available online at www.phtww.org or by calling the box office at 509-529-6500.
Seating for each screening is capped at 100 patrons, as allowed under Phase 2 of Washington's Safe Start Plan. Additional precautions including required mask use and physical distancing between households will be observed.
---
Season Sponsors:
KAPP-KVEW TV, Pacific Power, Northwest Public Broadcasting, Hayden Homes
Additional support provided by:
Walla Walla County, Port of Walla Walla, City of Walla Walla
Each Coldwell Banker Office is Independently Owned and Operated
---
About Gesa Power House Theatre
The historic Gesa Power House Theatre is a 300-seat performing arts venue, located in downtown Walla Walla. The 120-year-old building was once the Walla Walla Gas Plant, built to produce coal gas used to light the streets, businesses, and homes of Walla Walla. In 2011 the Gesa Power House Theatre building was transformed into a state-of-the-art playhouse for live performance. The interior design of the theatre was inspired by Shakespeare's own intimate Blackfriars Theatre in London, England.
The Gesa Power House Theatre is on the Washington State Building Preservation Commission list of State historic buildings and on the National Register of Historic Places. The venue also hosts a variety of other cultural events, musical concerts, and private events (including weddings).
For additional marketing and media information, including interviews and hi-res images, contact:
Bradley Nelson
Media Contact
Phone: 509.529-6500
webmaster@phtww.org
Gesa Power House Theatre
111 North Sixth Ave.
Walla Walla, Washington 99362