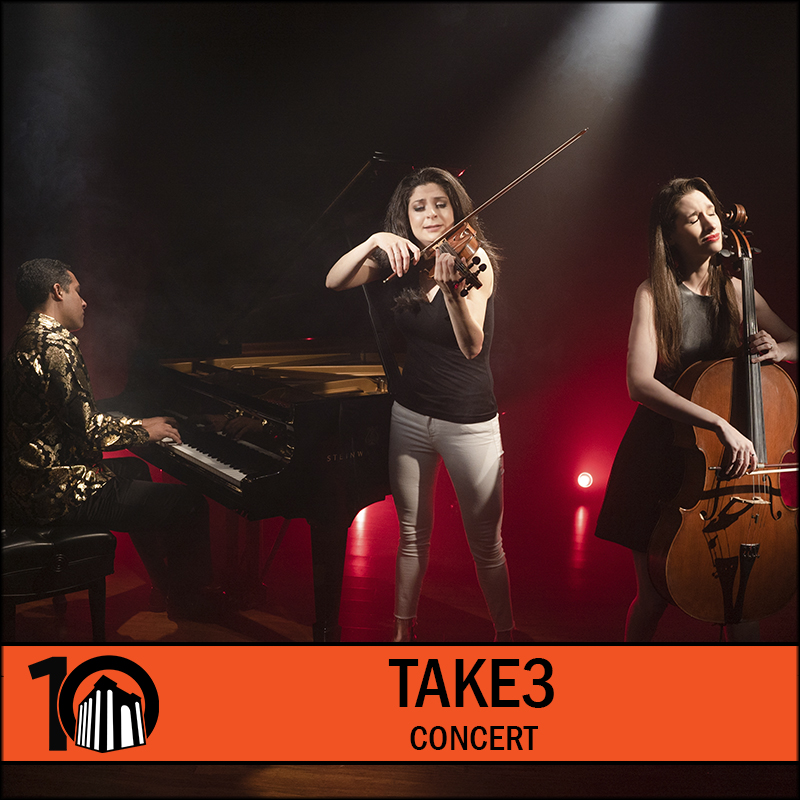 Press Release: Take3 live in concert – February 11
Gesa Power House Theatre presents TAKE3 in concert on Friday, February 11 at 7:00 p.m.
With a flair for the wild and unexpected, genre-defying trio TAKE3 brings the refinement of a rigorous classical music background and infuses it with rock-star charisma. Known for their infectious and down to earth onstage personalities, this threesome leaves their indelible mark on captivated crowds around the country performing their arrangements of top pop hits, Americana, and classical favorites.
TAKE3 are Lindsay Deutsch (violin), Jason Stoll (piano), and Mikala Schmitz (cello). No strangers to the stage as individuals, they have made an impact on the music scene as soloists, touring the world with Yanni, recording tracks for film and television, and as soloists in front of Symphony Orchestra. TAKE3 makes it their mission to impart their love, passion and joy in music making to all who hear them, using their artistic ability as conduit for storytelling.
Reserved seating tickets ($35-$30 adult, $25 student) are available online or by calling the box office at 509-529-6500.
Additional precautions, such as required mask use, will be observed based on the latest guidance from state and county health departments.
---
Season Sponsors:
Walla Walla Union-Bulletin, Northwest Public Broadcasting, Pacific Power, Hayden Homes
Additional support provided by:
Walla Walla County, Port of Walla Walla, City of Walla Walla
Each Coldwell Banker Office is Independently Owned and Operated
---
About Gesa Power House Theatre
The historic Gesa Power House Theatre is a 300-seat performing arts venue, located in downtown Walla Walla. The 120-year-old building was once the Walla Walla Gas Plant, built to produce coal gas used to light the streets, businesses, and homes of Walla Walla. In 2011 the Gesa Power House Theatre building was transformed into a state-of-the-art playhouse for live performance. The interior design of the theatre was inspired by Shakespeare's own intimate Blackfriars Theatre in London, England.
The Gesa Power House Theatre is on the Washington State Building Preservation Commission list of State historic buildings and on the National Register of Historic Places. The venue also hosts a variety of other cultural events, musical concerts, and private events (including weddings).
Gesa Power House Theatre is owned and operated by Power House Theatre Walla Walla, a 501(c)(3) nonprofit organization.
For additional marketing and media information, including interviews and hi-res images, contact:
Bradley Nelson
Media Contact
Phone: 509.529-6500
webmaster@phtww.org
Gesa Power House Theatre
111 North Sixth Ave.
Walla Walla, Washington 99362