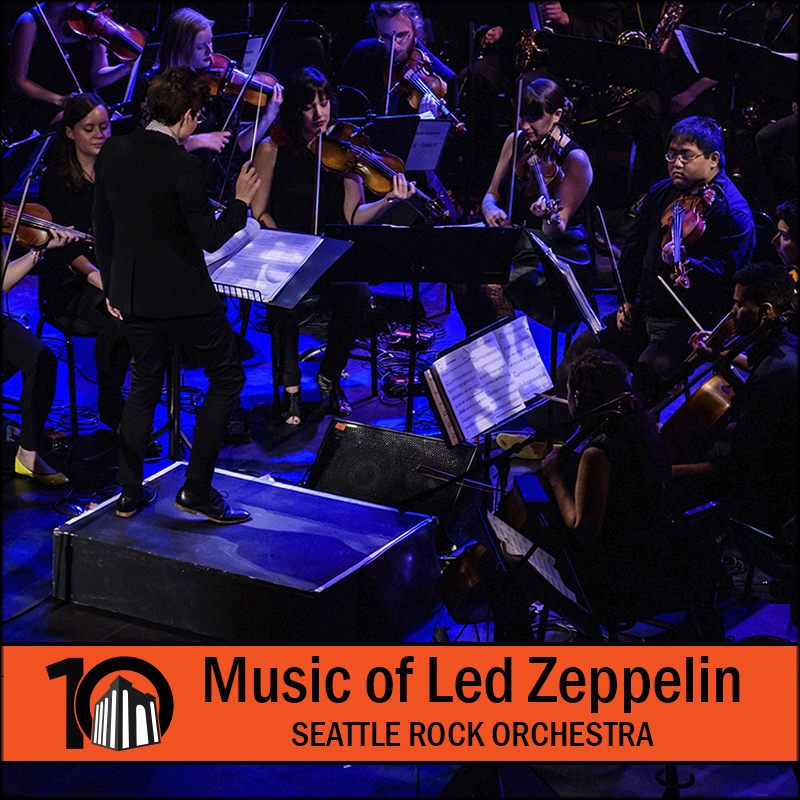 Press Release: Seattle Rock Orchestra in concert – October 8 & 9
Seattle Rock Orchestra will perform two different live concerts at Gesa Power House Theatre during the second weekend in October.
On Friday, October 8 at 7:00 p.m., Seattle Rock Orchestra will explore the softer side of the music of Led Zeppelin, offering an intimate evening out that draws on the classic rock band's acoustic compositions from across their entire discography. The program will feature the songs "Going to California," The Battle of Evermore," Thank You," The Rain Song," Babe I'm Gonna Leave You," and many more.
On Saturday, October 9 at 7:00 p.m., Seattle Rock Orchestra will pay tribute to psychedelic rock pioneers Pink Floyd with a complete performance of their landmark album The Dark Side of the Moon. As one of their most popular and frequently performed shows, the Seattle Rock Orchestra arrangements double as a veritable concerto for orchestra, featuring soloists from every section of the orchestra. Popular songs include "Shine On You Crazy Diamond," "Wish You Were Here," "Great Gig In The Sky," "Money," "Us and Them," and many more.
Seattle Rock Orchestra is dedicated to creating performances that are spectacular, fun, educational, and of exceptional quality. Seattle Rock Orchestra celebrates and perpetuates the orchestral tradition while exploring the rich history of rock and pop music; presents new works by emerging artists; engages in collaborations across genres and artistic disciplines; and offers exciting educational programs for youth.
Reserved seating tickets ($50) are available online or by calling the box office at 509-529-6500. The Saturday, October 9 concert is already sold out.
Additional precautions, such as required mask use, will be observed based on the latest guidance from state and county health departments.
---
Season Sponsors:
Union-Bulletin, KAPP-KVEW TV, Pacific Power, Northwest Public Broadcasting, Hayden Homes, Walla Walla Valley Honda
Additional support provided by:
Walla Walla County, Port of Walla Walla, City of Walla Walla
Each Coldwell Banker Office is Independently Owned and Operated
---
About Gesa Power House Theatre
The historic Gesa Power House Theatre is a 300-seat performing arts venue, located in downtown Walla Walla. The 120-year-old building was once the Walla Walla Gas Plant, built to produce coal gas used to light the streets, businesses, and homes of Walla Walla. In 2011 the Gesa Power House Theatre building was transformed into a state-of-the-art playhouse for live performance. The interior design of the theatre was inspired by Shakespeare's own intimate Blackfriars Theatre in London, England.
The Gesa Power House Theatre is on the Washington State Building Preservation Commission list of State historic buildings and on the National Register of Historic Places. The venue also hosts a variety of other cultural events, musical concerts, and private events (including weddings).
For additional marketing and media information, including interviews and hi-res images, contact:
Bradley Nelson
Media Contact
Phone: 509.529-6500
webmaster@phtww.org
Gesa Power House Theatre
111 North Sixth Ave.
Walla Walla, Washington 99362