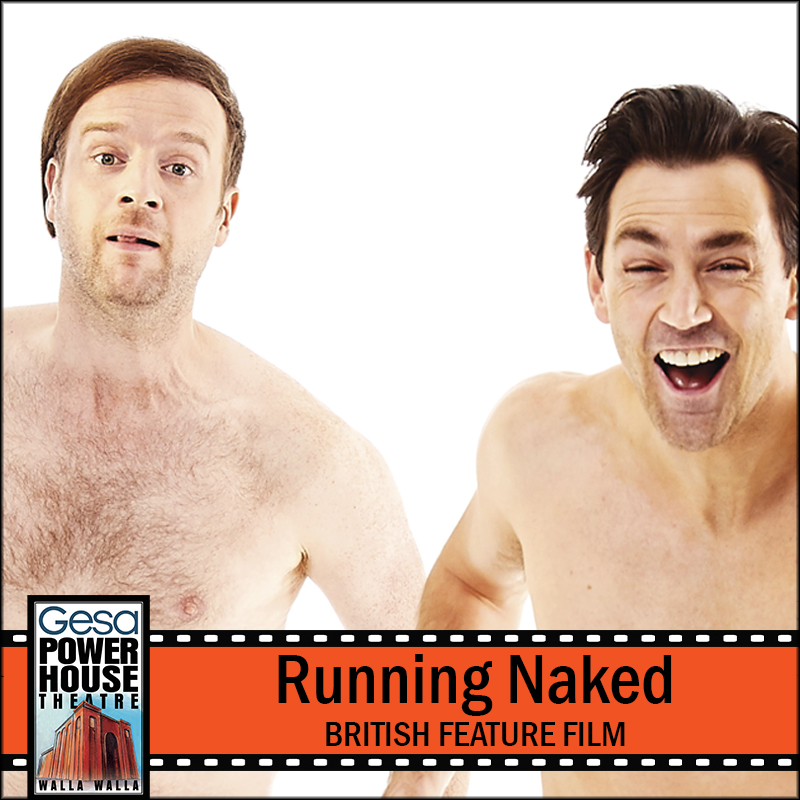 Press Release: "Running Naked" feature film screening – April 2 & 7
Gesa Power House Theatre presents a screening of the British feature film Running Naked on Friday, April 2 at 7:00PM with an encore screening on Wednesday, April 7 at 7:00PM. Each screening will be followed by a prerecorded conversation between Director of Film Programming Warren Etheredge, and filmmakers Victor Buhler and Michael Knowles.
At the heart of Running Naked are two lifelong friends who met each other when they were teenage leukemia patients. Twenty years later Mark has become a successful doctor and ladies' man. Meanwhile Ben has devolved into obsessional recluse whose life is a series of obsessive habits. A piece of news forces Mark to reassess his life and, in the process, convinces him to play a bigger part in Ben's, risking everything in order to break Ben out of his shell.
Together the two rediscover their spirit of adventure: they sell everything they own on the high street, they get into a fight with two policemen (and spend a night in jail), they lose all their money – only to win it back at the dog track. They pick up girls. They go sailing and, as the horizon opens in front of their boat, it feels as if the world is once again full of possibilities. But Mark has been keeping a secret and once Ben learns of it, both friends are forced to face the deeper questions in their lives.
Running Naked is a story about friendship and about how, in life, we sometimes need to unbutton our shirt collars, kick off our shoes, and streak through life unabashed. The film is directed by Victor Buhler, and stars Matthew McNulty, Andrew Gower, Rakhee Thakrar, and Tamzin Merchant.
General admission tickets ($15 Adults, $10 Students) are available online at www.phtww.org or by calling the box office at 509-529-6500.
Seating for each screening is capped at 100 patrons, as allowed under Phase 2 of Washington's Safe Start Plan. Additional precautions including required mask use and physical distancing between households will be observed.
---
Season Sponsors:
KAPP-KVEW TV, Pacific Power, Northwest Public Broadcasting, Hayden Homes
Additional support provided by:
Walla Walla County, Port of Walla Walla, City of Walla Walla
Each Coldwell Banker Office is Independently Owned and Operated
---
About Gesa Power House Theatre
The historic Gesa Power House Theatre is a 300-seat performing arts venue, located in downtown Walla Walla. The 120-year-old building was once the Walla Walla Gas Plant, built to produce coal gas used to light the streets, businesses, and homes of Walla Walla. In 2011 the Gesa Power House Theatre building was transformed into a state-of-the-art playhouse for live performance. The interior design of the theatre was inspired by Shakespeare's own intimate Blackfriars Theatre in London, England.
The Gesa Power House Theatre is on the Washington State Building Preservation Commission list of State historic buildings and on the National Register of Historic Places. The venue also hosts a variety of other cultural events, musical concerts, and private events (including weddings).
For additional marketing and media information, including interviews and hi-res images, contact:
Bradley Nelson
Media Contact
Phone: 509.529-6500
webmaster@phtww.org
Gesa Power House Theatre
111 North Sixth Ave.
Walla Walla, Washington 99362