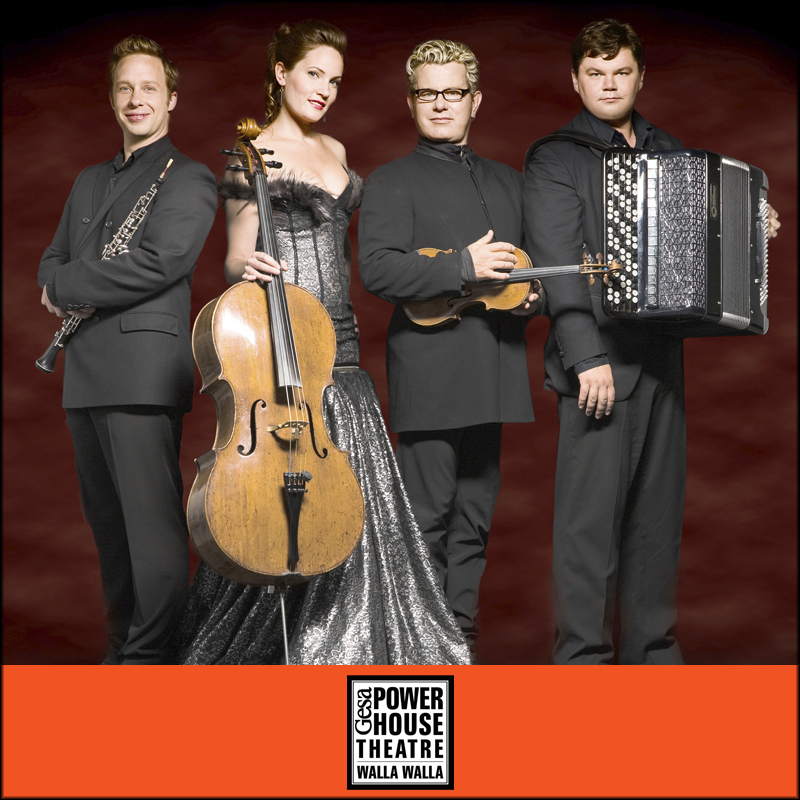 Press Release: Quartetto Gelato in Concert November 19
October 5, 2016 – Waterbrook presents Canadian ensemble
Quartetto Gelato in concert
 at Gesa Power House Theatre on Saturday, November 19 at 7:00 p.m.
For 25 years, Quartetto Gelato has enchanted audiences and critics worldwide with their exotic blend of musical virtuosity, artistic passion and humor. Their performance repertoire spans the globe including classical masterworks, operatic arias, the sizzling energy of tangos, gypsy and folk songs. The group's theatrical stage presence and relaxed humor establishes an intimate rapport with audiences worldwide.
The current Quartetto Gelato ensemble includes: Peter DeSotto (violin, mandolin, and operatic tenor); Alexander Savasian (World Accordion Champion); Liza McLellan (cello, bass); and multi-instrumentalist Colin Maier (oboe, clarinet, guitar, piano, saw, etc.). The group recently returned from a tour of Samara, Russia and the surrounding area.
Quartetto Gelato established themselves as dominant forces on the music scene early in their career by winning the coveted title of NPR Performance Today's "Debut Artist of the Year". In 2007, the group's first DVD "Quartetto Gelato: A Concert in Wine Country!" was picked up by PBS throughout the U.S. for broadcast. More recently, Quartetto Gelato won the honor of Best Classical Ensemble at Canada's 2010 INDIE awards.
Reserved seating tickets ($45-$39) for Quartetto Gelato are available online or by calling the box office at 509-529-6500. More information about upcoming events can be found at 
www.phtww.org
.
---
The 2016 Gesa Power House Theatre Season is presented by:
Waterbrook Winery, Browne Family Vineyards, Canoe Ridge Vineyard
Additional support provided by:
Courtyard Marriott, Inland Cellular, Pacific Power, Wingman Birdz & Brewz
---
About the Gesa Power House Theatre
The historic Gesa Power House Theatre is a world-class, 342 seat performing arts venue, located in downtown Walla Walla. The 120-year-old building was once the Walla Walla Gas Plant, built to produce coal gas used to light the streets, businesses, and homes of Walla Walla. In 2011 the Gesa Power House Theatre building was transformed into a state-of-the-art playhouse for live performance. The interior design of the theatre was inspired by Shakespeare's own intimate Blackfriars Theatre in London, England.
The Gesa Power House Theatre is on the Washington State Building Preservation Commission list of State historic buildings and on the National Register of Historic Places. The venue also hosts a variety of other cultural events, musical concerts, and private events (including weddings).
For additional marketing and media information, including interviews and hi-res images, contact:
Bradley Nelson
Media Contact
Phone: 509.529-6500
webmaster@phtww.org
Gesa Power House Theatre
111 North Sixth Ave.
Walla Walla, Washington 99362