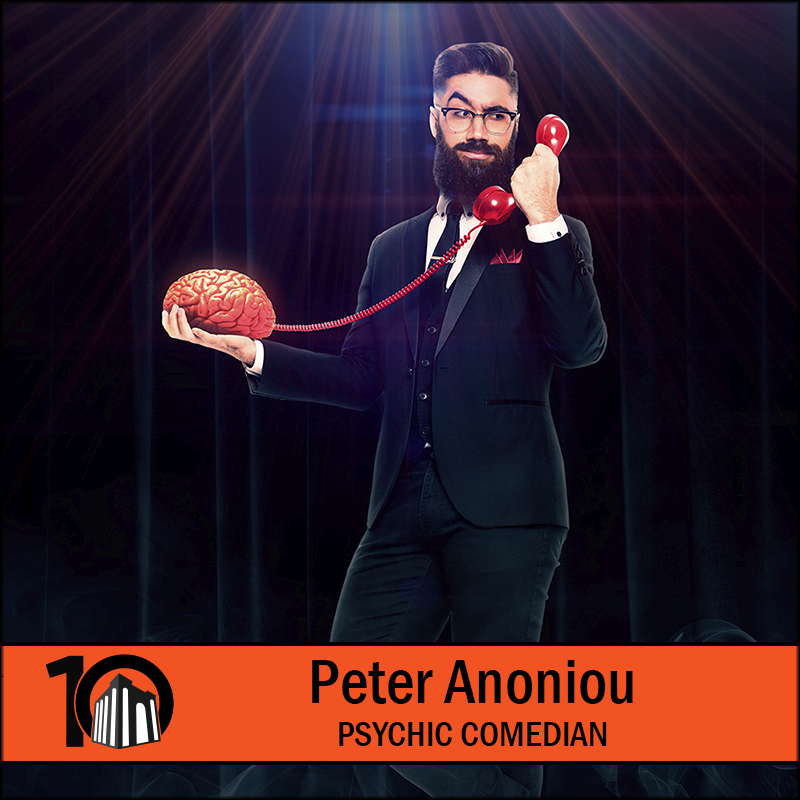 Press Release: Psychic Comedian Peter Antoniou – December 31
Gesa Power House Theatre presents Psychic Comedian Peter Antoniou on Friday, December 31, at 7:00 p.m.
Fresh off of the 2021 season of "America's Got Talent" where he finished as a semi-finalist, Peter Antoniou brings his unique skills – peering inside people's heads, and tickling the audience's funny bone – to Walla Walla!
Combining comedy and a stunning ability to read minds, Peter knows what is in your brain. Think of a question: it can be silly or serious; about your past, your present, or your future; it could be about your love life, or even just what color your underwear is. It doesn't matter what it is, just think of it and Peter will look inside your mind and give you the answer. Part comedy, part mind reading, this fully interactive show will leave you asking, is your mind safe?
Reserved seating tickets ($30 adult, $20 student) are available online or by calling the box office at 509-529-6500. This event will conclude with a New Year's toast at 9:00 p.m.
Additional precautions, such as required mask use, will be observed based on the latest guidance from state and county health departments.
---
Season Sponsors:
Union-Bulletin, KAPP-KVEW TV, Pacific Power, Northwest Public Broadcasting, Hayden Homes, Walla Walla Valley Honda
Additional support provided by:
Walla Walla County, Port of Walla Walla, City of Walla Walla
Each Coldwell Banker Office is Independently Owned and Operated
---
About Gesa Power House Theatre
The historic Gesa Power House Theatre is a 300-seat performing arts venue, located in downtown Walla Walla. The 120-year-old building was once the Walla Walla Gas Plant, built to produce coal gas used to light the streets, businesses, and homes of Walla Walla. In 2011 the Gesa Power House Theatre building was transformed into a state-of-the-art playhouse for live performance. The interior design of the theatre was inspired by Shakespeare's own intimate Blackfriars Theatre in London, England.
The Gesa Power House Theatre is on the Washington State Building Preservation Commission list of State historic buildings and on the National Register of Historic Places. The venue also hosts a variety of other cultural events, musical concerts, and private events (including weddings).
For additional marketing and media information, including interviews and hi-res images, contact:
Bradley Nelson
Media Contact
Phone: 509.529-6500
webmaster@phtww.org
Gesa Power House Theatre
111 North Sixth Ave.
Walla Walla, Washington 99362